Summary

Empire Resources has been at the forefront of implementing various measures across its business to endure tough times.
ERL's investment portfolio comprises its shareholding in NTM Gold Limited, which has shown significant growth since the time of investment.
The Company looks forward to continuing exploration programs across its land assets and strengthening the investment portfolio.
Mineral exploration company Empire Resources Limited (ASX:ERL) had implemented some measures in the past to align its operations with its strategy of capturing value through direct exploration in its current projects. These measures range from rationalising its cost base to discovering lucrative avenues for investment and effectively capitalising the business.
The Company has shown steady growth which is reflected in the share price of ERL that has grown approximately 80% over the past year till 22 January 2021.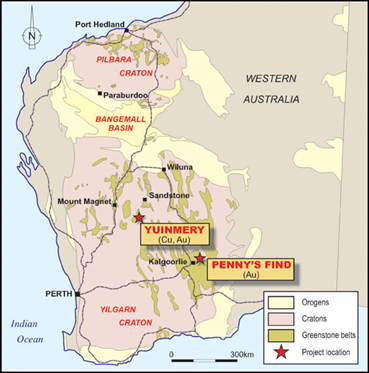 Projects Locations (Source: ERL Website)
DID YOU READ: Empire Resources Ready to Go Hammer and Tongs for Continued Exploration Success
ERL's Stance Amid NTM's Merger
Furthermore, ERL has also added significant value through exploration activities across its project range by fortifying the investment portfolio. The Company owns a significant shareholding in a junior explorer NTM Gold Limited (ASX:NTM).
This investment by ERL has proven to be quite lucrative as the share price of NTM has increased by ~110% over the past one year. On the exploration front, NTM is working against the clock and has lately confirmed the extension of three distinct mineralised trends at its Redcliffe Project.
INTERESTING READ: 3 Key Elements of Empire Resources Lucrative Investment Portfolio
Interestingly, NTM has also proposed a merger with Dacian Gold Limited (ASX:DCN) through a Scheme of Arrangement.
ERL Gaining Significantly from NTM Shareholding
NTM, where ERL has a significant holding, anticipates securing a fast-tracked opportunity to monetize its prolific Redcliffe project's value. Moreover, both parties to the merger look optimistic about enhancing their exploration potential and increased profitability.
INTERESTING READ: How Is Empire Resources' Investment In NTM Gold Placed Amid Market Volatility?
The transaction is believed to generate significant benefits for both NTM as well as DCN. Moving further, it shall be interesting to see how things unfold for NTM in the coming times on the merger front, and the same shall influence ERL's holdings in the entity.
In July 2019, ERL had invested a total of $1,499,875 in NTM at a per-share price of $0.0325. Now, this investment has grown to $0.185 per share as on 22 January 2021.
INTERESTING READ: Empire Resources Limited Calls the Tune in Its Significant Landholdings, A Walk Through Its Project Portfolio
ERL believes that its investment in NTM offers a rare opportunity for growth and NTM looks hopeful to derive further benefits from this investment.
Other than this, ERL remains in pursuit of exploration success as it maintains its aggressive approach of exploration throughout its portfolio of outstanding exploration assets. These exploration assets include the Yuinmery Copper-Gold Project and the Penny's Gold Project.
RELATED: Empire Resources' Financials Reflect Green Shoots; Exploration Expenditure Increases By 436%
ERL's direct exploration programs have helped to reveal significant potential for its land assets, and the Company shall continue to execute discovery programs at both its projects.
INTERESTING READ: ASX:ERL tides over the rough patches, moves ahead with Fresh Momentum
On 22 January 2021, ERL share price quoted at $0.016 with a market capitalisation of $14.54 million.
*All financials are in AUD, unless specified.