Summary

Increased volatility in the market is suppressing the confidence of traders and driving them away from stock trading.
High-tech and low-cost ASX trading platform Focus empowers users to take control of their buy/sell orders and minimise the losses.
Focus helps nurture confidence among new traders by allowing them to place automated conditional orders that are executed in the market only if certain criteria are met.
Many individuals do not trade in the stock markets because of the constant fear of incurring losses, the high-risk nature of financial assets and volatility in the market. Amateurs hesitate to wade into the uncharted waters of the stock market as the fear of losing money overrides the desire to generate value from the investment.
What if we tell you that you can set the criteria for making trades and minimise the losses?
Brace yourselves. By the end of this piece, you should feel more confident about trading in stocks and minimising your losses.
The secret sauce
Modern-day stock traders can utilise the option of conditional orders, which gets activated only if certain conditions are satisfied. The conditional orders have their own compelling reasons.
One of the most compelling factors is that these allow one to plan trades in advance, thereby helping in building more confidence as traders would chalk out a detailed trading plan before the trading session commences.
Conditional orders provide the power to exit unfavourable positions with fewer losses while offering the opportunity to benefit from the trade that works in one's favour.
WHAT'S HERE? Low-touch mobile market tools key to successful trading
Upping the game with Marketech Focus
Marketech Focus is a revolutionary new ASX trading platform, which is preparing the ground for modern-day traders through innovations.
All types of traders can use Marketech Focus to make daily trades and place conditional orders on the platform to enhance their trading experience. Focus offers various kinds of conditional orders for different scenarios.
Once a certain price event unfolds, users can take advantage of conditional orders to trigger a buy or sell order. Placing a conditional order on Marketech Focus involves the following steps:
Selecting the trigger price – either "last price", "bid", or "offer".
Defining the order that you desire to place – buy or sell in units and price.
This order is automatically placed once the condition is met.
Here, the last transaction price represents the last price; the bid indicates the price at which someone is willing to buy it at; and the offer is the price at which the seller is offering to sell it.
Let us look at a few examples where Stop Orders may be useful.
Traders can anticipate the price of a stock to rise and desire to minimise their losses on the shareholding in a situation when the price falls by triggering a sell order.
For example, an individual nominates the last price AU$24.50 as the trigger to create a sell order, so if it trades at AU$24.50 on the ASX, a 'sell order' will be placed. Next, one could nominate AU$24.25 as the price to sell down to and decide on the number of units to sell at AU$24.25, once the stock hits AU$24.50.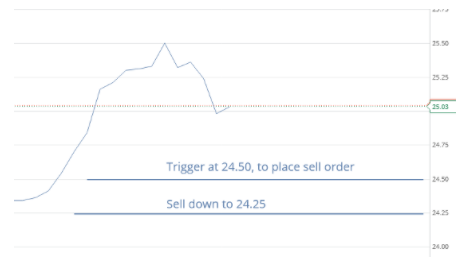 Source: Marketech Website
Explainer: Here, there are chances that the sell price can go beyond or below the trigger. This means that if the stock trades at AU$24.50, the trader could choose to put the sell in at AU$25.00 in anticipation of a rise in the price.
INTERESTING READ: Marketech Focus, a premium low-cost ASX trading platform, set to enhance your stock trading experience in 2021
Buy the dip
There may be a situation where traders think the stock is overvalued and don't want to put in an 'order to buy' at that time. They would want to wait for the price to fall so that they can buy the stock at a lower price, which is termed "as buy the dip", in anticipation of a bounce back.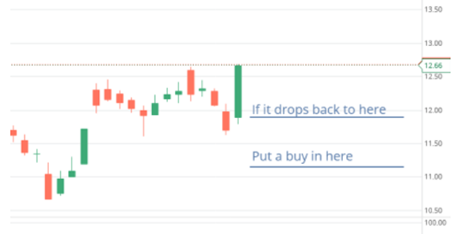 Source: Marketech Website
For this, a trader can nominate a trigger price at or near the buy zone and then nominate buy order.
Moreover, a trader has the choice to nominate a price higher or lower than his/her trigger.
Place order a long way from market price
Traders might not be able to place an order in the market as it is far away from the last traded price since there are constraints for this event.
For example, traders cannot place a sell order at AU$8.4c for a stock that is trading at 2.5c. This clearly indicates a huge gap between the last traded price and the sell order price.
Source: Marketech Website
This seems to be an ideal situation where users can benefit from "trigger". Traders who want to buy/sell a stock at a price far away from the last traded price can use the trigger to nominate a price closer to buy/sell price.
In the above example, traders can place a trigger at 7.2c so that they can place a sell order at 8.4c once the price touches 7.2c.
Buy the break
Traders can use conditional order to buy a stock beyond the present price in the event when it surpasses a certain price point.
In a situation where traders might want to see a bit of upwards momentum prior to entering a trade, they can nominate a trigger price and then place an order to buy it (up to) a price.
Source: Marketech Website
For example, A stock is trending from 50c to 53c, and a trader feels that if it cracks through 56c, it may start to move upwards again. Therefore, traders can place a trigger at 56c and buy it at up to 58c.
In a nutshell, conditional orders can prove to be a shield against major losses where traders can "mark their territory" to remain safe and worry less.
More importantly, all types of traders can use conditional orders.
VIDEO INTERVIEW: Expert talks- 20 mins Round up with Mr. Travis Clark – Managing Director of Marketech.
Confidence check!
Overall, the process seems user friendly, and one can make trades without having to worry much about incurring huge losses while they are busy away from their screen.
Do you now feel confident to make an attempt at trading?
Well, you can always take a free trial of Marketech Focus here.
And there are other important aspects to discuss related to conditional orders, especially the risks associated, which we shall discuss in the next piece, which will focus on some of the best practices to help shore up your confidence in trading.