Highlights

Cynata is using its proprietary Cymerus™ technology for the production of mesenchymal stem cells (MSCs)
Cymerus technology uses Nobel-Prize winning human-induced pluripotent stem cells (iPSCs) derived from whole blood for MSCs manufacture
iPSCs are unique due to their embryonic-like properties, their ability to be cultured indefinitely and be developed into almost any type of human cell
Australian stem cell and regenerative medicine company Cynata Therapeutics Limited (ASX:CYP) is developing its therapeutic stem cell platform technology, Cymerus™, to address the critical shortcoming in conventional methods of manufacturing mesenchymal stem cells (MSCs) - the ability to manufacture consistently and reproducibly at scale.
Cymerus is Cynata's patented process of generating cell-based products from intermediate cells, termed as mesenchymoangioblasts (MCAs), that are derived from induced pluripotent stem cells (iPSCs).
In this article, we will understand the role of induced pluripotent stem cells in the manufacture of MSCs.
Origin of iPSCs
iPSCs are obtained from mature cells found in the body such as blood or skin cells that have been reprogrammed back into an embryonic-like pluripotent state. One of the most versatile stem cells, a pluripotent stem cell can replicate itself indefinite times. It has the ability to differentiate into any other type of cell in the body.
Professor James Thomson and his team at the University of Wisconsin, Madison, including Professor Igor Slukvin (one of Cynata's founders), were pioneers in the development of iPSCs. They were one of two independent research groups in 2007 that first reported the creation of iPSCs from human cells (together with Professor Shinya Yamanaka et. Al. of Kyoto University, Japan).
iPSCs are hailed as an ideal building block for cell-based therapies for their ability to expand without limit, produce tissue cells of any type, and be stored over long periods. And according to Cynata, this has significantly advanced the potential for regenerative therapy.
Do Read: Discussing competitive advantages of Cynata's Cymerus technology
Importance of iPSC derived MSCs for Cymerus
Cynata's Cymerus technology uses iPSCs derived from whole blood to produce MSCs as per Good Manufacturing Practice (GMP) standards at commercial scale. Since MCAs can expand themselves into extremely large quantities of MSCs, and iPSCs can proliferate indefinitely, Cynata expects to be able to source all the cells it will ever need from a single donor.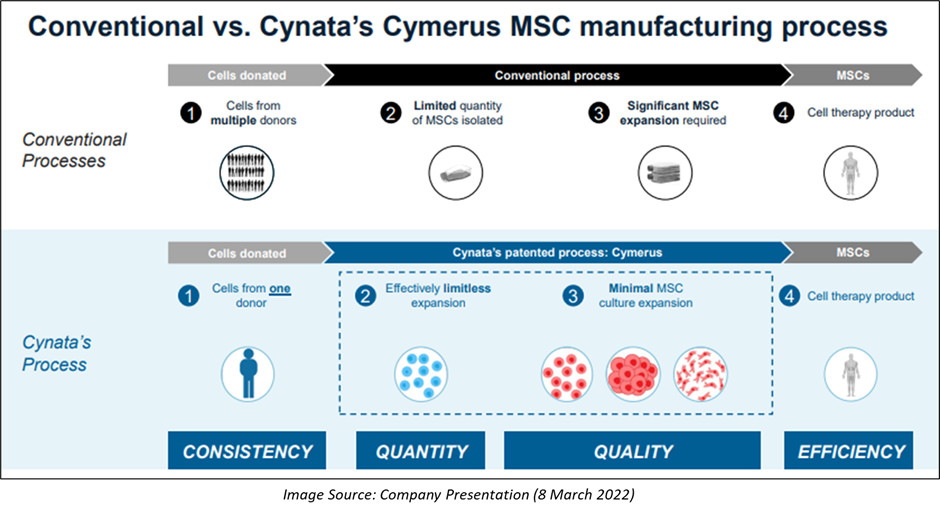 The Company intends to produce all the required cells from a single Master Cell Bank without the need for multiple donors or excessive culture expansion of the derived MSCs. A further series of patents have been licensed to Cynata by Cellular Dynamics International (now Fujifilm Cellular Dynamics, Inc.) relating to processes to derive iPSCs.
Overall, manufacturing of MSCs from iPSCs using the Cymerus technology could fix a significant limitation in existing methods of production of MSCs for therapeutic use and pave the way for a range of therapeutic and manufacturing opportunities for Cynata.
Cynata shares are trading at A$0.36 as of 12:45 PM AEST.
Good Read: Cynata Therapeutics: ASX-Listed Next-Generation Stem Cell Therapeutics Company