Highlights

KRR is advancing well to become a globally significant HPA player, with the PFS recently highlighting value and economic robustness of its project.
The HPA market sees strong demand from the LED and EV industries, which are gaining traction amid the global green economy transition.
The HPA project is proposed to be located in the WTC industrial area, which enjoys a strong infrastructural advantage.
King River Resources Limited (ASX:KRR) is taking giant strides at its high purity alumina (HPA) project, which is proposed to be located within the Kwinana area of the Western Trade Coast.
Significantly, the Company recently produced 5N (≥99.999%) purity precursor compound utilising its new ARC HPA process. The precursor is an intermediate compound used to make HPA at ≥4N (99.99%) purity.
RELATED ARTICLE: King River Resources' Kwinana HPA project on fast track with production of 5N purity precursor
What's more, this recent metallurgical progress was achieved shortly after KRR announced the encouraging Kwinana HPA pre-feasibility study (PFS). The study outcomes have demonstrated the Company's potential to be a significant world producer of 99.99% 4N high purity alumina for the rapidly developing high-tech product markets.
The recent developments align well with the optimistic market trends for HPA, exhibiting excellent demand growth potential. With this backdrop, let us explore the demand trends and analyse how KRR is positioning itself to cash in on the market prospects.
ALSO READ: King River Resources (ASX:KRR) buoyed up on high-grade potential of Mt Remarkable and Tennant Creek gold projects
Overview of the HPA Demand Scenario
HPA enjoys a confluence of interests from two huge and growing industries- light-emitting diodes (LEDs) and electric vehicles (EVs). These industries continue to witness favourable tailwinds from the green transition.
RELATED ARTICLE: Strong tailwinds for King River Resources' (ASX:KRR) high purity alumina amid booming LED industry
The focus on greening the global economy has encouraged policies favouring electric vehicles and commitments towards reducing electricity consumption, whereby energy-efficient LEDs appear to be one of the best available alternatives.
CRU International, which was engaged by KRR to report on the HPA market, projects 4N+ HPA demand to grow at a 13.7% CAGR during 2019-2028, representing a growth of 53 thousand tonnes.
The supply landscape, on the other hand, would significantly need new projects for a long term.
Below is a snapshot of the HPA demand forecast by purity after examining the growth prospects and intensity-of-use in LEDs and lithium-ion batteries, as well as other existing applications such as phosphors and sapphire glass: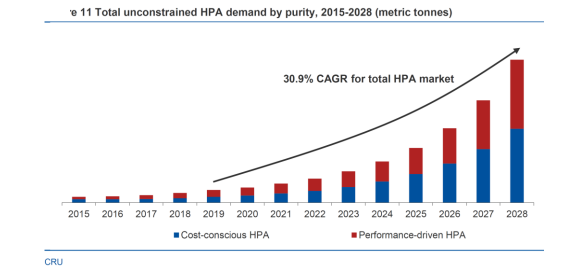 KRR Update, dated 16 June 2021
RELATED ARTICLE: King River Resources' June quarter marked by stellar PFS outcomes for HPA project
A Look at the 4Ps of KRR Marketing Strategy
Meanwhile, the Company's marketing strategy aims to establish KRR as a reliable supplier of HPA and other critical strategic metals to the global markets, both in the near and long term.
1.The Product
KRR's distinctive capabilities lie in its ability to deliver a high-value HPA product using its ARC HPA process. The laboratory-scale testwork has demonstrated that flowsheets are capable of producing high recoveries of alumina into a high purity HPA product.
2.Production Site
The HPA project is planned to be established within the Rockingham or Kwinana area of the WTC (Western Trade Coast) industrial area. WTC is 30-40 kilometres from Perth's CBD in the southern Perth metropolitan area.
ALSO READ: King River Resources (ASX:KRR) hits a key milestone with production of high-purity titanium dioxide
Source: Copyright © 2021 Kalkine Media Pty Ltd, Data Source: KRR ASX update, dated 16 June 2021
3. Proximity to HPA Target Markets
China, Japan, and South Korea offer robust potential as the HPA markets, given majority of batteries and LEDs are manufactured in these countries. In addition, KRR's HPA project, located in Australia's safe and stable jurisdiction, enjoys proximity to these markets.
KRR intends to build a reputation for reliability as a consistent producer of high-quality HPA to position itself strongly in the HPA markets.
RELATED ARTICLE: HPA PFS operational highlights paint rosy outlook for King River Resources (ASX:KRR)
4.Pricing for HPA
Based on CRU's projection for 4N-purity HPA, PFS assumes robust economics for the HPA project. As a result, the 25-year project revenue is expected to be AU$7,027 million, with EBITA and free cash flow of AU$4,715 million and AU$4,438 million, respectively.
Additionally, the projected demand growth, primarily from LEDs and EVs, paints a positive outlook for prices.
4N HPA is a highly valuable commodity and there are a limited number of suppliers of this high-quality product. Thus, its strong demand backed by growth in technology and energy applications represents an excellent opportunity for KRR as a new HPA producer.
KRR shares traded at AU$0.027 on 3 September 2021 (AEST: 10:32 AM), up ~2% from the previous close.