Highlights

Cyprium is focused on a near-term heap leach production strategy at Nifty, located in the north-eastern Pilbara region.
Significant copper mineralisation has been intersected from the first metallurgical diamond hole on eastern limb of the project.
A 6,000m resource infill and extensional RC drilling program has commenced at the Maroochydore Copper Project.
Cyprium Metals Limited (ASX:CYM) is steering its initiatives well to emerge as Australia's mid-tier copper producer. The Company has reported a major headway on its Nifty Copper Project located in the north-eastern Pilbara region of Western Australia.
Cyprium is focused on a near-term heap leach production strategy at Nifty and has advanced a range of developments ever since Nifty project's acquisition from Metals X on 30 March 2021.
ALSO READ: Casting an eye on Cyprium Metals' (ASX: CYM) short to long-term project development plans

Let us go through the recent developments at Nifty Project
Eastern drilling for increasing density and test for potential extensions
Cyprium drilled 18 holes over an advance of 3,011m on the eastern limb and extends from the former Nifty open pit. First assay results are anticipated shortly.
The program was focussed on increasing the density of existing drilling over the previously identified oxide and transitional zone copper mineralisation. The drilling will also test for potential extensions to the east.
RELATED ARTICLE: Cyprium Metals hits fast track in June quarter with crucial developments at Nifty and Nanadie Well
Metallurgical drilling Progress
At the eastern end of the Nifty open pit, the first diamond hole 21NDMT001 drilled into the existing resource intersected native copper (depth of 129.8 to 133.3m), chalcocite (depth of 141.3 to 152.3) and covellite (depth of 154.56 to 155.35m).
RELATED ARTICLE: Cyprium Metals marches ahead with a flurry of developments at Nifty Copper Project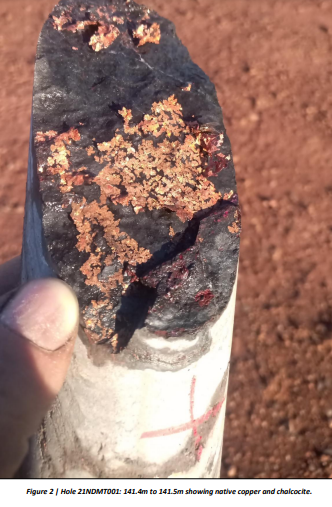 Source: CYM Update, dated 14 September 2021
Cyprium recently completed a second metallurgical hole in the same area while the third hole is currently in progress. The drill core is currently being logged ahead of sampling and despatch for analysis and metallurgical testwork.
RELATED ARTICLE: With robust results at Nanadie Well, Cyprium Metals seems well poised to ride the EV boom
Western drilling and sonic drilling advancing well
The 16,000m RC drilling program at the western extremity of the Nifty open pit is well advanced. The program is aimed at testing for up-plunge extensions to the oxide and transitional mineralisation. Meanwhile, remaining shallow holes will be completed towards the close of the dry season.
At the same time, the sonic drill rig is currently assessing the waste dump area for potential low grade mineralised waste, that may possibly add to the base load for the heap leach restart.
RELATED ARTICLE: Cyprium Metals (ASX:CYM) positioned well as copper powers up global e-mobility
Resource Infill and Extensional Drilling Program Maroochydore drilling
A 6,000m first phase oxide/supergene resource infill and extensional drilling program recently commenced at the Maroochydore Copper Project, located around 85km southeast of Nifty.
The diamond drilling is scheduled to start in late September 2021, for obtaining samples for first pass metallurgical testwork. Cyprium anticipates that the metallurgical diamond drilling campaign will be completed before the wet season. The drill rig will return to Nifty for completing the planned diamond drilling programs.
Cyprium is also in the process of designing a 4,500m first phase sulphide resource RC drilling program, which would commence in 2021 if weather permits. The Company indicated that in the event of wet season, the program commencement would be postponed to March/April 2022, when it would be able to re-establish access to the project.
CYM shares closed at A$0.235 on 14 September 2021.