Summary

CV Check aims to emerge as a key player in the international RegTech market.
CV1's business has been delivering strong performance with continued enhancements across business functions.
The Company has also strengthened its leadership team with the appointment of a new CEO, effective 30 August 2021.
Credential verification products provider CV Check Limited (ASX:CV1) has been experiencing a progressive increase in revenues as well as annual recurring revenue (ARR), underpinned by growth across Australia and New Zealand.
The acquisition of the BPT business has also paid off, adding to CV1's growth in recent months by creating synergies through the integration of the two businesses.
CV1 seems to be pursuing a broad-spectrum strategy as the Company has been focusing on enhancing its position in the global Reg Tech space.
RELATED ARTICLE: CV Check (ASX:CV1) hires new CEO to bolster its position
Progressively growing revenues
The June quarter saw CV1 recording group revenues of AU$6.4 million, which indicated a staggering growth of 262% versus the COVID-19-affected fourth quarter of FY20.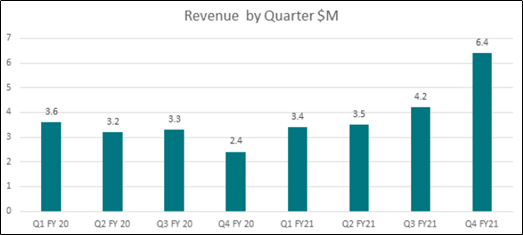 Source: CV1 Announcement 29/07/21
CV1 also recorded strong sales performance across its businesses, which steered cash receipts of AU$6.3 million in Q4FY21, reflecting a growth of 249% as compared to Q4FY20.
As of 30 June 2021, CV1 reported a cash balance of AU$12.9 million and the company remains free from any external financing.
RELATED ARTICLE: CV Check (ASX:CV1) continues to hit a home run with another record revenue quarter
Acquisition and integrations
In early April 2021, CV1 completed the acquisition of Bright People Technologies Pty Ltd (BPT). The coming together of the two entities has resulted in the formation of a credentials-based workforce management ability.
Source: © Bakhtiarzein | Megapixl.com
This capability stems from the amalgamation of BPT's workforce compliance strength and CV Check's highly automated verification workflows and HR information systems (HRIS) integrations.
RELATED ARTICLE: How does CV1 help businesses maintain airtight data security during remote work?
CV1 believes that the B2B integrations with HRIS and applicant tracking systems progressively bolster the Company's overall growth.
Moreover, CV1's strategy to white label its screening and verification services continues to deliver performance despite COVID-19-induced global disruptions.
Bolstering the leadership team
CV1 has also been strengthening its leadership capabilities through critical appointments to the team.
Source: Copyright © 2021 Kalkine Media
RELATED ARTICLE: How is CV Check (ASX:CV1) placed amid evolving needs for managing workforce compliance
Lately, CV1 appointed Mr Michael Ivanchenko to the role of Chief Executive Officer of the Company, effective 30 August 2021. The Company believes that this key appointment comes at a pivotal time as the Company seeks further growth and expansion across the international RegTech market.
CV1 believes that this latest addition will further energise the Company and help it emerge as a leading participant in the fast-growing global Reg Tech market.
All in all, CV1 has been posting record revenues during the past months, demonstrating the calibre of the CV1 team. Other achievements include strong performance across all channels and the completion of phases 1 and 2 of the CV1-BPT integration.
RELATED ARTICLE: Another month of record revenue for CV Check (ASX:CV1), shares tick higher
CV1 stock gained 13.333% to close at AU$0.170 on 11 August 2021.