Summary

CV Check's Q4 group revenue has surged 266% compared to the pcp. Also, the firm has remained cash flow positive.
CV1 has continued to make significant progress on the integration of the CVCheck platform and BPT businesses.
CV1 ended the June quarter with a robust balance sheet and no external debt.
For several consecutive months, CV Check Limited (ASX:CV1) has been on a record-setting spree, clocking record revenues on the back of product enhancements, acquisitions and integrations.
Robust growth in revenue
The Company has reported a whopping surge of 262% in group revenue for Q4FY21 (the period ended 30 June 2021) as compared to the COVID-affected Q4FY20. CV1 clocked AU$6.4 million in group revenue for the quarter, underpinned by the acquisition of the BPT business and its growth in the Australian and New Zealand economies.
DID YOU READ: How does CV1 help businesses maintain airtight data security during remote work?
Source: CV1 Announcement 29/07/21
The combination of BPT workforce compliance competencies and the CV1 platform's automated verification workflows and HRIS integrations enable the development of a credentials-based workforce management capability.
Cash receipts of AU$6.3 million were recorded in the quarter, 249% higher than Q4FY20 and were driven by strong sales performance across the Company's businesses.
GOOD READ: How is CV Check (ASX:CV1) placed amid evolving needs for managing workforce compliance
Record 12-month ARR
During the quarter, CV1's net cash from operating activities was positive at AU$585K and AU$1.5 million cash positive throughout the year. The Company's cash and cash equivalent stood at AU$12.9 million as on 30 June 2021 with no external financing.
In another milestone, CV1 posted a record 12-month booked annual recurring revenue with 19.8% growth in annual recurring revenue (ARR) of AU$13.3 million to 30 June 2021 versus AU$11.1 million to 31 March 2021.
Source: CV1 Announcement 29/07/21
COMPANY ASX UPDATE: Another month of record revenue for CV Check (ASX:CV1), shares tick higher
Record revenue from CVCheck platform
Revenue from the CVCheck platform in the June quarter was 104% up on the pcp, and the platform achieved fresh record for quarterly revenue, having registered AU$5.0 million in Q4FY21 compared to AU$2.4 million in Q4FY20. CV1's B2B revenue generated on the platform stood at a record AU$4.0 million during the quarter.
The growth in CV1's platform was underpinned by the B2B integrations with HR information systems and applicant tracking systems. CV1's revenue from these channels has shown consistent and strong growth, with Q4FY21 revenue of AU$0.7 million through this channel, surpassing the pcp figure by 420%.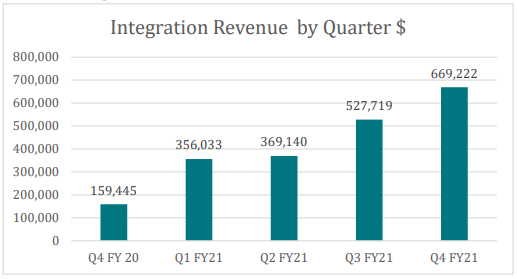 Source: CV1 Announcement 29/07/21
A revenue of AU$1.4 million was generated through the BPT platforms during the quarter, driven by significant contracts with blue-chip clients such as BHP, Woodside, Roy Hill, and Cash Converters.
INTERESTING READ: A hat-trick of bumper months? CV Check Limited continues to clock robust sales
Continued strategic and operational progress
The Company's strategy to white label its screening and verification services has continued to deliver, having generated sales of AU$0.3 million during the quarter. CV1 booked first orders from several well-known brands like Rheinmetall Defence Australia, Whitehaven Coal, WaterNSW, etc.
CV1 also made notable progress on the integration of the CVCheck and BPT businesses with the first two phases of the three being complete, as proposed in the integration plan.
Under the budget setting process for FY2022, CV1 has emphasised on the integration optimisation while concentrating on growth opportunities by capitalising on the capabilities of the growing platform.
Besides this, CV1 also continues to focus on strategies to enhance its SaaS-based revenues.
Source: CV1 Announcement 29/07/21
DID YOU READ: CV Check (ASX:CV1) ups ante amid the need for background verifications and checks
During the quarter, CV1 also concluded various elements of the transaction concerning the acquisition of the BPT business. Mr Jon Birman, prior Chairman of BPT, was appointed to the board of CV1. The company also issued consideration shares, made payment to redeem BPT's external debts, issued ordinary shares in CV1 to non-executive director, Mr George Cameron-Dow.
All in all, CV1 has been making great strides in the background checking space in Australia, with record revenues achieved for several consecutive months. Moreover, the Company has been improvising its product capabilities to enhance its offering and expand its reach.
CV1 stock was trading at AU$0.170 on 30 July 2021 (11:11 AM AEST), up 3.030% from the previous close.