Summary

Creso Pharma's acquisition target Halucenex has expanded the recruitment of its Phase 2 clinical trial for Treatment-Resistant Post Traumatic Stress Disorder (PTSD).
The study will now include participants who have not served in the military and suffer from Treatment-Resistant PTSD.
Halucenex expects to initiate the study following the Dealer's License receipt from Health Canada, which is likely to be granted shortly.
The trial expansion is a promising development and will lay a solid foundation for Creso to become a best-in-class provider of cannabis, cannabinoids, and psychedelic medicines.
The additional data from the expanded study will also add to the growing body of evidence for psychedelic drugs.
In a strategic move, Creso Pharma Limited's (ASX:CPH, FRA:1X8) acquisition target Halucenex Life Sciences has decided to expand the recruitment of its Phase 2 clinical trial for Treatment-Resistant Post Traumatic Stress Disorder (PTSD). This expansion will see Halucenex including even those participants, who suffer from Treatment-Resistant PTSD but have not served in the military or undertaken roles as first responders.
Halucenex took the decision following the overwhelming inbound enquiries received from individuals who suffer from debilitating mental health conditions and are looking for alternative treatments. In addition, COVID-19 has caused the target market to grow further, with four out of ten adults in the US reporting anxiety or depression symptoms during the pandemic.
DO READ: Creso in high spirits as Halucenex readies to enter the US market with new deal
First-mover advantage for Halucenex
Halucenex is confident that the expansion of the PTSD trial will allow the Company to collect an additional data set that will provide 'real world' examples of psilocybin's efficacy when the compound is used as an alternative treatment.
ALSO READ: Legislative tailwinds to bolster Creso and Halucenex's entry into US psychedelics market
Halucencex's three-tiered strategy (Image source: CPH Presentation, 15 March 2021)
Furthermore, the psychedelics player anticipates the additional data will add to the growing body of evidence for the use of psilocybin and assist with upcoming research, regulatory and licensing agreements. It is worth noting that the additional data will offer Halucenex a significant competitor advantage and "first-mover advantage", as it will be extremely rare and valuable.
The Company will use the data to advance discussions with potential partners, including drug developers and prominent pharmaceutical players as well as insurance providers and regulatory bodies, to strengthen its position as a first-mover in the evolving psychedelics space.
MUST READ: Creso Pharma extends deal with Route2 Pharm to foray into Ecuador market
Significant market opportunity in Canada
Halucenex expects to commence its Phase 2 clinical trial following the receipt of a Controlled Drugs and Substances Dealer's License from Health Canada. Upon receipt of the Dealer's License, Halucenex intends to apply for Clinical Trial Authorisation and commence the clinical trial. Interestingly, the Company notified that the discussions with the health authority are progressing well, and it anticipates securing the Dealer's License soon.
DO READ: Creso Pharma delighted as Halucenex nearly doubles its synthetic psilocybin inventory
Although the prevalence of PTSD is higher amongst veterans compared to the general population, the PTSD therapeutics market is anticipated to expand to US$10.5 billion by 2025. Additionally, mental illness in Canada has an economic burden of CA$51 billion per annum. The data highlights the significant market opportunity for Halucenex and Creso Pharma.
Halucenex revealed that the trial expansion would demonstrate how psychedelic treatments can be undergone while operating daily routines more efficiently.
Management commentary
Bill Fleming, Founder & CEO of Halucenex, commented-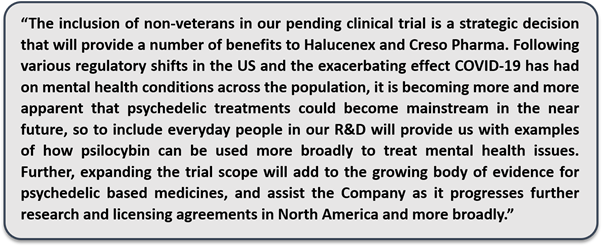 Adding to this, Adam Blumenthal Non-executive Chairman of Creso stated-
On 8 June 2021, CPH shares were trading at AU$0.165, up 3.125% (at 02:43 PM AEST).