Summary

Creso Pharma has achieved a record revenue growth for the second time in a row.
During Q2 CY21, the Company reported a total revenue growth of 24%, led by its Swiss operations and the Canadian subsidiary Mernova Medicinal.
Creso highlighted that the recent US legislative shifts offer a significant market opportunity for the Company and Red Light Holland in US markets.
Following Creso's proposed merger completion with Red Light Holland and listing of The HighBrid Lab on the CSE, the Company can immediately enter US markets.
The pharmaceutical player also stated that the recent sales growth across the group is encouraging and lays the groundwork for the future.
Building on an impressive performance of the first quarter of CY21, Creso Pharma Limited (ASX:CPH) has announced a record revenue growth for the second time in a row (Q2 CY21). The Company delivered the record performance through its Swiss operations and the Canadian subsidiary, Mernova Medicinal Inc.
Creso Pharma highlighted that so far it had generated more than AU$1.71 million revenue during Q2 CY21, marking a 24% rise on the previous quarter.
MUST READ: Creso Pharma welcomes Halucenex's strategic move to expand PTSD trial
Creso's consistent QoQ growth
Creso Pharma's consistent quarter-on-quarter (QoQ) growth is supported by a robust demand for Mernova Medicinal's craft cannabis products and the Company's animal and human CBD products.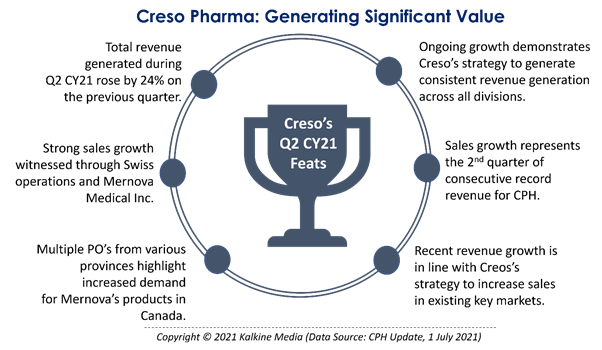 The key highlights include:
Mernova Medicinal has so far generated sales of AU$1,040,454 from purchases from provinces including the Nova Scotia Liquor Corporation, Yukon Liquor Corporation for its Ritual Green and Ritual Sticks pre-roll range, and New Brunswick's only legal cannabis retailer.
Creso's Swiss operations have contributed ~CHF469,083 to quarterly revenue growth to date via the sale of high-quality cannabidiol (CBD) products for animals and humans.
CPH's Canadian subsidiary continues to pursue additional near-term sales opportunities aggressively.
The recent revenue growth is in line with Creso's strategy to increase sales in existing major markets through ongoing international expansion and new product launches.
DO READ: Creso Pharma expands its European footprint with Polvet Healthcare commercial agreement
CPH welcomes recent US legislative shifts
The Company updated that Connecticut had become the 19th state in the US to allow the use of recreational cannabis and follows the latest legislative change in New Jersey, New York, New Mexico, and Virginia in 2021. The state passed a legislation on 22 June 2021 and people aged 21 years and above can now possess as well as consume marijuana, starting today.
The legislative shift is anticipated to set the foundation for a new cannabis industry in Connecticut. The government representatives expect that retail sales of recreational cannabis in the state will commence in 2022.
ALSO READ: Legislative tailwinds to bolster Creso and Halucenex's entry into US psychedelics market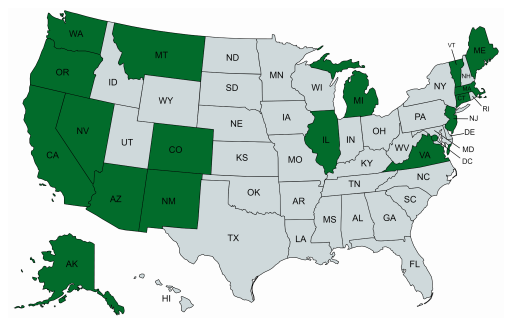 States in the US where adult use of recreational cannabis is legal, Source: CPH Update, 1 July 2021
US legislative shifts offer a significant market opportunity
The Company disclosed that the US legislative shifts provide another significant market opportunity for Creso and Red Light Holland (RLH) ahead of the prospective merger to create The HighBrid Lab. Currently, the two companies are exploring go-to-market strategies and opportunities to increase Mernova's offering to advance an entry into US markets.
Furthermore, Creso has a positive outlook on sales growth, with the potential RLH merger offering multiple new near-term market entries.
ALSO READ: Creso Pharma (ASX:CPH) shares fly high on US OTC dual listing completion
Creso also highlighted that Senate Bill 519 had been passed through the Californian State Assembly Committee on Public Safety and was crucial for the legislation to be enacted into law.
SB519 recommends that a comprehensive range of psychedelic substances, including psilocybin, should be legal to use and possess for adults over 21 years. The bill also expunges any prior criminal offences for the use and possession of psychedelic substances. This development highlights a substantial market opportunity for Creso Pharma, Halucenex, and The HighBrid Lab.
DID YOU KNOW: Creso Pharma (ASX:CPH) to foray into global livestock market with anibidiol® swine
Following the proposed merger completion with Red Light Holland and listing The HighBrid Lab on the Canadian Stock Exchange (CSE), the newly formed entity can immediately enter the US market. The Company will target the 19 states highlighted in the map above as they offer low risk and potentially high-yield opportunities to enter and establish the presence.
ALSO READ: Creso Pharma (ASX:CPH) set to merge with Red Light Holland to create a mega cannabis firm
Once SB519 becomes a law, the Company will also explore opportunities in California for its psychedelic product suite, which is awaiting regulatory authorisation. California is the largest US state by population and represents a significant addressable market opportunity for CPH.
Management Commentary
Adam Blumenthal, Non-Executive Chairman of Creso, commented-
The consistent growth in revenue lays the groundwork for Creso Pharma for the future. Furthermore, the US legislative tailwinds offer significant market opportunities for Creso, Halucenex, and The HighBrid Lab.
On 01 July 2021, CPH shares were trading at AU$0.150, up 7.142% (at 02:06 PM AEST).