Source: Getty Images
Summary

Global pharmaceutical player Creso Pharma has entered into an agreement to acquire the Canadian psychedelics player, Halucenex.
With the agreement, Creso Pharma is to enter the emerging global market for psychedelics medicines.
The psychedelics medicines market provides Creso with an additional profitable industry vertical and a new revenue stream.
The acquisition strengthens the Company's presence in Canada, providing several drug development opportunities.
In what could turn out to be a game changer for Creso Pharma Limited (ASX:CPH, FRA:1X8), the company has signed an agreement to acquire Halucenex Life Sciences Inc, a Canadian psychedelics company.
Halucenex is focused on developing medications for Treatment Resistant Depression in individuals suffering from Post-Traumatic Stress Disorder (PTSD) and other mental health conditions.
The ASX-listed emerging cannabis player sees the acquisition as a transformational move as it will provide Creso Pharma with a first-mover advantage in the psychedelic drugs space. Interestingly, the deal makes CPH the first ASX-listed Company with a wholly-owned psychedelic medicines subsidiary.
The deal will help Creso become a best-in-class supplier of cannabis, cannabinoids, and psychedelics alternative medicines to meet the large unmet medical need for mental health and wellbeing.
Creso to enter the emerging psychedelic medicines market
The proposed acquisition marks Creso Pharma's entry into the emerging psychedelic medicines market, establishing itself as a diversified natural medicines player in the mental health and wellness space.
With the combined group, Halucenex would profit from several significant synergies, charting out a faster route to early revenues with-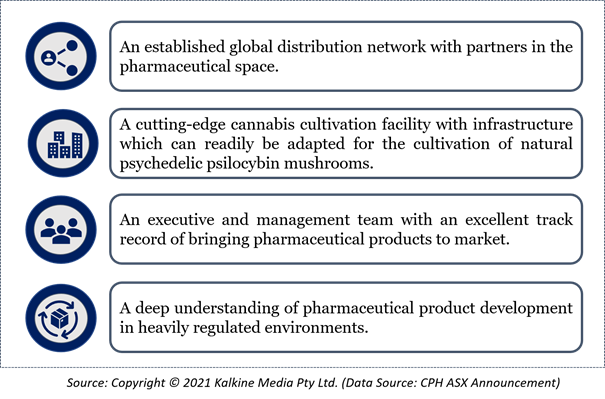 The two players are well-positioned to focus on the innovation in the psychedelic medicines sector, lead by an experienced operational team supported by veteran researchers, academics, clinicians and thought leaders in the cannabis and psychedelic medicines industries.
Moreover, the agreement also creates a new revenue stream for CPH via strategic association with Veterans Affairs Canada and Veteran support groups.
Key terms of the agreement
The deal is contingent on the following conditions:
The two parties getting all 3rd party approvals and consents required to lawfully complete the acquisition.
Creso Pharma obtaining the required regulatory and shareholder approvals.
CPH finalising the financial legal and technical due diligence within 45 days of execution.
Other Terms:
CPH will offer ~A$250,000 to Halucenex as a loan, exclusively to fund Halucenex's operations before the settlement. The Company will provide an additional A$1 million over a 12-month period post settlement.
Vendors can nominate a director to Creso's board (as a non-executive director) up until three months after the settlement.
Significant opportunity in psychedelic medicines market
Amidst the increasing prevalence of mental illness, particularly during the COVID-19 pandemic, combined with inadequate therapy options, the psychedelic medicines market for mental illness treatment is growing rapidly. It is estimated that the psychedelic drugs market is worth US$100 billion.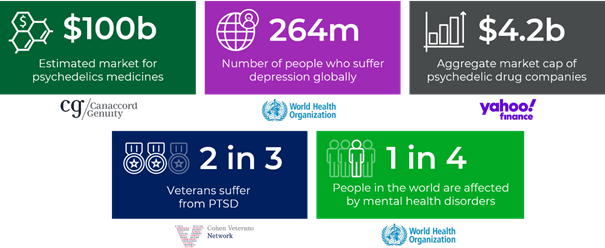 Image Source: CPH Presentation
Psychedelic-assisted psychotherapy (PAP) refers to therapeutic practices involving psychedelic drugs. PAP with micro doses is a therapeutic method that involves the administration of small doses of a psychedelic drug.
The commercialisation potential of PAP as an effective, safe treatment provides a solution to the growing global mental health crisis.
Mental illness remains substantially undertreated, with current mainstream treatments considered to be ineffective with numerous major side effects.
Halucenex in a nutshell
Halucenex is an established Canadian psychedelics player focused on developing and delivering evidence-based products for the treatment of Treatment Resistant Depression. Besides, the Company is also engaged in other detrimental mental illnesses, with a particular focus on psychedelic-derived medicines.
Halucenex operates a medical treatment facility (6,000 sq. ft.) in Nova Scotia, Canada, with a Controlled Substances laboratory, as well as 18 treatment rooms dedicated to offer psychedelic-assisted psychotherapy.
Notably, Halucenex is targeting two markets with a massive unmet need-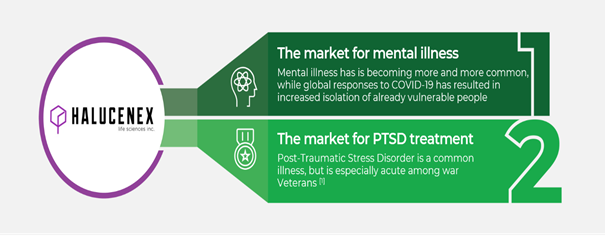 Image Source: CPH Presentation
Management commentary
Adam Blumenthal, Non-executive Chairman of Creso Pharma commented:
Mr Blumenthal further added that mental health and PTSD are becoming detrimental to the society and this has been highlighted in the last 12 months.
However, these conditions have been exacerbated amid the COVID-19 pandemic and the available treatments have shown limited effectiveness with many side effects. He emphasised that psychedelic-assisted therapy is a new alternative treatment route, which has considerable potential.
Adding to this, Mr Bruce Linton, Strategic Advisor of Creso stated:

Mr Bill Fleming, Founder and CEO of Halucenex, said-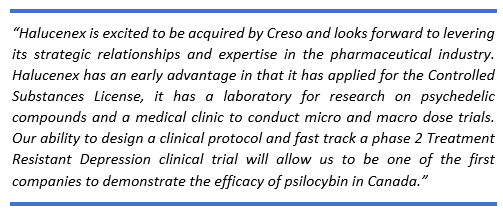 Bottomline
The proposed acquisition of Halucenex allows Creso Pharma to make its presence felt in the mental health and wellness space. With this deal, the Company is set to emerge as a best-in-class cannabis, cannabinoids, and psychedelics alternative medicines provider to address the unmet medical needs and also opens path to early revenues.
On 15 March 2021, CPH shares last traded at A$0.205 (at AEDT 1:59 PM).