Source: Bukhta Yurii, Shutterstock
Summary

Creso Pharma enters into a commercial agreement with South Africa-based Cannabis Queen for marketing and distribution of its products in Africa.
The agreement expands Creso's product distribution network to 3,100 points of sale across Africa and Europe.
Creso has agreed to sell Anti-Aging Serum and Hair Treatment product range of Cannabis Queen in Europe.
The Australian cannabis player is confident the agreement would drive growth and enhance its product visibility in emerging markets.
Creso Pharma Limited (ASX:CPH, FRA:1X8) has entered into a bilateral agreement with Johannesburg-based Cannabis Queen. With this deal, Cannabis Queen will sell and distribute Creso's topical and Cannabidiol (CBD)-based tea products in African countries.
The established footprint and reputation of Cannabis Queen in Africa are anticipated to drive growth and boost the visibility of Creso Pharma's products in the emerging markets.
As part of the deal, CPH will also distribute Argan & Cannabis Hair Treatment 50ml and Anti-Aging Serum 30ml products in Europe.
Agreement to beef up Creso's African presence
The agreement offers Creso an established footprint into the emerging African markets and substantially de-risks the introduction of new products. The South African company will sell CPH's products to its retail and wholesale network of over 1K points of sales.
With the bilateral commercial deal, Cannabis Queen will market and distribute CPH's CannaDOL and CBD-based cannaQIX® tea range via multiple channels. These channels include direct-to-consumer sales, retail distributors, established online store, specialist wellness shops, as well as beauty salons, spas, and pharmacies.
Creso' CBD-based tea products, introduced under the CannaQIX® brand, include cannaQIX® tea, cannaQIX® NITE tea and cannaQIX® Immunity tea.
TO KNOW MORE, DO READ: Creso Pharma rolls out new hemp tea products using revolutionary technology

Source: CPH Announcement, 14 April 2021
Terms of the Agreement
The agreement has an initial term of one year and is non-exclusive for both parties. The term will be renewed automatically after one year, unless-
any party advises their decision to not renew the agreement within 90 days before the expiry of the Initial or Renewal Term, or
the parties do not sign a further definitive agreement by 30 September 2021.
Creso Pharma to sell Cannabis Queen's product in Europe
The contract also allows Creso Pharma to market and distribute Anti-Aging Serum 30ml and Argan & Cannabis Hair Treatment 50ml product range of Cannabis Queen in Switzerland.
The Cannabis Queen products comprise ethically obtained South African essential oils, rendering them efficient and appealing to the consumers.
Anti-Aging Serum: The Anti-Aging Serum is an all-in-one facial serum formulated to rejuvenate the skin. The serum will improve cell turnover, reduce breakouts, and resurface the skin without inflammation risks.
The serum texture makes its absorption into the skin much easier, unlike other heavier creams and lotions. The combination of these essential oils and CBD gives more radiance to the skin.
Source: CPH Announcement, 14 April 2021
Argan & Cannabis Hair Treatment 50ml: Creso' hair treatment is also an infusion of CBD and essential oils. The distinctive properties of essential oils blended with CBD accelerate hair growth and stops hair loss with visible effects. Regular use of the hair treatment will assist the activation and protection of follicle stem cells, making hair stronger with enhanced density and volume.
Interestingly, CPH has an established distribution footprint of more than 2,100 points of sale across Switzerland. These networks will target the marketing and distribution of Cannabis Queen's products.
The distribution networks comprise drugstores, health nutrition shops, pharmacies, pharmacy networks, along with large retail groups such as Manor, a leading department store chain. Creso also distributes to all major wholesalers across the country, including Amedis, Galexis, and Voigt.
DO READ: Creso beefs up Canadian business as Mernova secures new POs, product launches
Cannabis Queen in a nutshell
Cannabis Queen is a Johannesburg-based skincare company.
It was established in May 2019 after the decision from the Department of Health, South Africa, which made cannabidiol available in the country for consumer use.
The Group developed into one of the first companies of its kind across South Africa and is now focused on providing top-quality products to market.
Cannabis Queen has various CBD-based topical products manufactured from full-spectrum CBD oil and advanced formulas with improved botanicals.
All raw materials used in the formulation are locally and ethically obtained.
The products of Cannabis Queen have been demonstrated to be highly effective compared to the competitor's products.
Jorge Wernli, CEO Swiss International Operations commented: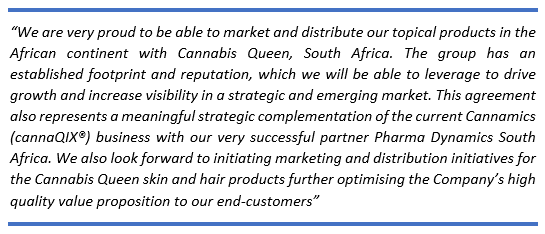 INTERESTING READ: Double bonanza: Creso eyes OTC listing; Halucenex gets new psilocybin supplies
CPH is well placed to expand its proprietary technologies into different verticals, with other value-adding programs and revenue-generating products in animal and human health under development. The Company anticipates launching additional products shortly.
On 16 April 2021, CPH shares were trading at AU$0.210, up 4.999% (at AEST 3:36 PM).