Highlights

Control Bionics has a burgeoning market reputation for the high quality and effectiveness of its technology.
The Company has developed solutions like NeuroNode Trilogy to serve the population living with conditions that cause paralysis and loss of speech.
Control Bionics is on a strong path to grow its market-leading, patented technology and systems globally.
An emerging player in the global assistive technology industry, Control Bionics (ASX:CBL), is involved in developing innovative augmentative communications & control devices.
Dedicated to serve the population living with conditions that cause paralysis and loss of speech, Control Bionics has developed solutions like NeuroNode Trilogy. The product reduces user fatigue while increasing communication speed in a one-time-funded system, which can be modified as per the client's needs.
NeuroNode Trilogy: A 3-in-1 solution
Control Bionics' trilogy product line is the world's fastest and lowest-fatigue communication and control system boasting a fair blend of eye control, touch control, and NeuroNode 3.0 control.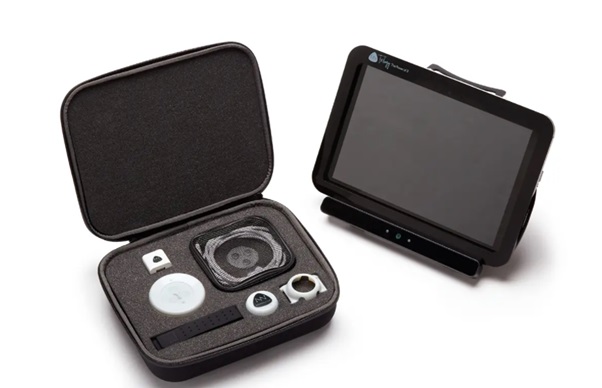 Image source: Company website
It is a 3-in-1 solution designed and developed to provide one Augmentative and Alternative Communication (AAC) solution, one Speech-Language Pathologist (SLP) evaluation as well as one funding application.
NeuroNode 3.0 constitutes the heart of NeuroNode Trilogy. It is the latest generation of the world's leading wearable EMG control device packed with an array of features that make it highly intuitive as well as flexible.

Also read: How Control Bionics is set to make a strong mark in assistive technology market
Benefits for people living with specific medical conditions
The trilogy product offers communication and control for people living with conditions such as amyotrophic lateral sclerosis/ motor neurone disease (ALS/MND), spinal muscular atrophy, cerebral palsy, traumatic brain injury, spinal cord injury, and more.
NeuroNode technology is listed and registered in the US with the FDA as a powered communication device and a powered environmental control system.


Image source: Company's video on YouTube


Amyotrophic Lateral Sclerosis/Motor Neurone Disease (ALS/MND)
The Company has been serving ALS/MND patients since the beginning, aiding in the development of solutions, like NeuroNode Trilogy.
Spinal Muscular Atrophy (SMA)
Over the years, Control Bionics has served a wide range of clients of different age groups, be it young or old, who have spinal muscular atrophy. The service is offered in the United States and at various other locations across the globe.
The system developed by CBL has been used by one of its longest partners in the development of NeuroNode for control and communication for nearly a decade. Also, one of CBL's youngest clients used its communication solution to ensure her voice could be heard during classes.
The ASX-listed firm understands that individuals living with CP face unique access and communication challenges. Also, traditional switches often require maximum effort, while more advanced eye tracking solutions can be problematic due to seating positions and muscle spasticity.
Spatial Control has been designed specifically to address such issues faced by patients. It is the latest NeuroNode product developed after thorough research and development.
Spinal Cord Injury (SCI) and Traumatic Brain Injury (TBI)
The trilogy product allows locked-in patients who have had a traumatic brain injury to communicate with their friends and family. It has been helping patients with TBI and SCI around the world.
In the United States, CBL has been working in association with its partner Veteran's Health Administration to serve individuals having TBI and SCI.
Combining control methods of NeuroNode Trilogy let patients communicate at a faster pace and have a better output.
Market opportunity is significant for Control Bionics, whose technology is pioneering and life changing for its customers. An estimated 56,000+ people every year in Australia, Japan, and the US are diagnosed with conditions that come under CBL's key target user base.
Stock information: CBL shares traded at AU$0.430 on the Australian Securities Exchange (ASX) on 1 February 2022 with a market capitalisation of AU$35.63 million.