Highlights

Chimeric Therapeutics' ongoing CLTX CAR T clinical trial has delivered promising results, suggesting it may be effective even against the most aggressive cancers.
Data highlights a 75% disease control rate at lowest dose level with up to 8 weeks of durability.
Tumour recurrence was prevented in the area where CLTX CAR T cells were infused, and tumour progression occurred in areas away from where CLTX CAR T cells were infused.
The generally well-tolerated adverse event profile of CLTX CAR T suggests no CRS events.
The Company plans to progress to more active dose levels with dual routes of administration.
Marking a major headway, Chimeric Therapeutics (ASX:CHM) has released encouraging data from its ongoing CLTX CAR T phase 1 clinical trial, suggesting regional control of tumour recurrence.
Recently, the Company participated in the Society for Neuro-Oncology (SNO) 26th annual scientific meeting and highlighted key additional clinical data during its final presentation of two CLTX CAR T abstracts on 20th November.
The CLTX CAR T phase 1 clinical trial is an ongoing single arm, open label trial in patients with MMP2+ recurrent or progressive glioblastoma. The prime objective is the safety evaluation of CLTX CAR T cells, determining the maximum tolerated dose schedule and a recommended dosing plan for Phase 2.
75% tumour control rate at the lowest dose
Abstract CTIM-29, "Clinical evaluation of chlorotoxin-directed CAR T cells for patients with recurrent glioblastoma" provided the initial clinical data insight for CLTX.
The Abstract CTIM-29 presented the clinical data from the ongoing phase 1 clinical trial, focusing on four patients enrolled in dose level 1 treated with 44 X 106 CLTX CAR T cells via a single method of intratumoral administration.
In the initial abstract presentation of patients treated at the 1st dose level, a disease control rate of 75% was obtained. Three out of the four patients treated achieved a best response of stable disease assessed by RANO criteria.
As per the additional insights as provided in the final presentation, the disease control observed was durable for around 5-8 weeks.
Under this trial, dose escalation is planned across four dose levels to a total dose of 440 X 106 CLTX CAR T cells administered through dual intratumoral and intraventricular routes of administration.
ALSO READ: Chimeric Therapeutics ticks off a crucial milestone; secures IND clearance for CHM 1101
Additional data suggests regional control of tumour regression
During the final presentation of CLTX CAR T CTIM-29 abstract, the Company presented MRI scans of patient 487, who was administered a dose of 44 X 106 CLTX CAR T cells through a single intratumoral route of administration, like all patients in this dose level.
The scans highlighted:
Tumour recurrence prevented in the left frontal lobe where CLTX CAR T cells were infused, two months after the infusion.
Tumour progression was seen only in the left temporal lobe which did not receive CLTX CAR T infusion.
These key findings reflect that the dual routes of administration of the CLTX CAR T cells in dose levels 2-4 may provide additional hope for patients.
The final presentation also included other information about the generally well-tolerated adverse event profile of CLTX CAR T. The data highlighted that CLTX CAR T was generally well tolerated with no observed cytokine release syndrome (CRS) and no dose limiting toxicities. CRS is an adverse event often related with CAR T cell therapy.
Additionally, the Company presented confirmation that the one grade 3 cerebral edema event was only possibly attributed to the CAR T cells. An adverse event, cerebral edema is commonly observed in glioblastoma patients.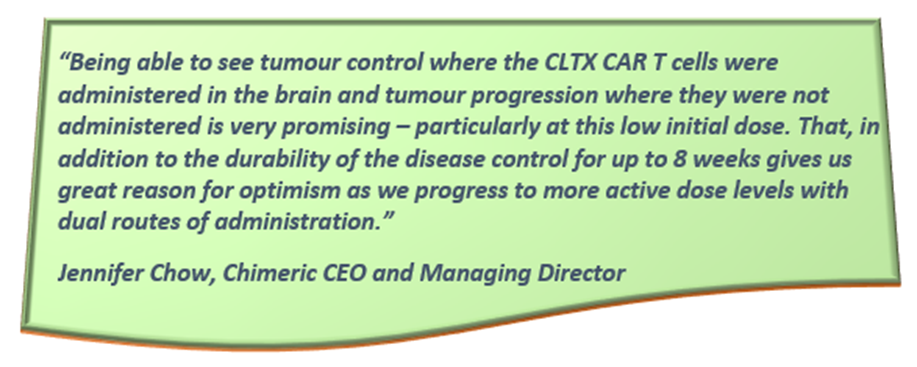 The EXTH-10 abstract indicates key role of MMP2 expression
Abstract EXTH-10, "Exploration of a novel toxin-incorporating CAR T cell: how does chlorotoxin recognize glioblastoma cells?" expanded on the translational understanding of Chlorotoxin (CLTX) activity.
The abstract presented early confirmation of the role of MMP-2 expression in CLTX CAR T tumour recognition and killing. It indicated that MMP-2 expression levels increased with tumour grade. Moreover, it was found that with higher MMP-2 expression, CLTX CART T cells preferentially kill tumour target cells.
The data suggests that the therapy may be effective even against the most aggressive cancers.
Within the presentation, early staining of a melanoma cell line was also shown, which validated strong MMP-2 expression and delivered early support to boost the clinical development program for CLTX CAR T into melanoma and other solid tumours.
MUST READ: Can Chimeric Therapeutics' CLTX CAR T therapy blaze a trail in GBM treatment?
Stock information: CHM shares were trading at AU$0.265 in the early hours of 30 November 2021.