Summary

CAR-T Cell Therapy is a novel, ground-breaking approach for the treatment of challenging cancer types.
Clinical-stage biotechnology firm Chimeric Therapeutics is conducting a Phase 1 clinical trial of innovative CAR T therapy at City of Hope.
The Company has successfully completed the first patient cohort for its CLTX CAR T study and is now moving to the second dosing level.
Chimeric Therapeutics Limited (ASX:CHM) continues to make significant strides in the development of its oncology pipeline with revolutionary cell therapy technologies to benefit cancer patients globally. The Company has licensed the exclusive intellectual property (IP) rights for the CLTX (Chlorotoxin) CAR T cell therapy, which is currently in development for patients with progressive and recurrent glioblastoma (GBM) at City of Hope.
Chimeric is also investigating CLTX CAR T therapy in patients with other solid tumours such as colorectal cancer, melanoma, prostate cancer, and small cell lung cancer.
ALSO READ: Chimeric Therapeutics makes headway with its CLTX CAR T therapy; what next?
CAR-T Cell Therapy Development
Cell therapy involves transferring live, intact cells into a patient to help cure a disease or lessen the disease burden. It is anticipated that the global market for cell therapies would expand to ~US$8-US$9 billion by 2026.
CAR-T Cell Therapy is a novel method of treating challenging cancer types. The therapy utilises a patient's own immune system to target and attack cancer cells, wherein T cells of patients are separated, re-engineered and introduced back into the body. The image below depicts the treatment process: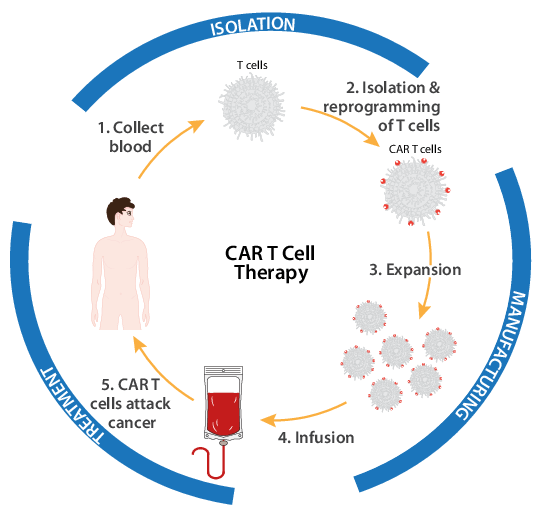 Source: CHM Website
CAR-T therapies have drawn significant interest from global medical players and investors since 2017 after the US Food and Drug Administration (FDA) gave the green light to Kymriah (August 2017) and Yescarta (October 2017).
Novartis' Kymriah was the first CAR T therapy that received US regulatory approval. The Australian TGA approved Kymriah in 2018.
Kite Pharma's Yescarta is the second gene therapy approved in the US. Gilead Sciences acquired Kite Pharma for US$11.9 billion in 2017.
Another biotechnology firm operating in the CAR-T medicine space is Juno Therapeutics, which was acquired for US$11 billion by Celgene in 2018. Bristol-Myers Squibb, in turn, acquired Celgene in November 2019 in a deal worth US$74 billion, the third largest biotech acquisition ever.
In Australia, a handful of ASX-listed companies, including Chimeric Therapeutics, Prescient Therapeutics, and Imugene Ltd are engaged in CAR-T technology development.
Notably, Chimeric Therapeutics has successfully completed the first patient cohort for Phase 1 clinical trial of its CLTX CAR T therapy and is uniquely positioned for potential success in cell therapy development.
ALSO READ: Meet the leadership team behind Chimeric Therapeutics' innovative CLTX-CAR T therapy
CHM achieves key safety milestone for CLTX CAR T
In April 2021, Chimeric announced that its CLTX CAR T therapy achieved a key safety milestone with the completion of dosing in the first patient cohort in the Phase 1 clinical trial. The trial has now progressed beyond the 28-day follow-up period without experiencing any dose-limiting toxicities.
After this safety milestone, the trial will progress to the second dosing level, introducing dual routes of CLTX CAR T administration – ICT route and intracranial intraventricular (ICV) route. CLTX CAR T will now be administered at a dose of 88 X 106 CAR T cells. Furthermore, this will facilitate patient dosing without the FDA-mandated stagger.
DO READ: Chimeric Therapeutics' (ASX:CHM) clinical trial hits a key milestone, progresses to next level
The study intends to enrol 18-36 patients having MMP2+ recurrent or progressive GBM across four dose levels.
Notably, Chimeric Therapeutics is in a healthy financial position. In its March quarter report, the Company highlighted that it had AU$23.6 million in cash and cash equivalents as of 31 March 2021.
MUST READ: Chimeric Therapeutics' March Quarter marked by strong financial position, crucial hirings
Chimeric Therapeutics: The way forward
Source: CHM Investor Presentation (18 March 2021)
It is worth mentioning that Chimeric Therapeutics' key representatives have vast experience with big pharma players including Novartis, Genentech, Celgene, and Roche, in bringing ground-breaking oncology therapies to market. The leadership team's expertise would certainly help boost Chimeric's prospects and contribute to the rapid development of its CLTX-CAR T technology.
On 20 May 2021, CHM shares closed 11.320% higher at AU$0.295.