Highlights

Chimeric Therapeutics' two abstracts for CHM 1101 (CLTX CAR T) have been accepted for presentation at the 26th annual scientific meeting of the Society for Neuro-Oncology.
The inclusion of these abstracts in the Neuro-Oncology meeting recognises the importance of CHM 1101 development.
The abstracts will provide new information related to the safety, efficacy, bioactivity and mechanism of CHM 1101 in glioblastoma (GBM) patients.
ASX-listed clinical-stage oncology firm Chimeric Therapeutics Limited (ASX:CHM) is riding high as its two abstracts for CHM 1101 (CLTX CAR T) are set to be presented at the Society for Neuro-Oncology (SNO) 26th annual scientific meeting. The premier global neuro-oncology meeting will be held during 18-21 November 2021.
Details of the abstract presentations-
RELATED READ: Chimeric Therapeutics ticks off a crucial milestone; secures IND clearance for CHM 1101
Abstract #: CTIM-29 - Chimeric will present the clinical evaluation of the initial dose cohort in Phase 1 clinical study for CHM 1101 (CLTX CAR T) on 19 November 2021.
This abstract presentation will provide new information on the safety, efficacy, and bioactivity of CHM 1101 in patients treated at the initial low dose level of 44 X 106 cells with intratumoral administration in the ongoing Phase 1 clinical trial.
In the CHM 1101 Phase 1 clinical trial, two administration methods are being examined- single route intratumoral (ICT) delivery and dual route- intratumoral and intraventricular (ICV) delivery. The second dose cohort (at a dose of 88 X 106) with dual-route administration was initiated in May 2021.
Looking forward to the abstract presentation, Jennifer Chow, CEO and Managing Director of Chimeric, commented-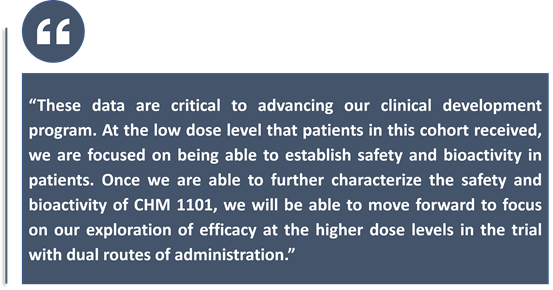 RELATED ARTICLE: Another milestone as Chimeric Therapeutics' (ASX:CHM) Phase 1 CLTX CAR T trial moves ahead
Abstract #: EXTH-10 - This abstract, which will also be presented on 19 November 2021, will provide further insight into the mechanism by which CHM 1101 identifies glioblastoma (an aggressive and challenging type of brain cancer) tumour cells.
These new findings advance Chimeric's understanding of the precise composition as well as localisation of the cell surface complex detected by CLTX CAR T.
Bottom Line
Significantly, the inclusion of these two abstracts in the SNO meeting is a testament to how significant the development of CHM 1101 is in the field of neuro-oncology drug development.
The Company highlighted that the acceptance of these abstracts for presentation at the SNO meeting requires an embargo on all the clinical data of CHM 1101 until the online abstract release on 11 November 2021.
On 30 September 2021, CHM shares were trading at AU$0.320 (at 10:29 AM AEST).
ALSO READ: Another feather in Chimeric Therapeutics' cap, CLTX CAR technology secures EU patent