Highlights

Chimeric Therapeutics marked major milestones during the three-month period ended 30 September.
The Company secured an exclusive licence to novel CDH17 CAR T cell therapy.
Securing IND clearance from the US FDA for CLTX CAR T for glioblastoma enables Chimeric to expand the clinical trial.
The Company has also enriched its team with several world-class experts.
Chimeric Therapeutics (ASX:CHM) recently released its quarterly activities report for the period ended 30 September 2021. The operational developments during the three-month period highlight the Company's significant progress towards its goal of discovering, developing, and commercialising the most innovative and promising cell therapies.
With every successful step, the ASX-listed firm is getting closer to its promise of bringing cell therapy to life for more cancer patients.
Significant developments in Q1
Novel Solid Tumour CAR T Therapy Licensed – During the given period, Chimeric secured an exclusive licence for the first CDH17 CAR (chimeric antigen receptor) T cell therapy from the University of Pennsylvania. The therapy has demonstrated the complete eradication of tumour cells with no evidence of toxicity in pre-clinical studies.
The therapy targets CDH17, which is a cancer target associated with poor outcomes and metastasis in neuroendocrine tumours as well as the most common gastrointestinal tumours including colorectal, pancreatic, and gastric cancer.
Development is currently underway for a phase 1 clinical trial, which is planned to begin in 2022 at the University of Pennsylvania.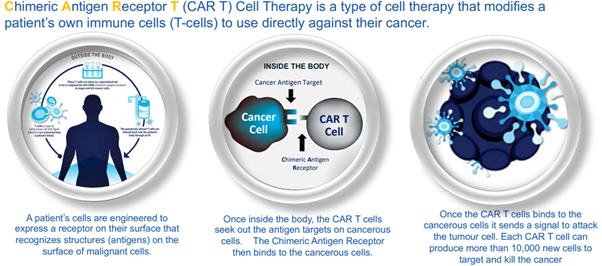 CAR T Cell Therapy (Image Source: CHM update, March 2021)
RELATED READ: Chimeric Therapeutics ticks off a crucial milestone; secures IND clearance for CHM 1101
IND clearance secured for CHM 1101 - The Company's Investigational New Drug (IND) application for CHM 1101 (CLTX CAR T) obtained clearance from the US Food and Drug Administration (FDA) for patients with recurrent and progressive glioblastoma.
The critical milestone enables Chimeric to expand the clinical trial for CHM 1101 (CLTX CAR T) to additional sites.
New partnership to advance drug development - Chimeric and OncoBay Clinical, a first-of-its-kind immuno-oncology CRO, have joined forces to advance the clinical development program for CHM 1101 (CLTX CAR T).
CHM will be able to expand the CHM 1101 program to additional clinical trial sites due to the new partnership. It will also enable CHM to aggregate the data from all sites to prepare for the registration phase 2 program.
KNOW MORE: Chimeric Therapeutics partners with Oncobay Clinical to advance clinical trials
European patent secured – Chimeric has bagged a new patent from the European Patent Office. The granted patent covers certain applications of chimeric antigen receptor (CAR) technology using chlorotoxin (CLTX), including Chimeric's clinical-stage CAR T asset, CHM 1101. The patent protection is expected until 2036.
CHM 1101 data presentation at a premier global neuro-oncology meeting - Two CHM 1101 (CLTX CAR T) abstracts have been accepted for presentation at the 26th annual scientific meeting of the Society for Neuro-Oncology (SNO) in November 2021.
RELATED READ: Chimeric Therapeutics to present clinical trial data at Global Neuro-Oncology Meeting
Chimeric onboards world-class experts
Chimeric appointed Jennifer Chow as the new CEO and Managing Director in August. Previously, she was serving as the COO of the Company. Ms Chow has over two decades of commercial strategy and marketing experience focused on hematology, cellular therapy, and oncology.
Another key addition was that of Dr George Matcham, who was appointed to the board as a Non-Executive Director. He brings a wealth of experience in the biopharma sector, following 30 instrumental years with cell therapy giant Celgene Corporation.
Additionally, the Company added new members to its Cellular Immunotherapy Scientific Advisory Board.
Related Read: Chimeric Therapeutics adds three more experts to Cellular Immunotherapy Scientific Advisory Board
Well-funded for ongoing research efforts
As of 30 September 2021, Chimeric had AU$17.4 million in cash and equivalents. The strong financial position enables the Company to progress the development of CLTX CAR T and initiate the development of a cell therapy pipeline.
Stock information: CHM shares were trading at AU$0.312 on 26 October (AEDT 11:29 AM), up 0.806% from its last close.
Also Read: Crucial milestones and appointments: Chimeric Therapeutics (ASX:CHM) sees action-packed FY21