Summary

Calima Energy delivered a great show in the March 2021 quarter.
Following the Blackspur acquisition, the Company now holds a strong cash-flowing asset base with long-term upside.
The Company expects to become debt free in 2022.
Canada-focused oil and gas firm Calima Energy Limited (ASX:CE1) has positioned itself in a dominant spot amidst rising crude oil prices. The WTI crude breached the US$66/bbl mark this week, and further recovery in oil price is expected over the short to medium term.
Calima had an action-packed March quarter this year, with the Blackspur acquisition announcement stealing the limelight. Interestingly, the acquisition of Blackspur will lead to positive cash flow for the Company in the near future with the inclusion of world-class assets in its portfolio.
Must Read: Robust Flows from Sunburst Wells Boost Calima Energy's Total O&G Production by 14%
Calima had to shell out C$21.5 million to acquire Blackspur, which included a cash payment of C$4.9 million and the rest C$16.6 million in equity. The Company also undertook fund raising through the Placement of shares and retail offer to complete the deal.
Calima raised C$37.9 million capital via issue of 5,425 million shares at an issue price of C$0.7 per share. The success of the capital raising shows the confidence that the investors have in the Company's operations.
Also read: With AUD 38M capital raising, Calima Energy comes closer to Blackspur's acquisition
Strong Asset Base with Long-Term Upside
Blackspur assets include two high-quality assets- Brooks and Thorsby in Alberta (Canada), with a 2P reserve of 22.5 MMboe. The average production from these assets during the December 2020 quarter was around 2,600 boe/d, which comprised 70% of crude oil.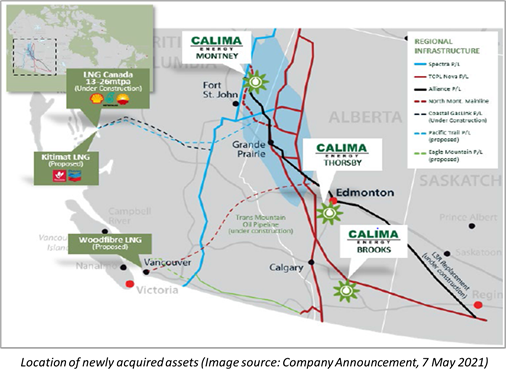 Blackspur recently drilled three wells (two new and one re-entry) on Sunburst formation in Brooks and put it under flow test. The 30-day flow test recorded an average production of 505 boe/day. Besides, the flow test result beefed up the production by 14% to ~2,818 boe/d. The Company now expects the average forecast production to remain at around 3,000 boe/d (65% oil) in 2021.
Calima is planning to drill three wells each on Brooks and Thorsby this year to boost the production to up to 5,500 boe/day by the end of 2022. The break-even cost for production is US$26/bbl. At the current range of WTI crude price of ~US$60/bbl, a strong cash flow is anticipated throughout the year.
Read here: Calima Energy (ASX:CE1) seals Blackspur merger deal, will add 3,000 boe/d of hydrocarbon production
Montney Asset- Development Pending
In the world-class Montney play, Calima owns diversified assets having significant potential for light oil, natural gas liquids (NGL) and dry gas, near a key pipeline infrastructure. Previously, the Company was awarded a 10-year Continuation Lease as a result of its drilling campaign back in 2019.
Calima has also secured approval for the construction of a pipeline connecting its well pads to the regional pipelines and processing facilities.
Interesting read: Calima Energy (ASX:CE1) Highlights Montney Development in December Quarterly Report
The pipeline is planned to connect Calima well pads to the Tommy Lake infrastructure with an installed capacity of 50 mmcf/d of wet gas and 1,500bbls/d of produced liquids. Besides, the pipeline will provide access to the oil and gas markets of Canada and the United States.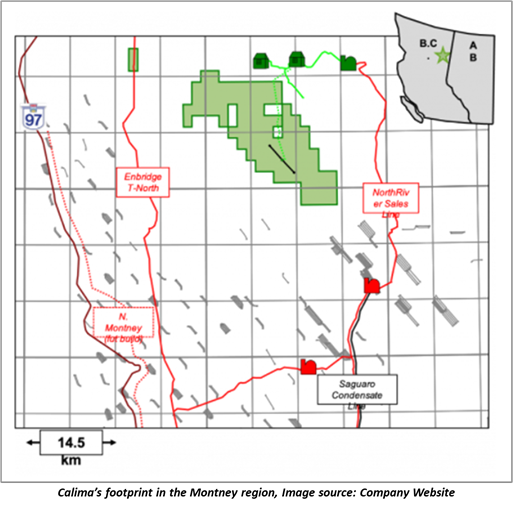 Initially, the approval is for the existing two liquids-rich Montney wells drilled by the Company at the beginning of 2019. Calima envisages that additional modules would be required at the pad sites to accommodate 20 well pads.
The Tommy Lakes facilities are fully permitted and are currently in a state of preservation for future recommissioning. Calima incurs an annual holding cost of A$500,000 for the facilities.
Also read: How Calima Energy took the oil and gas sector by storm in 2020
The latest resource report by an independent oil and gas consultant, McDaniel & Associates, has confirmed that Calima's Montney asset holds a 2C Contingent Resource of 248.9 bcf of gas and 12.4 million barrels of crude oil and NGL as Development Pending.
Guidance for 2021-22
Calima will use the cash flow generated from the operations to fund the capital programs internally and expects to become debt free in 2022.
For the calendar year 2021, the Company estimates a capital expenditure of C$17 million, which is likely to increase to C$32.5 million in 2022. The net free cash flow is estimated to be around C$2.5 million for 2021, with a significant jump to C$15 million by 2022.
The Company's production outlook also appears promising in the mid to long term. Based on the Company estimates, the production for 2021 is expected to average at ~2,900 boe/d in 2021 with an exit production of ~3,400 boe/d. For 2022, the average production is likely to reach ~4,800 boe/d, with an exit production of ~5,500 boe/d.
Calima Energy shares traded at A$0.009 on 17 May 2021.