Highlights

Calima Energy has concluded Leo #1 well drilling in the Sparky Formation, Thorsby area of Alberta, Canada.
The second well is slated to be spudded on 27 August 2021.
Initial production from three Leo wells is anticipated in late October.
Leo Sparky wells indicate compelling economics and have been optimised in terms of horizontal length and planned fracture stimulation intensity.
Calima Energy Limited (ASX:CE1) is set to spud the second well Leo #2 as part of a three-well drilling campaign at Thorsby, Alberta, on 27 August 2021.
Recently, the Company initiated the Leo drilling program in the Sparky Formation in the Thorsby region, which has a large inventory of wells to drill. At Thorsby, 89 Sparky Formation wells and 12 Nisku Formation wells have been identified.
Leo #2 well drilling to commence
CE1 has concluded the drilling of the Leo #1 well up to 3,799m through the Sparky and is currently engaged in conditioning the wellbore for cementing, while the frac liner has been run to the bottom.
RELATED ARTICLE: Calima Energy (ASX:CE1) spuds first well in Thorsby post successful campaign in Brooks
Subsequently, CE1 will skid the rig over ~15m and anticipates spudding the next Sparky well, Leo #2, on 27 August 2021. Further, the Company plans to spud Leo #3 immediately after Leo #2 from the same pad.
Timeline of Sparky drilling and production (Source: CE1 Announcement 26/08/21)
The Company remains optimistic about commencing the completion and fracture process for three Leo wells in the fourth week of September, and initial production is expected towards the end of October.
The Company is drilling all wells from one pad location close to its oil processing facility, and the pad includes two of the finest performing Thorsby Sparky wells. Since July 2018, the two wells together have produced more than 300 mbbl oil and 370 mboe.
RELATED ARTICLE: Calima Energy's (ASX:CE1) high-octane June quarter marked by strategic Blackspur acquisition
Compelling economics of Sparky wells
To date, CE1 has drilled 11 Sparky wells, out of which the tier 1 wells averaged ~3,400m of measured depth and 36 fracture stages, averaging 0.75 tonnes of sand per metre over the horizontal length with an average cost of around AU$2.5 million.
Leo 1, 2 and 3 Sparky wells have been optimised, and CE1 strongly believes that these wells would average ~3,800m measured depth and approximately 50 fracture stages, averaging 1.0 tonne of sand per metre over the horizontal length.
Source: CE1 Announcement 19/08/21
The total budget for the optimised wells stands at AU$3.2 million per well, and CE1 expects IP90 rates of 270- 460 boe/d (80% oil) and cumulative production of up to 462,000 boe. Moreover, well economics indicate well payback period of 5-10 months, and the net present value (NPV) stands at approximately C$6.5-C$8.8 million at a 10% discount.
RELATED ARTICLE: Calima Energy (ASX:CE1) lifts guidance on stellar May operational figures
Thorsby development potential
CE1 expects production from the Leo program to gather stream in the fourth quarter of the current year.
Moreover, there is a potential to develop a land base of ~108 net sections provided by Thorsby from multi-well pads. All of these pads have continuous access for a year and keep the environmental footprint at the lower end, with oil processing facilities having a capacity of 3,000 bbl/d.
In June 2021, the existing Thorsby wells averaged gross production of ~850 boe/d only from the Sparky Formation alone. With 11 wells drilled to date, CE1 projects future well recoveries to be in the range of 352 - 462 mboe.
Moreover, well inventory comprises 89 net Sparky Formation and 12 net Nisku Formation wells identified with a need to delineate multiple pools, and the selected wells indicated substantial type curve outperformance in the Sparky Formation.
RELATED ARTICLE: Calima Energy (ASX:CE1) concludes drilling of Gemini #4 well, what's next?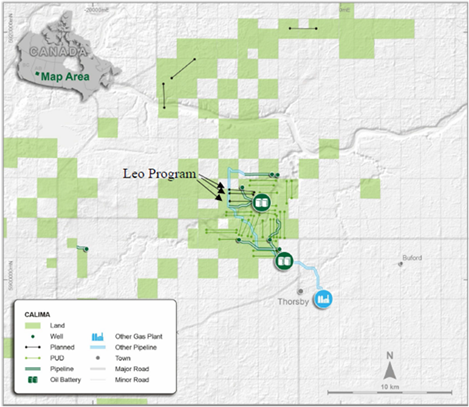 3D interpretation of a full Thorsby field development (Source: CE1 Announcement 26/08/21)
"We are very excited to be back drilling in Thorsby. The last well drilled in this area was in January 2019. We are drilling near some of our best wells to date and planning to implement a higher frac intensity relative to the previous wells with improved economics expected. The 3 wells have minimal on-lease tie-in's and will flow into our existing oil processing facilities that have ample room for the hydrocarbons. We have a lot of running room in the Thorsby Sparky play, and these wells are expected to be very impactful to our bottom line with IP90's of up to 460 barrels of oil per day."
Jordan Kevol, Calima's CEO
RELATED ARTICLE: Calima Energy (ASX:CE1) shares soar 12.5% on Brooks Sunburst drilling update
Bottom Line
As CE1 expedites work across Leo wells, there is a significant pipeline of activities to be undertaken in the near future. All eyes remain on the resultant observations and findings from these works and the way future plans shape up based on these observations and findings.
Shares of CE1 traded at AU$0.009 on 26 August 2021.