Summary

Boab Metals has announced the commencement of Metallurgical and Geotechnical testwork programs.
The testwork programs are expected to underpin the Sorby Hills DFS advancement.
BML has also received promising Phase IV drilling assay results, which are likely to have a positive impact on the project's resource inventory.
Boab Metals Limited (ASX: BML) shares soared by a whopping 19.8% mid-day on 1 February 2020 amid a flurry of developments underway at its Sorby Hills Project. BML shares traded at $0.545 at 2:02 PM AEDT today.
Staying ahead of the curve, Boab has commenced the Metallurgical and Geotechnical testwork programs for the Sorby Hills Definitive Feasibility Study (DFS).
Boab Managing Director Simon Noon referred to the recent commencement of the testwork programs as another significant milestone as the Company continues to make headways on the Sorby Hills Project. Talking about the upcoming DFS metallurgical and geotechnical testwork program, Mr Noon stated that they were intended to de-risk the project and at the same time, explore several exciting and value-adding opportunities.
Mr Noon also indicated that the 28 metallurgical drill holes and 14 geotechnical drill holes collected during the Company's recent Phase IV drilling program were "a significant addition to the already substantial body of data that exists at Sorby Hills".
The results of the testwork programs are anticipated in the coming months.
ALSO READ: Stellar drilling results put Boab Metals (ASX:BML) in the box seat
Value Addition via DFS metallurgical testwork
Boab Metals has carefully designed the DFS metallurgical testwork program to investigate and define:
The optimal processing parameters
Associated metallurgical performance of the ore to be mined from the Sorby Hills deposit.
The Company recently completed 28 metallurgical drill holes for 2,116 metres from which it has selected and submitted master, schedule, and variability composite samples to Perth-based ALS Metallurgical Laboratories.
It is worth noting that besides crushing and grinding (together comminution), flotation and tailings testwork, the metallurgical program also has a primary objective to investigate how incorporation of a Dense Media Separation (DMS) plant into the processing flowsheet would add value to the Sorby Hills Project.

Lead-Silver concentrate samples and specifications generated from the metallurgical testwork program will support discussions with Offtakers over the coming months.
What are the key activities of metallurgical testwork program?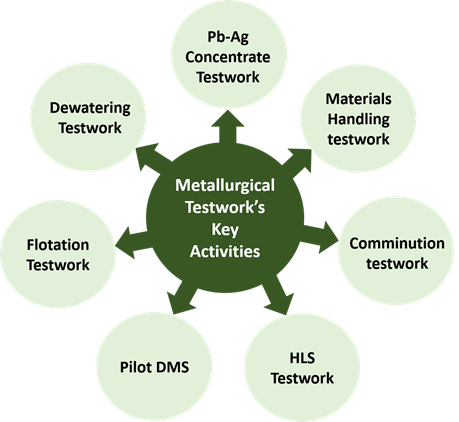 *HLS = Heavy Liquid Separation, Kalkine Group Image (Data Source: BML ASX Update, 1 February 2020)
The currently ongoing Metallurgical testwork program would include many activities aimed at advancing the Sorby Hills DFS.
Materials Handling testwork is focussed on defining bulk solids flow properties that would provide materials handling design details.
Crushing and grinding characteristics based on ore type and location in the processing schedule would be defined using Comminution testwork.
Heavy Liquid Separation (HLS) testwork would be undertaken to define optimum crush size for DMS beneficiation of lower grade ore and variability response.
Pilot DMS would demonstrate large scale gravity separation and expand the testwork data set of HLS for design.
Flotation testwork is focussed on defining optimal grind size, flotation circuit design and reagent regime as a function of ore type and location in the processing schedule. It is to include locked cycle tests for the schedule composites.
Dewatering testwork would consist of tailings and concentrate thickening as well as filtration vendor equipment selection/sizing testwork.
Lead-Silver Concentrate testwork to include Transportable Moisture Limit ("TML") measurement and the provision of concentrate product. It would support the securing of binding Offtake agreements.
ALSO READ: Boab Metals (ASX: BML) delivers a high-octane December Quarter
Geotechnical Program Overview
The DFS Geotechnical drilling completed 14 diamond drill holes for 1,224 metres. Notably, six of the holes were completed in the Norton Deposit area.
All data collection has been concluded, and the Omega, B and Norton DFS open pit designs would be underpinned by the sufficient geotechnical data available.
Data Source: BML ASX Update, 1 February 2020