Summary

Boab Metals (ASX:BML) announced that enormously positive meeting had been conducted with its Sorby Hill JV partner, Henan Yuguang Gold and Lead Co., Ltd.
Yuguang has reiterated their strong appetite for the Lead-Silver concentrate from Sorby Hills.
Yuguang intends to work productively with Boab to ensure that the Sorby Hills Project is bankable and fully financed.
Western Australia's Sorby Hills Lead-Silver-Zinc Project is in fine fettle, while the Joint Venture owners- Boab Metals Limited (ASX:BML) and Henan Yuguang Gold and Lead Co., Ltd (Yuguang) remarkably steer the exploration initiatives. Boab Metals has reported on the very positive meetings that were held between the joint-venture partners.
Notably, Boab owns a majority 75% interest, while the remaining stake in the project is held by Yuguang, which is China's largest Lead smelting company and Silver producer. Yuguang continues to maintain interest in the Sorby Hills Project for nearly ten years so far. During this period, it has continually contributed its share of JV exploration and development costs on the pro-rata basis.
ALSO READ: Pacifico Minerals (ASX:PMY) welcomes 2021 with a name change
Boab's Meeting with Yuguang
With travel restrictions in place since March last year amidst COVID-19 scenario, it is for the first time since the release of Pre-Feasibility Study (announced in August 2020) that the Joint Venture partners, Boab and Yuguang were able to meet face to face. Notably, Yuguang's Australian office is based in Melbourne.
Yuguang has fully backed Boab's Definitive Feasibility Study (DFS) program and budget, while it has also confirmed their intention to fund its 25% contribution to the DFS costs. The Shanghai Stock Exchange-listed Yuguang has also affirmed that they remain committed to the Sorby Hills project development and continue to work constructively with Boab to ensure that the project is bankable and fully financed.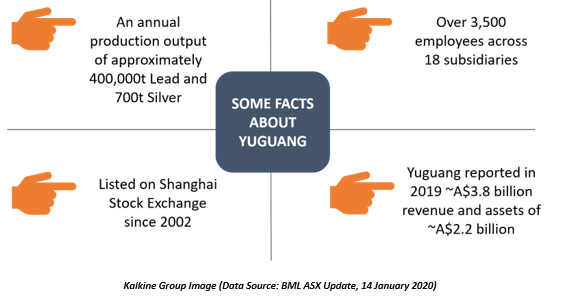 Yuguang Australia's General Manager, Mr Li stated that the ongoing synergy between the joint venture partners has brought forth an outstanding Prefeasibility Study. This affirms the continued interest of Yuguang in the Sorby Hills Project and the intended production of Lead-Silver concentrate.
Mr Li expressed their full confidence in the Boab team's competence for delivering a high-quality Definitive Feasibility Study. Yuguang looks forward to providing its support and assistance to the project, making sure that the project is fully funded and built at the appointed time.
ALSO READ: Boab Metals (ASX:BML) onboards Chief Operating Officer to fast-track production at Sorby Hills
Sorby Hills Lead-Silver Concentrate Offtake
In the context of Joint Venture discussions, Yuguang has expressed their strong appetite for Lead-Silver concentrate from the Sorby Hills. Furthermore, they have also indicated to potentially increase their offtake participation, exceeding that which Yuguang is currently entitled by virtue of their 25% interest in the joint venture project.
For the next few months, Boab plans on running an offtaker selection process focusing on allocating offtake rights to the Company's 75% interest in the production from Sorby Hills. Boab has already kickstarted the process and has undertaken a preliminary sounding with several well-credentialled potential offtake partners including Yuguang, to determine their interest.
Notably, Boab's financial advisers, BurnVoir Corporate Finance, would manage the offtake selection process.
BML shares traded at $0.490 mid-day on 14 January 2020.