Image Source: BML company website
Summary

The Optimised PFS demonstrated the economic and technical strength of Sorby Hills Project.
The Phase IV drilling program has further de-risked the Sorby hills Project while unveiling significant opportunities to materially boost the project's mining inventory.
Boab Metals has kickstarted preliminary sounding with many well-credentialled potential offtake partners.
Australian lead-silver explorer, Boab Metals Limited (ASX: BML) is in a fine fettle, marking a half-year of encouraging outcomes from explorations undertaken at its 75% owned Sorby Hills Project.
The Company's half-yearly report for the period ended 31 December 2020 shed light on Boab's exciting developments pursued on the project ground as well as at the corporate level. Indeed, the all-round progress has been remarkable, with the endeavours being in tandem with the growth objectives
Let us explore the recent activities that are boosting the Company's exploration journey on Sorby Hills.
ALSO READ: Export Finance Australia gives a leg up to Boab Metals' Sorby Hills project
Release of optimised pre-feasibility study
The Company released the positive results of the Optimised PFS on Sorby Hills in August 2020.

Source: BML ASX Update, 16 March 2021
The PFS confirmed the Project is technically and economically robust, underpinned by detailed test work and growing demand for Lead and Silver as part of the global transition to clean energy. The PFS results strengthen the Company's dedication for the development of the Sorby Hills deposit into a profitable mine.
Besides, a significant value adding opportunities were identified as part of the DFS work program.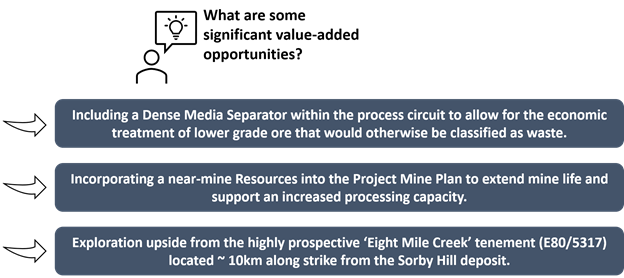 Source: Copyright © 2021 Kalkine Media Pty Ltd, Data Source: BML ASX update, dated 16 March 2021
Phase IV drilling program
On the back of the positive PFS findings, a Phase IV drilling program was undertaken to forge ahead the Project towards DFS status.

Source: Copyright © 2021 Kalkine Media Pty Ltd, Data Source: BML ASX update, dated 16 March 2021
The Phase IV drilling program has further de-risked the Sorby hills Project. The results from the program have also unveiled significant opportunities to materially boost the Project's mining inventory, leading Boab to undertake a high impact Phase V drilling program for looking into the exciting opportunities before the DFS finalisation.
ALSO READ: Boab Metals Limited (ASX:BML) at a Vantage Point with Strong Global Demand for Sorby Hills Lead-Silver Concentrate
Project financing and capital raising
Boab engaged with NAIF concerning debt financing for the Sorby Hills development, which has advanced through the initial two stages and is now within the Due Diligence Stage of NAIF's four-phase assessment process.
An amount of AUD 10 million before costs was raised from the Share Place of over 555 million shares, each at 1.8 cents. The Company further raised AUD 240K from a SPP undertaken in October. Moreover, an Option Exercise Program was completed during the period whereby A$4.8 million was raised.
During the half-year period, Euroz Hartleys Securities Limited appointed to undertake an Unmarketable Parcel Sale Facility successfully placed ~3.6 million shares at an average price of 1.70 cents per share.
Other Significant Developments in 2021
Mr David English in January 2021 was appointed as the inaugural COO of the Company, which is progressing towards a decision to mine
The change of Company name to Boab Metals Limited (erstwhile known as Pacifico Minerals) with a new ASX ticker code of ASX: BML
The consolidation of share capital was completed by the Company on a twenty-five to one (25:1) basis.
ALSO READ: Boab Metals revving up Sorby Hills project to boost shareholder's value
Sorby Hills poised for Solid Developments
Western Australia based Sorby hills is the country's largest undeveloped, near-surface Lead-Silver-Zinc deposit. Furthermore, the project being at proximal to existing infrastructure and having advanced permitting is in a favourable position to see fast-tracked production.
Sorby Hills Joint Venture partners, Boab (75% interest) and Henan Yuguang Gold and Lead Co., Ltd (25% interest) are together dedicated towards progressing the project. Yuguang has reinforced their dedication to develop Sorby Hills and is working productively with Boab to ensure bankability of the Project and ensure that it is fully financed.
At the same time, Boab with the cash balance of A$14.9 million (at 31 December 2020) appears well funded for executing workstreams concerning the Definitive Feasibility Study ("DFS"). The Company is keen on further de-risking, value-adding and exploring opportunities that would move forward Sorby Hills to a Final Investment Decision.
Over the coming months, Boab Metals intends to carry out an offtaker selection process to allocate the offtake right to its 75% interest in production from the project. In this context, preliminary sounding have already commenced with many well-credentialled potential offtake partners (including Yuguang) to assess their interest.
BML shares traded at AUD 0.42 mid-day on 17 March 2021