Summary

BlackEarth Minerals has commenced a 1,000m initial diamond drilling program at Razafy Northwest.
The program aims to delineate further high-grade mineralisation, which would complement the initial stages of a mining operation.
The successful completion of the current drill program is expected to support the finalisation and further development of downstream processing plans.
Madagascar holds a 9% share in the global graphite export market, with a 50% increase in graphite exports witnessed during 2012-2019.
A raft of measures undertaken by BlackEarth Minerals NL (ASX: BEM) in terms of exploration and building synergies have proven to be extremely compelling for its high-grade Maniry Graphite Project, located in southern Madagascar.
Pressing on with its exploration endeavours, the Company has kicked off a targeted high-grade drilling campaign at the project after completing the preparatory planning and trenching.
ALSO READ: BlackEarth Minerals (ASX:BEM) to Get Drill Rods Re-Spinning at Maniry Graphite Project
In addition to providing a deeper understanding of the scale and potential of the Razafy domain, the drilling program is also geared towards further delineating high-grade mineralisation, complementing the initial stages of a mining operation.
BlackEarth believes that this drilling campaign could materially increase the stated overall resource size as well as average grade.
ALSO READ: BlackEarth Minerals (ASX: BEM) delivers an excellent March quarter, marked by exciting graphite developments
Initial Diamond Drilling at Razafy Northwest area
The proposed 1,000m initial diamond drilling program will target Razafy Northwest, identified as a high priority target from initial trenching work completed in the first quarter of 2019.
Significantly, the 2019 program extended the known mineralisation within the domain to over 5km, returning assays including 48m at 10.22% TGC and 12m at 13.32% TGC.
The results not only underlined the potential for additional high-grade resources proximal to the defined Razafy Resource but also further boosted the project's potential value. Thus, it is the main focus of the Company's current exploration efforts.
ALSO READ: BlackEarth unveils high-grade results from Maniry graphite pilot program
All exploration works will be carried within the Company's Exploration Target area containing an estimated 260Mt-380Mt at 6-8% TGC.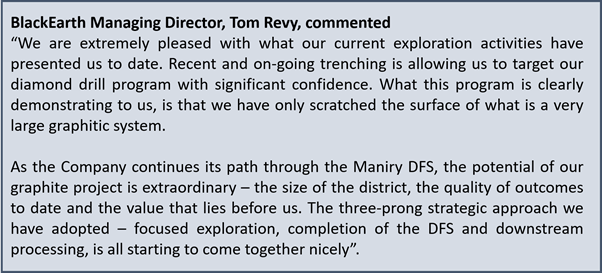 Drilling Bolsters Downstream Processing Plans
BlackEarth is looking forward to the finalisation and further development of its downstream processing plans, on the back of successful completion of the current drill program. The increase in the resource of large and jumbo as well as fine flake products provides additional value to assessing downstream graphite production options.
With BlackEarth currently engaged in assessing several downstream processing options, it believes that further resource uptick would assist the Company and its MOU and sales & marketing partners along with others to advance the plan.
ALSO READ: How BlackEarth Minerals is planning to make a mark in the exciting battery market
South Madagascar Graphite Region Bodes Well with BlackEarth
The southern Madagascan region, which is blessed with a favourable climate, continues to grow and develop as a premium precinct for large and jumbo flake graphite projects. The region encounters less interruption to production and infrastructure by seasonal climatic changes, and the cyclone season – often known to affect Madagascar's northern and eastern regions.
Over the past decade, the southern Madagascan corridor has enjoyed significant levels of exploration and development of potential mining sites such as the ones held by BlackEarth.
ALSO READ: BlackEarth Minerals (ASX:BEM) raises $4.9M to amp up its graphite project
Other companies also have project holdings in the southern Madagascar development region, including the Molo Project held by Nextsource Material and the A$1 Billion Minerals Sands project of Rio Tinto.
Adjacent and closest to BlackEarth's projects is the port city of Fort Dauphin. The modern deep-water port built by the World Bank and Rio Tinto in 2009 is well-designed and suitable for the cost-effective export of graphite concentrate.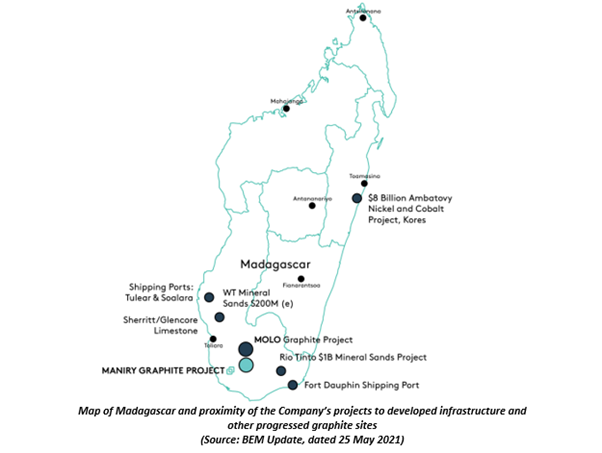 BlackEarth, in the latest update, advised that it is currently in discussions with port operators and is well-positioned to securing exclusive access agreements whenever required.
BlackEarth Poised to Benefit from Upbeat Madagascan Graphite Market
Amidst the continuously escalating graphite demand, BlackEarth is in a strong spot to enter many supply markets, on the back of its superior and premium products being at an exciting stage at a time when the EV and alternative energy markets are skyrocketing.
Meanwhile, Madagascar achieved the highest growth of graphite exports globally to command 9% of the total worldwide export market. Madagascar's graphite exports edged up by 50% for 2012-2019 against China's 4% increase for the period.
Madagascar's market share is expected to grow, backed by recent project developments in the region and ongoing global demand for large and jumbo flake graphite.
ALSO READ: Why is BlackEarth Minerals Poised to Excel in the Battery Market?
Donnelly River Update
The Company's Donnelly River Ni-Cu-PGE Project is located in Western Australia. BlackEarth has also reported the receipt of processed data from UTS Geophysics after the conclusion of the VTEM program at the project. Notably, the survey covers measuring chargeability, conductivity and magnetic susceptibility in order to better understand or characterise the rocks undercover and at depth.
ALSO READ: BlackEarth Minerals (ASX: BEM) Kicks off Airborne Geophysical Survey at Donnelly River Project
Southern Geoscience Consultants currently holds the processed data to be analysed and interpreted for delineating the next phase of exploration at the Donnelly River Prospect. BlackEarth is expected to receive the report within the next three weeks.