Summary

BlackEarth Minerals has reported an action-packed June 2021 quarter with crucial developments at the Maniry graphite project and Donnelly River project.
The large-scale pilot testwork for the Maniry graphite material and an extensive drill program at the Razafy NW area form significant operational highlights in Madagascar.
An airborne electromagnetic survey undertaken on the Donnelly River Prospect (Western Australia) has returned encouraging results.
The Company has inked deals with globally significant graphite players such as Metachem (India) and Grafitbergbau (Europe) to widen its footprint in the rapidly growing expandable graphite market.
The ASX-listed player specialising in critical commodities, BlackEarth Minerals NL (ASX:BEM), recently announced its report for the quarter ended 30 June 2021, touching on the significant developments both at the operational and corporate front.
The quarter saw exciting progress at the Maniry graphite project, which is an advanced mining project in Madagascar. Moreover, the Company witnessed several developments at its base metals-focused asset, the Donnelly River Ni-Cu-PGE project in Western Australia.
The recent developments have put BlackEarth in a sweet spot as a vertically integrated graphite developer as the Company continues to review several downstream value-added graphite processing opportunities.
ALSO READ: How far has BlackEarth Minerals (ASX:BEM) progressed on its expandable graphite strategy?
Let us look at the major developments made during the quarter, which have positioned the Company well to leverage exciting opportunities in the growing downstream graphite markets including the electric vehicle (EV) market.
BlackEarth advances large-scale pilot plant program
During the quarter, the Company received a further set of excellent preliminary results from the Stage 2 large-scale pilot plant program. The program is designed to optimise the Maniry flow sheet and provide final equipment specifications.
The results provide significant data for the final Environmental and Social Impact Assessment (ESIA) of the project. The second round of testing was aimed at boosting the concentrate grades further.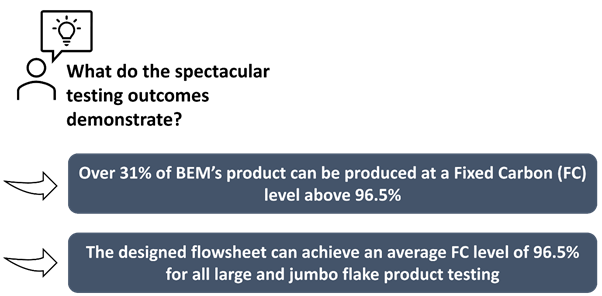 Source: Copyright © 2021 Kalkine Media, Data Source: BEM update, dated 27 July 2021
Notably, the grades demonstrated by large and jumbo flake products currently attract significant price premiums in the graphite market.
ALSO READ: BlackEarth Minerals kicks off extensive drilling program at Maniry Graphite Project
The Company expects final, detailed results over the next few weeks.
Appointment of Maniry Project Manager
During the quarter, BlackEarth onboarded Mick Ryan as Project Manager for the Maniry graphite project. He specialises in developing mining projects, focusing on specialised process routes, and has a high degree of geology/mine/process dependency.
Ryan has worked across several projects in different geographical areas, including Australia and Madagascar, with his experience spanning over 35 years. His expertise is well suited to the current needs of BlackEarth Minerals.
Encouraging initial results from Razafy drilling
In May, the Company commenced an extensive drill program at the high-grade Razafy NW area in Southern Madagascar. Initial indications have been highly encouraging.
The Company plans to extend the drilling and trenching/mapping program.
KNOW MORE: BlackEarth Minerals (ASX:BEM) to extend Maniry drilling program on encouraging preliminary results =
MoU with India-based Metachem Manufacturing
In June 2021, BlackEarth executed a Memorandum of Understanding (MoU) with India-based Metachem, a world leading and prominent expandable graphite producer.
They intend to jointly develop a new processing facility in India to meet the projected demand growth of the downstream processed material.
Source: Copyright © 2021 Kalkine Media, Data Source: BEM update, dated 27 July 2021
DETAILED DISCUSSION AT: BlackEarth Minerals (ASX:BEM) partners Metachem to develop expandable graphite plant
Offtake agreement with European graphite processor
In June 2021, an offtake and sales agreement was signed between BlackEarth and graphite processor Grafitbergbau Kaisersberg GmbH. Notably, Grafitbergbau is an industry leader within Europe, with an extensive supply chain to Tier 1 companies and the EV sector.
The agreement enables BlackEarth and Metachem to sell the product from their proposed expandable graphite plant, which is expected to have an annual production capacity of 2,500 tonnes of expandable graphite worth around US$7.5 million per annum.
READ MORE: BlackEarth Minerals' shares rally on offtake agreement with European downstream graphite company
BlackEarth has also reported on the ongoing prospective discussions with Urbix Resources Inc (USA) and sales and marketing partners, LuxCarbon (Germany), focused on continuous developments of existing plans.
Donnelly River Project in Western Australia
UTS Geophysics has completed an airborne electromagnetic program in the target areas at Donnelly River.
Covering E70/4825, which spreads ~80 square kilometres, the survey was flown on a 200-metre line spacing for a total of 396-line kilometres.
Source: Copyright © 2021 Kalkine Media, Data Source: BEM update, dated 27 July 2021
DETAILED DISCUSSION AT: BlackEarth Minerals' AEM survey outlines major targets at Donnelly River
Several conductors identified in the program warrant more detailed assessment and testing.
Heavily oversubscribed placement of AU$4.89M
BlackEarth also completed a heavily oversubscribed placement in the June quarter with the support of Argonaut Securities Pty Ltd. The Company raised more than AU$4.89 million at an issue price of AU$0.135.
At June end, the Company had around AU$6.56 million cash on hand. Significantly, the receipt of payment funds has positioned BlackEarth well to finalise its definitive feasibility study and complete several exciting plans during 2021-22.
BlackEarth fosters strong community relations
BlackEarth has demonstrated a strong association with the local communities in both Australia and Madagascar as the Company continues to develop a robust project pipeline.
The executive team of BlackEarth is currently involved in the early stages of developing comprehensive safety, health, and educational programs to enrich the livelihood of the locals in the Southern Madagascar region. The Company intends to integrate these plans as part of its overall ESG development and strategy plans.
BEM shares traded at AU$0.135 on 9 August 2021, up 3.846% from last closing price.