Source: BEM update, dated 31 March 2021
Summary

Initial results from stage 2 large-scale pilot test program have confirmed the suitability of high-grade Maniry graphite for the electric vehicle market.
Around 20 per cent of graphite concentrate yields are categorised as jumbo flake size, currently witnessing worldwide supply shortage.
Graphite concentrate demand is likely to increase in the coming years, on the back of explosive growth in the EV industry.
BlackEarth Minerals NL (ASX: BEM) is in a sweet spot, thanks to the lucrative future potential enjoyed by the battery commodity developer.
In a significant development, the large-scale pilot testwork undertaken at the BGRIMM, a prominent graphite processing and design facility, has returned outstanding initial results, validating the suitability of Maniry Graphite for the swiftly growing Electric Vehicle (EV) market.
Following the significant update, BEM share priced bounced by over 19 per cent, closing the day's trade at AUD 0.155 on 31 March 2021. The stock was trading flat on 1 April 2021 (AEDT 2:44 PM).
ALSO READ: BlackEarth Minerals (ASX:BEM) Going from Strength to Strength in Graphite Space
A Snapshot of Initial Testwork Results
The stage 2 large-scale pilot test is advancing well, with the program currently two weeks ahead of schedule.
The initial results from the program confirm earlier stage 1 results, indicating fixed carbon grade content of more than 95 per cent. The results, therefore, reaffirm the potential of Maniry Graphite as highly lucrative for downstream processing as well as feed for the EV market.
Concentrate screening results (Source: BEM Update, dated 31 March 2021)
Additional analysis suggests that ~20 per cent of graphite concentrate yields are categorised as jumbo flake size. Notably, the world is currently witnessing a supply shortage of jumbo flake graphite, which is selling for more than USD 1750 per metric tonne.
Proposed Development in the Pilot Program
BlackEarth has advised that further testing will go on through April, with the completion anticipated in May 2021.
Moreover, under the contract with BGRIMM, the test program comprising varying activities would be completed in the second quarter of 2021.
The stage 2 large-scale pilot test program will be conducted on around 60-70 tonnes of graphite material from the Madagascar-based Maniry project.
The test program outcomes will be employed in optimising the Maniry flow sheet and offering specifications for final equipment. Furthermore, the results will provide significant inputs into the Maniry Project's final Environmental and Social Impact Assessment.
ALSO READ: BlackEarth Minerals' (ASX: BEM) Stage 2 Large Scale Pilot Test Program to Hit the Ground Running
The substantial concentrate would be generated through the program, thereby aiding in finalising offtake and downstream arrangements.
Additional data from the program results will be used towards completing a Definitive Feasibility Study (DFS).
BlackEarth is also utilising yield and other positive results, as the Company is looking forward to updating its project valuation. It would help produce an updated and robust financial model that would underpin the project funding and development.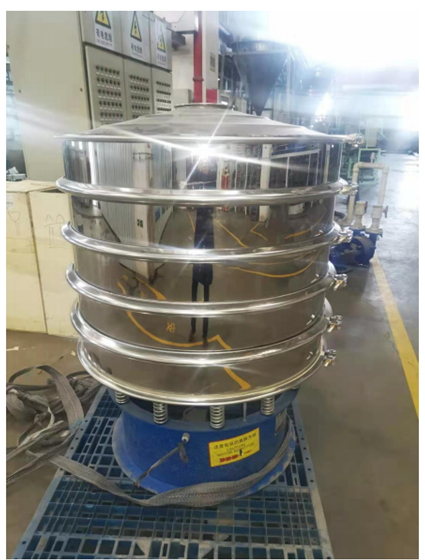 Vibrating screen used at testing facility (Source: BEM Update, dated 31 March 2021)
Strong Market Potential For Graphite Concentrate
BlackEarth continues to advance its Maniry Graphite Project development and strengthen global collaboration amid the accelerating demand for end-products that use graphite.
ALSO READ: Membership in European Battery Alliance Stands BlackEarth Minerals (ASX:BEM) in Good Stead
Anticipated Global Shortage Amid High Demand
Recent reports have shown a current shortage of jumbo flake graphite on a global scale, while all concentrate grades are projected to face short-term shortage over the next few years. This has in turn fuelled the increase in material price, which is estimated to continue growing, backed by solid demand exceeding concentrate supplies in the next few years.
Demand Boost with EV
While global graphite demand has increased in recent years, the burgeoning EV industry could fuel faster growth level with potential graphite shortages in the near future.
Megafactory Demand for Graphite
Graphite demand is highly reliant on the current growth and prospects of battery-powered and alternative energy.
The impact of development of 'megafactories' on the demand for graphite concentrate is expected to result in massive growth in demand for graphite anodes.