Summary

In Q4, BetMakers Technology Group witnessed an "impressive uplift on its strong base of domestic operations" while also capturing growth in global markets.
BET achieved several key milestones that underpinned its growth and robust performance during the quarter.
The Company, which is debt-free, had a cash balance of over AU$120 million at June end.
Wagering technology and data provider BetMakers Technology Group Limited (ASX:BET) has reported its strongest quarter to date on the back of cash receipts worth AU$8.9 million from customers in Q4 FY21 ended 30 June 2021. The figure reflects an increase of 75% from AU$5.2 million in Q3 FY21 and an increase of 272% year-on-year.
The robust growth in revenue has been driven by a significant increase in activity in the Australian market along with a favourable early result from the implementation of BET's international growth plans.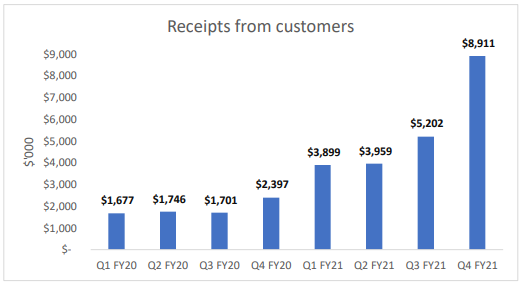 Source: BET Announcement 26/07/21
PREVIOUS UPDATE: BetMakers (ASX:BET) rakes in $6.2M revenue from Waterhouse deal
Growth opportunities fuelling BET's performance
A key development during the quarter has been the completion of the Sportech PLC asset acquisition around mid-June 2021. The development added around two weeks of cashflows from the racing, tote, and digital business of Sportech in BET's Q4 numbers.
BET believes that the acquisition of Sportech improves the Company's position to make the most of growth opportunities in the global wagering markets.
Moreover, the acquisition is expected to significantly extend the global customer base, technology, and geographic reach of BET.
Business assets acquired by BetMakers (Source: BET Announcement 26/07/21)
Bill passed in Senate and General Assembly in New Jersey
Another key development for BET was the unanimous passing of a Bill in the Senate and General Assembly in New Jersey. This Bill aims at authorising fixed odds wagering on horse races through a fixed-odds wagering system in the US state.
The Bill has been sent to the Governor of New Jersey for approval to become law, in line with the formal legislative procedure.
Notably, BET has inked an exclusive 10-year agreement with the New Jersey Thoroughbred Horsemen Association and Darby Development LLC, the operator of Monmouth Park racetrack. The deal is for delivering and managing fixed odds thoroughbred horse racing into New Jersey.
IMPORTANT UPDATE: BetMakers (ASX:BET) brings British and Irish horseracing to Australia, scores new live-streaming deal
Acquisition of Form Cruncher and Swopstakes Assets
In June 2021, BET and its wholly owned subsidiary, BetMakers DNA Pty Ltd (BDNA), inked a deal to acquire the technology platform assets, databases, and intellectual property of Form Cruncher Pty Ltd and technology and intellectual property related to the Swopstakes betting product from its parent company Swopstakes Australia Pty Ltd.
Form Cruncher is engaged in the processing of racing event data to develop an advanced version of information and dynamic content, which can be adapted and tailored globally.
Being a wagering platform, Swopstakes is designed to run sweepstakes on racing and sports events. Its exclusive betting product empowers customers to buy tickets for the featured events and play tournament-style live games on real racing and sports events.
While BET did not make any cash payments in relation to the acquisition of the Form Cruncher assets during the quarter, AU$634,750 (plus GST) was paid for the acquisition of the Swopstakes assets.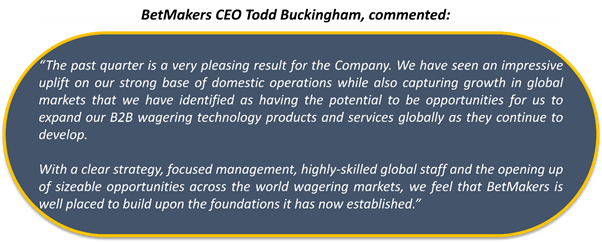 Financing and cash position
Towards the end of April 2021, BET issued more than 35.7 million fully paid ordinary shares at a price of AU$0.70 per share to raise AU$25 million (before costs) in a placement. The shares were issued to Matt Tripp, a wagering industry leader, as part of a strategic partnership with the Company.
At the end of the quarter, BET's cash and cash equivalents stood at over AU$120.6 million and the Company continues to operate debt-free.
BET stock was trading at AU$0.975 on 29 July 2021 (AEST 11:02 AM), up 5.405% from its last closing price.