Source: Roman Bodnarchuk, Shutterstock
Summary

Empire Resource Limited has been continuing exploration work across its project portfolio and has made major discoveries.
In recent times, ERL's work across Penny's Gold Project has expedited major discoveries made at PF09 prospect.
The Company has planned major activities to be undertaken at the Penny's Gold Project, including RC drilling.
Mineral exploration and resource investment player Empire Resources Limited (ASX:ERL) has been making fresh discoveries across its highly prospective projects. The projects of ERL, including the Yuinmery Copper-Gold Project and the Penny's Gold Project, have several exploration targets that exhibit excellent potential for major discoveries.
Empire remains in pursuit of generating value from the direct exploration activities across these projects while engaging in the identification and discovery of value accretive investment opportunities.
Penny's Gold Project Location Map (Source: ERL Announcement 29/03/2021)
IMPORTANT DISCUSSION AT: Empire Resources (ASX:ERL) Reports Encouraging Gold Intercepts At Penny's Gold Project
For quite some time, the Company has been continuing its exploration activities at both its project and has made encouraging discoveries, as highlighted in the form of major gold mineralisation.
Latest discovery at the Penny's Gold Project
Lately, ERL reported the discovery of high-grade gold revealed below the recently discovered gold supergene mineralisation at Penny's Gold Project's PF09 prospect. This bolsters the Company's view that the Penny's Project indicates the prospectivity to host repeated high-grade gold mineralisation of related tenor to the proximal high-grade Penny's Find Gold Mine that ERL mined earlier.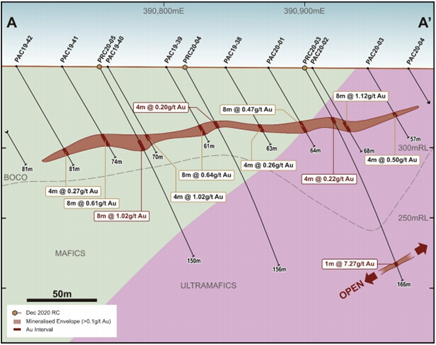 PF09 Prospect 6,628,850mN Cross Section A-A' (Source: ERL Announcement 29/03/2021)
More encouragingly, the latest results received in March 2021 from the recent drilling are in line with the known structural corridors and present soil anomalism. Based on the favourable correlation between pathfinder elements and gold, ERL believes that this firmly suggests the potential for the mineralised hydrothermal gold system at the project.
INTERESTING READ: Empire Resources Limited Calls the Tune in Its Significant Landholdings, A Walk Through Its Project Portfolio
Activities scheduled at Penny's Gold Project
Moving ahead, ERL looks forward to conducting additional RC drilling to test the scope of gold mineralisation and interpreted potential structures on second and third-order structural orientations.
In addition to this, ERL also looks forward to undertaking scout drilling and targeted RC drilling to test further potential geochemical and litho-structural targets. These targets are believed to be prospective for shear zone hosted gold-bearing hydrothermal systems.
DID YOU READ: 3 Key Elements of Empire Resources Lucrative Investment Portfolio
Above all, ERL's substantial investment portfolio makes certain that the Company remains suitably financed to maintain exploration work throughout its complete portfolio. For the upcoming times, ERL has scheduled further drilling at its Penny's project and remains in pursuit of further exploration success.
DID YOU READ: Empire Resources (ASX:ERL) Shares Rally ~84%; What next for shareholders?
The ERL stock closed at AUD 0.013, up by 7.692% with a market capitalisation of AUD 11.81 million.