Highlights

AXP Energy has formed an in-house team to undertake drilling operations across four leases in Illinois Basin.
The in-house team will provide a significant cost advantage over outsourcing the operations.
Initial plan is to drill 4 + 4 vertical wells to boost oil production from AXP's Trey Exploration leases.
New wells are expected to increase the output significantly with respect to workover operations on the existing wells.
With crude oil prices trading firm in the market, AXP Energy Limited (ASX:AXP) announces 8-well back-to-back drill program across four leases on Illinois Basin. AXP has formed a new drilling division staffed with existing employees to take upon the drilling campaign. The in-house team will provide a significant cost advantage over contracting the operations to a third party.
Related read: AXP Energy reports maiden positive cash flow in September quarter; shares around 52-week high
AXP has identified and shortlisted 35 employees from its Kentucky operation who have considerable geological, drilling and operations capabilities to take upon internally funded drilling operations. Specialised services like cementing and well logging will only be outsourced as these operations involve specialised units and equipment, which are capital intensive.
The plan is to lease a drilling rig to carry out the campaign. AXP has applied for drilling permits for the first well, and once received, drilling will commence soon.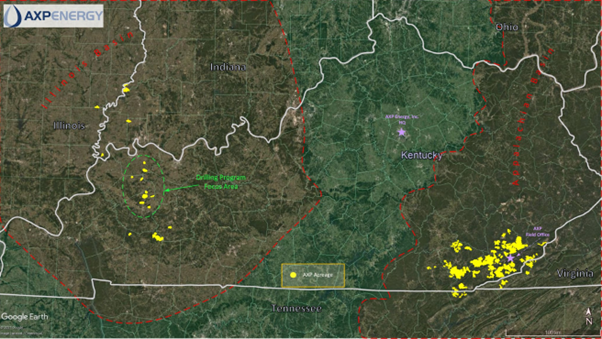 Map of leases in Illinois Basin (Image source: Company update, 04 November 2021)
Mr Tim Hart, CEO of AXP Energy, said:
"As we have progressively integrated the MHP and Trey businesses, we have uncovered new opportunities to cost effectively and more rapidly increase oil & gas production; An internally-staffed drilling function is one such opportunity. The fact that we have been able to very quickly define new drill targets, assemble a team from existing resources and have first permits pending demonstrates that we can pursue production growth opportunities very quickly and cost effectively. The fact that we are drilling on producing oil and gas leases limits downside risk.
With the WTI oil price now tracking above US$80 per barrel, we are intent on capitalising on the upside from our leases. As we have communicated previously, the Trey Exploration leases in particular have exceptional potential for oil production and they are a key focus for this first phase program."
Related read: AXP Energy (ASX:AXP) on track to beat June quarter performance, reports steady sales figures for August
Drilling program
The 8-well drilling program is intended to boost production much more rapidly than undertaking a workover program alone. The plan is to run the drilling and workover program concurrently. The vertical wells are expected to substantially add to the gains being realised from the ongoing workover program.
Related read: AXP Energy (ASX:AXP) sees 42% revenue spike in July
The new well locations are identified and chosen after several months of assessment by AXP's head geologist. All identified targets are infill drilling locations and offset wells to the existing producing wells. The budget for each well is capped at US$75k, and if any advance stimulation operation is required, it will also be incorporated within the capped budget. The Company's focus is to drill high-impact vertical wells with low drilling costs.
The expected time to finish the first four wells is three months. The data from the first phase of drilling will help in planning more extensive drilling development campaigns in the future.
AXP is also assessing some other wells on the leases, which can be deepened or side-tracked to bring them into production.
Mr Hart further said, "As well as these first targets, we are assessing opportunities to deepen some existing wells, side track others and bring into production some wells that were previously drilled and cased for future production. We look forward to regularly updating shareholders on progress and results."
Related read: AXP Energy (ASX:AXP) to tie-in 31 gas wells to bolster monthly revenue by US$40,000