Source: Lesterman, Shutterstock
Summary

Avenira has acquired two Prospecting Licences to the south of the flagship Jundee South Gold Project.
Avenira will compile and analyse the historical data and conduct a reconnaissance exploration to refine the geological interpretation within the new licences.
Avenira had earlier announced securing a loan facility of $3 million to undertake the development activities at the Jundee South Gold Project.
ASX listed gold explorer Avenira Limited (ASX:AEV) announced the acquisition of two Prospecting Licences, south of the existing flagship Jundee South Gold Project.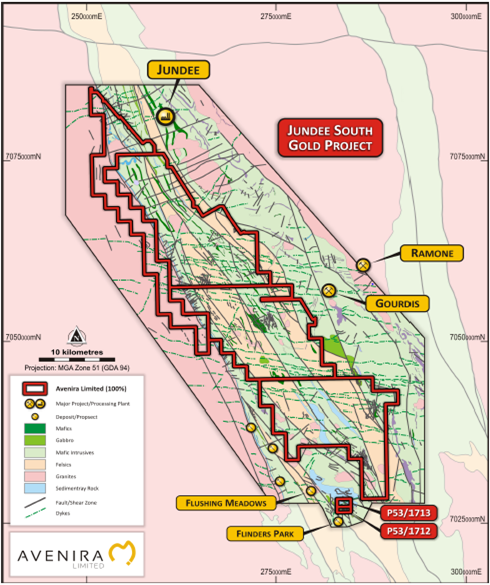 Location of the newly acquired licences (Image Source: ASX update, 10 March 2021)
Must Read: Will stars align for Avenira (ASX:AEV) in 2021?
The Prospecting Licences, namely, P53/1712 and P53/1713, are located on magnetic trends analogous to Flushing Meadows gold project.
RTP 1VD Magnetics of new licences (Image source: ASX update, 10 March 2021)
The initial geological interpretation identified stratigraphy similar to the Flushing Meadows deposit within the licences.
Avenira plans to compile historical data, refine the geological interpretation and conduct reconnaissance exploration at the two tenement licences.
Mr Brett Clark , Executive Chairman, Avenira Limited shared his comment-

Copyright © 2021 Kalkine Media Pty Ltd.
Avenira secured loan facility for Jundee South Gold Project
Avenira has successfully secured a loan facility of $3 million through an agreement with its prominent shareholder, Au Xingao Investment Pty Ltd.
The loan has been secured at an annual interest rate of 8% for a period of 3 years. The lender has the option to convert the loan amount into ordinary equity shares on completion of 18 months from the day of signing of the agreement.
Jundee South Gold Project
The Jundee South Gold Project is spread over 720 km2 in the prolific Yandal Greenstone Belt. The project is located in close vicinity of World-class projects, including Jundee Mine (10Moz), Bronzewing (4Moz) and Darlot (3.5Moz) deposit.
Avenira undertook the maiden aircore drilling campaign at the project in 2020. During the campaign, 259 holes were drilled to test the Priority 1 and Priority 2 targets on the project. Two trends of gold mineralisation were identified in the project area.
Avenira also launched a resampling program for anomalous 4m intercepts with an average interval of 1m, the result of which is awaited. Avenira has planned an RC drilling program during the second quarter of 2021.
Avenira closed at $0.009 a share on 11 March 2021 with a market capitalisation of $7.76 million.
All financial information pertains to Australian Dollars unless stated otherwise.