Summary

NTM shares have delivered a growth of approximately 1,600% over the last five years until 15 January 2021.
Over the past five years, NTM has come a long way from merging with Redcliffe Resources to acquire the Redcliffe Gold Project to now a merger with Dacian Gold Limited.
NTM's merger with DCN is anticipated to give birth to an industry leading portfolio of advanced exploration targets.
Perth-based gold explorer NTM Gold Limited (ASX:NTM) is focused on the Leonora region and aims to exploit the potential within a significant gold corridor by way of aggressive exploration. The Company owns 100% interest in a major developing project with established resources, the Redcliffe Gold Project.
Whopping Growth in NTM Share Price
The Company has seen a significant growth in terms of its operations as well as in terms of value for its shareholders, over the past five years. Significantly, the NTM shares have delivered a growth of approximately 1,600% during this period till 15 January 2021.
Did you read: NTM Gold Limited's (ASX:NTM) Growth Through Exploration In An Outstanding Region
Studying the past, NTM has made remarkable progress has been able to deliver on the opportunities identified and activities planned by NTM, including a robust exploration program.
Interesting Read: Significant Optimism Surrounds ASX:NTM's Proposed Merger, Receives Green Signal for Resolutions at AGM
Operational Milestones Over the Last Five Years
Approximately five years ago, NTM merged with Redcliffe Resources Limited
Redcliffe Project and Selected Prospects over Aerial Magnetics (Source: ASX Announcement 28 October 2020)
Since then, the Company has carefully planned and progressed its activities to add significant shareholder value, particularly over the past three years. This has featured a string of excellent exploration drill results which included the discovery of Hub, extensions to the Nambi, GTS and Bindy deposits, and significantly expanding NTM's tenure. .
In addition, the Company expanded its inventory in 2018 and 2020, to now have 678koz of gold in JORC compliant resources.
Related: NTM Gold: New Tenement Granted At Redcliffe Gold Project & JORC Derived
Furthermore, the Hub deposit has shown continuous growth with more outstanding grades at depth with every drilling campaign. The Company believes that the deposit has a substantial benefit over and above the near surface high-grade oxide zone.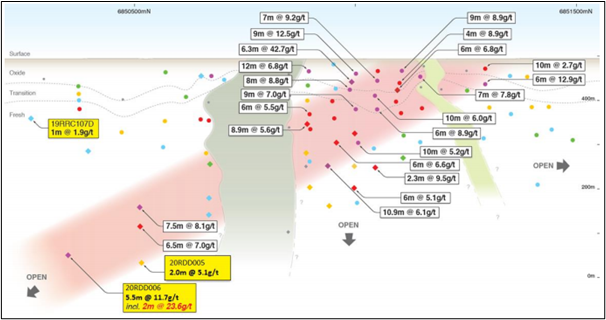 Hub Long Section with Recent Intercepts (Source: ASX Announcement 28 October 2020)
The Redcliffe Gold Project comprises more than 720km2 of highly prospective ground with the maiden Hub Resource of 141koz @ 4.9g/t.
NTM's Merger with DCN
NTM has come a long way from acquiring Redcliffe Project to taking a leap towards a merger with an Australian gold miner that has an operating processing plant within trucking distance of NTM's ground, as well as a highly prospective land package.
September Quarter Update: ASX:NTM Reports Robust September Quarter For Redcliffe Project, Drilling To Commence Soon
NTM has agreed to a merger with Dacian Gold Limited (ASX:DCN) in November 2020, wherein, Dacian shall acquire all the shares in NTM at a ratio of 2.7 NTM shares for every 1 DCN. The merger is expected to generate value for both the Companies while simultaneously delivering on their strategy.
Both NTM and DCN are optimistic about creating an industry-leading portfolio of advanced exploration targets through the merger. This is expected to be underpinned by various potential opportunities, like high margin low capital intensity development.
Moreover, the operational, processing, and financial strength that this transaction provides is expected to unlock NTM's Redcliffe Project's value. This is further supported by the proximity of the assets of both companies.
Did you read: A Look At The Projects Of NTM Gold (ASX:NTM) And The Latest Developments At The Redcliffe Project
Through the regional consolidation, the merger is anticipated to enable the Redcliffe Project's development potential through access to operational expertise and processing infrastructure of DCN.
More details about the merger at: Merger Alert! ASX:NTM And ASX:DCN To Unlock Shareholder Value Through Regional Consolidation
In conclusion, the Company has successfully added value since the merger with Redcliffe Resources, particularly in the last 3 years.
The merger with DCN will give NTM shareholders exposure to gold production, and enable the early development of its gold deposits. It also gives DCN access to high grade mineralisation that has the ability to significantly boost production, making the deal a genuine win-win transaction.
NTM share price quoted at $0.175 with a $116.38 million market capitalisation on 15 January 2021.