Highlights

Ovoot Coking Coal Project is a world-class project and provides best in class ESG outcomes.
Aspire is targeting to market and sell its fat coking coal to steel customers in China and Russia.
Aspire's sustainable development strategy provides social and economic benefits while ensuring reduced emissions through renewable-powered electrification initiatives.
Aspire Mining Limited (ASX: AKM) is actively advancing its Ovoot Coking Coal Project on the path to production. The Company's world class project in Mongolia provides best in class ESG outcomes, with Aspire aiming to be the positive force to improve lives and the environment in which it operates.
ALSO READ: A Flick through Aspire Mining's FY21 Performance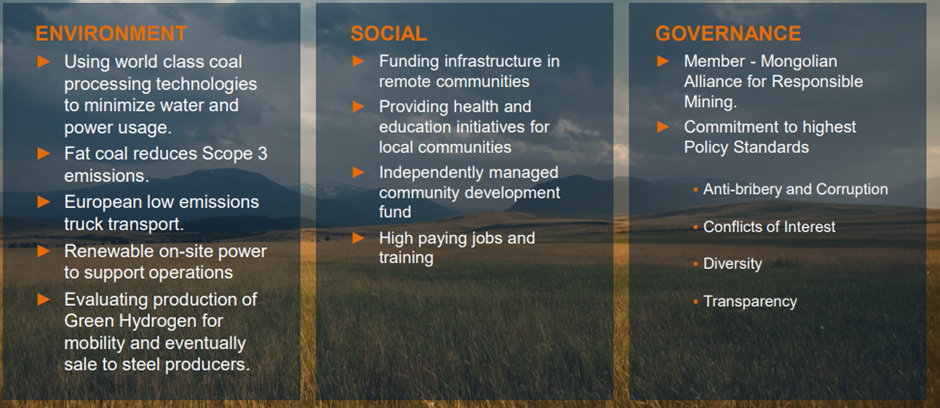 Source: AKM Presentation, dated 30 November 2021
A Look at Ovoot Coking Overview
Ovoot boasts rare mid-volatile coal with a rank (% Ro Max) in the hard coking coal range, over 95% vitrinite content and an exceptional dilatation of 260%, which significantly contributes to coke strength. Ovoot Premium Coking coal has high washing yield and percentage coking, amounting to the highest in-situ value per tonne and lowest strip ratio along with lowest mine diesel consumption/tonne product.
RELATED ARTICLE: Aspire Mining (ASX:AKM) on a fast-paced growth track with high quality Fat Coking Coal
Ovoot coal is best in class caking and plastic properties creating superior blending and coking efficiencies. In addition, the high quality associated with Ovoot coal is significant as the fat coking coal enjoys significant application potential to improve coke and blast furnace efficiency.
What's the Path to Production for Ovoot Project?
Aspire production plans includes mining and washing 'fat coal' and then transport it 560 kilometres from the Ovoot mine-site by road to the nearest railhead at Erdenet. To facilitate this transportation, the Company would build a special purpose road to transport washed coking coal to Erdenet, from where it be transported a further around 1,000 kilometres by rail wagons to Erlian in Northern China. Aspire is targeting to market and sell its fat coking coal to steel customers located in China and Russia.
RELATED ARTICLE: Aspire Mining Marching ahead with FEED Study progress on Erdenet Rail Terminal
Ovoot Project to offer all-round sustainable focus
Aspire's sustainable development strategy, and programs are in line with Mongolia's strategic sustainability commitments.
Emission Reduction focus
The Company plans to adopt renewable-powered electrification initiatives to reduce emissions. These include mine site power solutions focusing on wind, solar and battery storage. Moreover, transport emissions aim to be reduced through rail with diesel consumption, which causes much less emission than truck-based transport.
ALSO READ: Aspire Mining (ASX: AKM) fastracks Ovoot project development amidst buoyant coal market
Social Local Community Benefits
The Ovoot Project will serve several economic benefits, thereby ensuring the community betterment alongside its project developments. Some key benefits include:
An estimated creation of up to 1,200 direct and indirect jobs through OCCP
Investment of around US$259 million into the project, injecting capital to grow the local economy
Majority of the investment in new road construction, thereby connecting the local community with a safe sealed road
Payment of approximately US$767 million in forms of taxes and fees to state budget while accumulation of around US$106 million in local budgets over the first ten years of operations
Leadership In Governance
In June 2019, Aspire, alongside other significant Mongolian mining companies, signed on to a voluntary charter of behavior, Miners for Responsible Mining.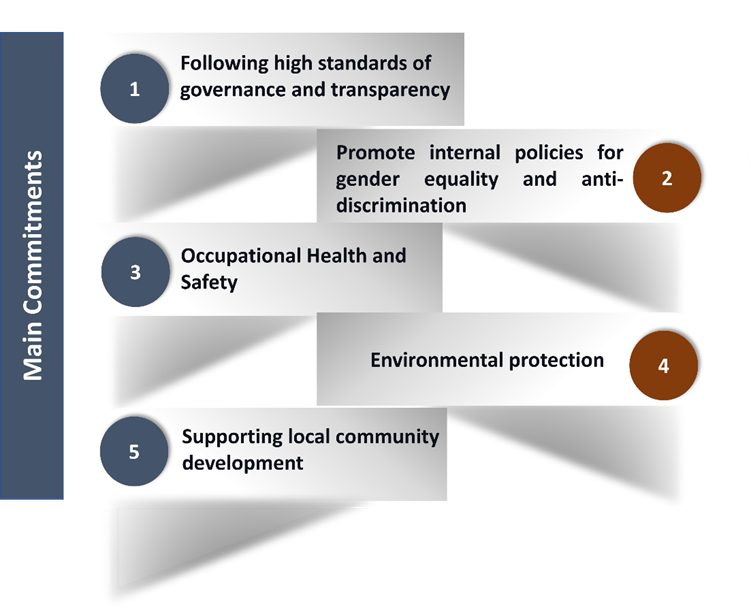 Source: Copyright © 2021 Kalkine Media, Data Source: AKM Presentation, dated 30 November 2021
Policies and a culture of transparency
Policy commitments of Aspire is consistent with UN charters and ASX rules and guidelines. Board approved policies include anti-corruption and bribery, whistle-blower protection, diversity, community engagement, and environment and sustainability
Planning for an investment decision in 2022
Aspire is looking to a Decision to Mine in 2022 once permitting and funding is secured. While the COVID delayed holding local community engagement meetings considered critical for permitting process, these have now been held with strong local community support. Definitive Environmental Impact Assessment is currently with the Ministry of Environment for approval.
Road Detailed Engineering progressing to be completed 2nd Quarter 2022. As part of the work, route Geotech survey is completed, road design is matched to optimal truck/trailer configurations, and road concession negotiations.
Moreover, the Company has also appointed Argonaut PCF as debt and corporate advisers to identify debt and quasi debt funding options.
RELATED ARTICLE: Aspire Mining Beefs up Ovoot project development, mandates Financial Advisor
Source: Copyright © 2021 Kalkine Media, Data Source: AKM Presentation, dated 30 November 2021