Summary

Coal price has significantly improved in China, backed by extensive steel production and barriers to Australian coal export.
Aspire Mining focuses on facilitating trucking coal, with several developments underway to boost infrastructure and reduce costs.
Several undertakings concept Ovoot Coking Coal Project is underway, including Erdenet Rail Terminal facilities and the construction of Coal Handling and Preparation Plant.
ASX-listed explorer Aspire Mining Limited (ASX: AKM) is highly active on its coal exploration grounds, conducting a series of significant activities to achieve its growth objectives. Significantly, these developments come at a time when Mongolian coal market is buzzing with optimism as China seeks alternate geographies to support its extensive steel production.
Australian coal exports into China are currently encountering impediments, with FOB spot pricing reaching a record USD 100 per tonne in early January this year. It could prove to be a tipping point with projects like Ovoot Coking Coal Project (OCCP) that are expected to play a key role in bolstering the Mongolian economy.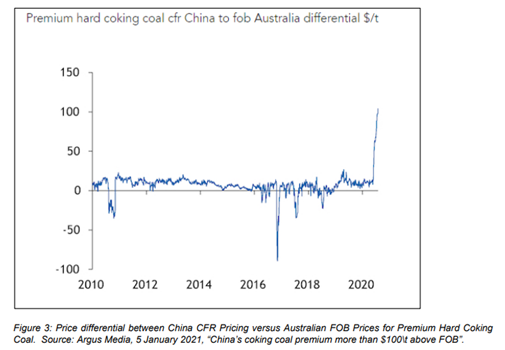 To develop its Mongolian coal assets into production, the planning and developments will be a huge boost and are expected to grow not only shareholder's value but also the country's financial system.
ALSO READ: Aspire Mining's (ASX: AKM) Ovoot Project: Poised to Leverage off Growth Focus and Transforming China's Relationship
Preparation of time and Task Schedule
A comprehensive time and task schedule were prepared to ascertain the timelines as well as resources required during the project, thereby significantly advancing the project. The Company considered several steps, including regulatory approvals, gaining financial support and development of commercial plans that would lead to the delivery of washed coking coal to end customers.
The Company expects that from the access of DEIA approval to the first delivery of washing coal will take 18 months. The time period is subject to the timing of approvals and further funding that Aspire would receive within the anticipated time frames.
Advancing Towards Key Infrastructure Developments
Aspire Mining is committed to ascertaining a detailed cost and engineering requirements for developing key infrastructure, including Erdenet Rail Terminal (ERT) facilities and the Coal Handling and Preparation Plant (CHPP).
Concerning CHPP construction, many engineering firms have been issued RFP catered towards designing the plant and estimating the cost. It would assist in meeting the washability and quality requirement of coal at the OCCP.
The Company, fine-tuning the safe and socially responsible transportation concept, is focussed on ensuring the lowest possible operating cost using materials handling infrastructure while avoiding mobile equipment usage during the transportation of coal. Thus, two separate RFPs have been issued concerning the ERT facility.
Meanwhile, re-evaluation of capital costs for constructing a road between the OCCP and Erdenet is underway based on revised road route and design assumptions to facilitate trucking of coal. It would underpin the finalisation of the Detailed Design and Feasibility Study.
ALSO READ: Aspire Mining (ASX:AKM) continues to deliver, turns in a decent December quarter
Optimisation of Road Transportation
The Company also prepared road centreline data for a specialist logistic consultant to simulate the performance of the specific truck and truck-trailer combinations of variable payloads across the modelled road route. It would also help in validating project cost modelling.
The preliminary findings are encouraging, underlining the possibility of potentially significant savings further on trucking costs. The identification of an optimum truck-trailer combination will facilitate the completion of the modelling.
The Company has acquired detailed capital and operating costs as well as life cycle unit costs, expected to faciliate project cost modelling.
With coal prices significantly improving in China and Mongolia, being a preferred supply source could be highly prospective for OCCP developments, progressing impressively. The relaxations in COVID-19 induced restrictions at China\Mongolian border ports could prove exceptionally lucrative for OCCP produced coal.
AKM shares traded at AUD 0.094 on 19 February 2021.