Summary

Mongolian overall scenario is improving amidst effective vaccine rollout and growing potential for trading coal to China.
Aspire recently partnered with the National University of Mongolia (NUM) as well as Creative Motion LLC to generate environmental awareness.
The Company undertook several measures to control infection in Khuvsgul Province, where it operates.
COVID pandemic and lockdown opened a can of worms for the economies, causing disruptions in health setup and impacting millions of jobs worldwide, including Mongolia. As a result, the country's livelihood shock has been on the global radar.
The National Statistics Office of Mongolia (NSO) and the World Bank conducted a series of surveys that highlighted the adverse pandemic impact on wage earners, agricultural households, and the overall business environment in the country.
Having said that, Mongolia appears to be back, thanks to the effective vaccine rollout and the country's vigilance towards rebuilding the socio-economic setting. Although Mongolia is en route to recovery, the post-COVID world is expected to present a different landscape for business as well as workers. The situation calls for concerted effort, with everyone from the Government to businesses, agencies and people circling the wagon to ensure sustainable development.
Source: AKM ASX Update, dated 30 April 2021
In this regard, Aspire Mining Limited (ASX: AKM) has stepped up to the plate and undertook an array of measures to support the local community. The ASX-listed metallurgical coal asset developer wholly owns Ovoot Coking Coal Project (OCCP) in Northern Mongolia. Its activities are conducted in the vicinity of various soums (sub-provinces) within the Khuvsgul Province.
ALSO READ: Aspire Mining (ASX: AKM) keen to unlock Mongolian Mining potential
The Company's dedicated community relations team engage with the local communities and work closely to promote advancements in diverse areas such as education, environmental sustainability, health and economic development. Aspire's recent extensive efforts to generate environmental consciousness and assist the local community in validating its firm commitments towards Mongolia's sustainable development.
ALSO READ: Casting an eye on Aspire Mining's All-Round Progress during March 2021 Quarter
Aspire Committed to Generating Environmental Awareness
As a company operating in Khuvsgul, Aspire continues to implement sustainable development programs in a bid to increase awareness of the importance of the rapidly depleting forests while also enhancing the participation of citizens in protecting them.
In this direction, the Company partnered with the National University of Mongolia (NUM) as well as Creative Motion LLC for promoting events that reached local community stakeholders to enhance ecological consciousness and advocating means for the management.
ALSO READ: How Aspire Mining (ASX:AKM) is Going from Strength to Strength with Ovoot Project Developments
Concerted efforts were undertaken through maximum engagement
NUM School of Forestry organised 'Tree Sprouts', an online research conference student under the fifth Annual Conference of Forestry, with aid from the MNET
Aspire sponsored a Facebook account titled 'International Day of the Forest' in partnership with Creative Motion LLC. As part of the initiative, a range of professional posters as well as videos featuring interviews with scholars from the Academy of Science scientists and NUM were developed on varying environmental themes.
ALSO READ: China's Development Blueprint to Give A Boost to Aspire Mining's (ASX: AKM) Mongolian Coking Coal Project
A thematic visual art drawing competition was organised among students at high school and middle school in Murum soum of Khubgul airmag. The competition was aimed for children to explore and learn about forests at greater length using their initiative.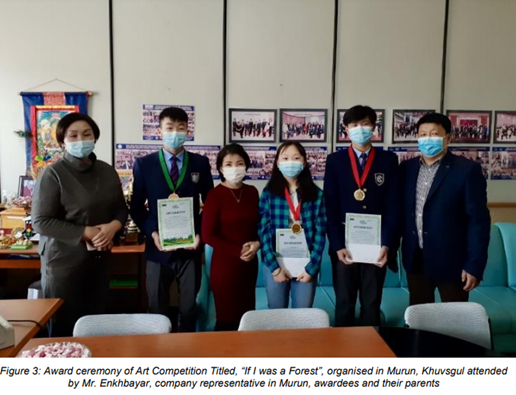 Source: AKM ASX Update, dated 30 April 2021
Aspire active participation in COVID-19 Response Measures
Aspire offered heathcare equipment to Tsetserleg soum
In response to the recent COVID-19 infections, Aspire supplied equipment at the Tsetserleg soum hospital for prevention and detection measures. Items donated included COVID-19 rapid tests, surgical gloves along with protective clothing and sanitiser.
Source: AKM ASX Update, dated 30 April 2021
ALSO READ: Aspire Mining (ASX: AKM) Covering all the Bases to expedite developments of Mongolian Coal Assets
Aspire team volunteered support to control infection
The Tsetserleg soum and Khuvsgul aimag implemented restrictions to prohibit non-residents entry to their respective territories in a bid to control COVID-19 infections. Aspire's Information Officers volunteered to assist by guarding one of the four Tsetserleg soum entrance/exit in April.
AKM shares traded at A$0.076 on 18 June 2021 (AEST: 2:26 pm).