Summary

CV Check Ltd. has reported another month of record revenue, powered by the growth in the company's current verification transaction-based business.
The Company is advancing well with the integration of CV1 and BPT businesses and continues its search for recruiting a CEO for the combined business.
CV1 has a cash in hand of AU$13.1million as on 31 May 2021 and is successfully moving to achieve its strategic goals.
Credential verification products provider CV Check Ltd.'s (ASX:CV1) business has been witnessing significant expansion and organic growth on the back of new client wins as well as platform integrations.
The recent favourable developments have enhanced the Company's stance by improving its offering as well as delivering value for the whole business.
IMPORTANT READ: Three major catalysts driving CV Check's (ASX:CV1) consistent growth
Record revenue for May 2021
Continuing its spectacular run after the recent back-to-back months of record revenues, CV1 has now reported record AU$2.2milllion in total revenue for the month of May 2021.
This is backed by the escalated growth in its verification transaction-based business and positive results from the recently acquired business of Bright People Technologies (BPT). This recent milestone suitably positions CV1 to emerge as a leading participant in the fast-growing Reg Tech sector.
For the month of May 2021, the Company's cash balance stood at AU$13.1 million with no external financing.
Source: CV1 Announcement 15/06/2021
DID YOU READ: CV Check (ASX:CV1) in fine fettle with strong revenue growth, acquisitions
Growth aligned with economic recovery
In tandem with the continued strengthening of the Australian and New Zealand economies from the impact of the COVID-19, the CVCheck platform has cemented its leading position in the online verification market with record revenue growth, comprising AU$1.7 million in May 2021, indicating an increase of 236% on the revenue from the pandemic-impacted May 2020.
The Company's growth is underpinned by its increasing ability to secure repeat business from its 3,000-strong corporate client base.
For the rolling 12-months to May 2021, CV1's Annual Recurring Revenue (ARR) for clients on the CVCheck platform increased to AU$12.6 million, compared with AU$11.1 million at 31 March 2021.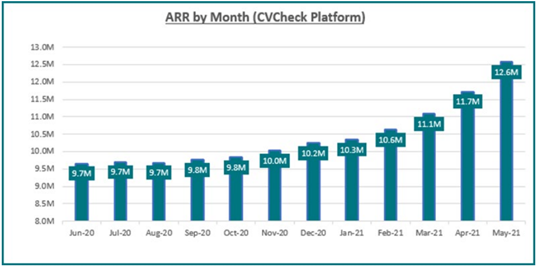 Source: CV1 Announcement 15/06/2021
Besides this, AU$479,000 worth of revenue was generated from Cited and Enable – which are BPT workforce and compliance management platforms – during the month of May 2021. Out of this, the AU$191,000 was attributed to SaaS-based licence revenue, while CV1 believes that BPT revenue was steered by its long-term contracts with blue-chip clients.
INTERESTING READ: A hat-trick of bumper months? CV Check Limited continues to clock robust sales
Ongoing integration of CV1 and BPT
Presently, the Company is progressing well with the integration of the CVCheck and BPT business. The integration is moving ahead as per the plan, and both businesses are now co-located in the same premise under the leadership of a committed new executive team.
Under the budget setting process for FY2022, CV1's key focus area is growth opportunities via leveraging the growing platform capabilities and strategies to improve SaaS-based revenues.
Moreover, the Company is progressing well with the hunt for a new CEO for the business as a specialist search firm has been appointed to help with sourcing the best available candidate for the key position.
Overall, CV1 seems to be well-positioned to emerge as a player in the multi-billion-dollar international Reg Tech market space.
IMPORTANT UPDATE: CV Check Ltd (ASX:CV1) Delivers Sustainable Growth in 1HFY21, Reports Record Numbers
Subsequent to the announcement, the CV1 stock was up by 7.692% and traded at AU$0.140 at 3:20 PM AEST.