Highlights

Altech's battery material coating plant has been awarded a 'Medium Green' rating by CICERO.
The green assessment was undertaken as a part of the preliminary feasibility study.
The green status implies that the project is suitable for green bond financing.
Test results by Altech indicate that the plant's CO2 footprint reduces significantly as a result of inclusion of silicon on the lithium battery graphite anode.
As part of its preliminary feasibility study (PFS), Altech Chemicals Limited's (ASX:ATC|FRA:A3Y) Germany-based battery materials coating project has successfully being awarded a 'Medium Green' rating by the Centre of International Climate and Environment Research (CICERO), an independent green rating agency based in Norway.
Altech's 75%-owned German subsidiary Altech Industries Germany GmbH (AIG) had engaged CICERO to conduct an independent evaluation of the proposed battery material coating plant in Schwarze Pumpe Industrial Park, Saxony, Germany.
The rating from CICERO, formally termed a 'Green Bond Second Opinion', confirms the project as suitable for future green bond financing, subject to the PFS results. The green rating confirms that the plant is being designed with a focus on minimising environmental impacts and will be in accordance with prevailing International, European and German environmental standards.
Image source: Company update, 20 December 2021
The green assessment by CICERO is a part of the ongoing preliminary feasibility study (PFS) on the project.
Related read: Altech Chemicals (ASX:ATC) raises AU$8.1M to advance battery material development
CICERO's Assessment
CICERO assessed the overall project framework and rated it 'Medium Green', while the proposed governance procedures and transparency as 'Good'. The independent agency confirmed that the project is well aligned with all green bond principles.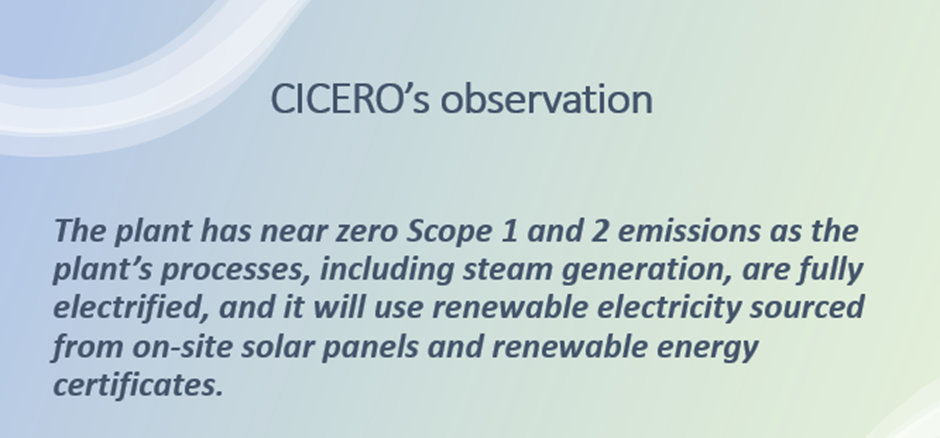 Data source: Company update, 20 December 2021
CICERO's recommendation
Although Altech's project is in a development phase, CICERO, upon assessing the governance and transparency considerations, has encouraged Altech to implement and enforce a robust supply chain sustainability policy. More than 90% carbon footprint of the plant comes from its feedstock, including graphite and silicon, so it is important to engage with suppliers to address the sustainability impacts.
Altech's coating technology reduces significant carbon footprint
The carbon emissions from the lithium-ion battery using one coated silicon anode material were recorded up to ~52% lower against the conventional lithium-ion battery with only graphite anode. As the amount of silicon is increased in the coating, CO2 emission reduces proportionally.
Data source: Company update, 20 December 2021
Commenting on the green status, Altech Managing Director Mr Iggy Tan said, "CICERO's independent assessment of AIG's proposed battery materials coating plant, and its suitability for possible future green bond financing, is an important inclusion for the current preliminary feasibility study – and it certainly adds credibility to this proposed project. The PFS continues to progress, and Altech anticipates that the results will be available to it during the first quarter of 2022."
Recent update: 'Silicon Code' decoded: Altech Chemicals' breakthrough to improve battery performance by 30%
ATC is trading at AU$0.105 with a market cap of AU$143.35 million as of 21 December 2021.