Highlights

Altech Chemicals is striving to become a global leader in supply of high purity alumina (HPA).
Altech's research on the coating of lithium-ion battery anode materials with alumina, has the potential to deliver increased battery life and efficiency.
The Company opened a dedicated research and development laboratory in Perth, Western Australia and established an office in the automobile manufacturing hub of Saxony, Germany during the June 2021 quarter.
Pioneering research and development in the field of battery materials coating technology, by Western Australian based, and ASX and Frankfurt listed Altech Chemicals Limited (ASX: ATC, FRA: A3Y), has seen the Company successfully coat graphite and silicon particles, typical of those used in a lithium-ion battery, with a nano-layer of high purity alumina. This ground-breaking breakthrough has the potential to deliver significant battery performance improvements plus extend the life of lithium-ion batteries – such as those used in electric vehicles.
Related read: Altech Chemicals (ASX:ATC) all set to disrupt the high purity alumina market
Altech, with its well advanced plan to construct a 4,500tpa high purity alumina (HPA) plant in Malaysia, is laying the foundations to become a vertically integrated manufacturer of 99.99% (4N) grade high purity alumina (HPA), and one of the leading HPA (or Al2O3) suppliers globally. Feedstock for the Company's Johor HPA plant is from its 100% owned kaolin deposit at Meckering, Western Australia, and recently the Company launched a preliminary feasibility study for construction of a battery materials coating pilot plant in Germany, where ultimately HPA would be supplied from Malaysia.
Altech is positioned to disrupt the lithium-ion battery market
Recently, Altech announced the establishment of its own in-house Research & Development laboratory in Perth, WA, to expedite the development of HPA battery materials coating technology. The researchers and consultants in the lab have already commenced work to study the performance of graphite and silicon particles coated with alumina using Altech's proprietary technology. The performance testing of a half-cell battery is also planned at the facility.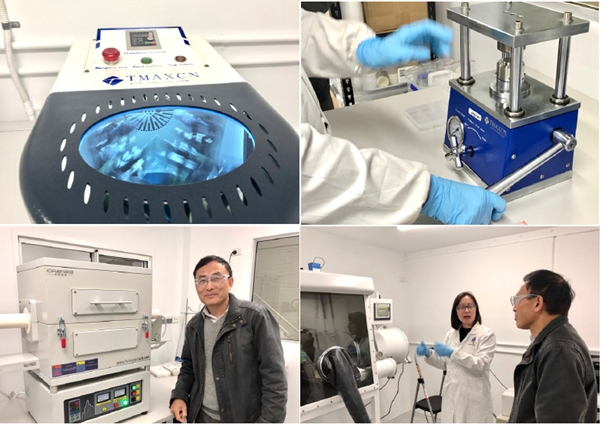 Latest test equipment and researchers in the R&D lab (Image source: Company update, 30 July 2021)
Europe sets sights on lithium-ion battery industry
Europe is all set to become a major hub for the lithium-ion battery industry. The region is witnessing a major push towards green energy due to stringent carbon emission norms. It is estimated that Europe's lithium-ion battery manufacturing capacity will reach up to 600 GWh p.a. by 2030.
To position the Company for burgeoning growth of the European lithium-ion battery market, in July 2021, Altech's 75% owned subsidiary – Altech Industries Germany GmbH – opened an office and Research & Development workshop in the heart of Gemany's major auto manufacturing hub, Saxony. In Saxony, Altech enjoys strong support from the Saxony State Government, where State Government Officials have welcomed the Company's vision of using its alumina coating technology to produce battery material composites that can be used by the Lithium-ion battery manufacturing industry.
Volkswagen, BMW, Porsche and Daimler are some prominent names with manufacturing units in close proximity to Altech's establishments.
During the last quarter, Altech reached another milestone by entering into a collaborative agreement with SGL Carbon GmbH, a German graphite manufacturer. The agreement will facilitate the development of high purity alumina coated graphite materials, to be used by the lithium-ion battery industry.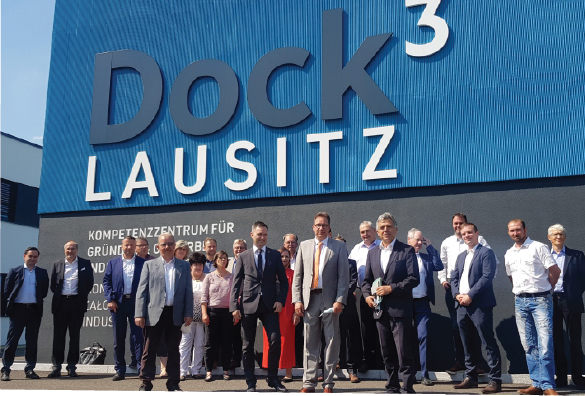 Inauguration of office and R&D centre (Image source: Company update, 30 July 2021)
Here's why HPA is going to revolutionise the Li-ion battery industry
The HPA coating of anode material could reduce the rate of degradation of battery capacity throughout the battery life. The tests have demonstrated that the alumina coating serves as artificial solid electrolyte interface (SEI).
Altech has already conducted the first round of testing between coated and non-coated anode grade graphite particles. The test results from one hundred cycles of charge and discharge highlight the potential of coating technology to be highly promising and encouraging.
Tests have revealed that alumina coated anode grade graphite particles have the potential to reduce first cycle capacity loss. Thus, coating can enhance the overall battery performance, including increasing the energy retention and extension in battery life.
Potential impact of reduced 'first cycle capacity loss' (Image source: Company update, 30 July 2021)
Share price movement
As of 15 September 2021, shares of ATC were trading at AU$0.077 during the early hours of trade. ATC shares have given a handsome return of 108%% in the past 52 weeks. ATC has a market cap of AU$101.63 million as of 15 September 2021.