Highlights

Altech completes the PFS for the 10,000tpa silicon/graphite alumina coating plant located in Germany.
The PFS indicates a low capital cost of US$95 million and an NPV of US$507 million with an IRR of 40%.
The Company has already purchased the site for plant construction in Germany.
Work is underway for pilot plant engineering for product qualification.
The Company has signed two MOUs with European suppliers for securing graphite and silicon feedstocks for the plant.
Altech Chemicals Limited (ASX:ATC|FRA:A3Y) has marked a great leap forward with the release of impressive Preliminary Feasibility Study (PFS) results for its German silicon/graphite alumina coating plant.
Altech is in the process to construct a 10,000 tpa battery material manufacturing plant in Saxony, Germany. Altech's German subsidiary, Altech Industries Germany GmbH (AIG), will develop the plant to manufacture high-capacity silicon/graphite battery anode materials to target the burgeoning European electric vehicle (EV) market. The anode material will be produced under the licensed and registered product name of Silumina AnodesTM.
Image source: Company update, 20 April 2022
Key findings of the PFS
The PFS indicates that the plant would require a modest capital investment of US$95 million, with an estimated net present value (NPV8) of US$507 million for the project. The plant operation is estimated to generate net cash of US$63 million per year, with total annual revenue at full-scale production estimated at US$185 million.
Altech estimates that the plant would have an internal rate of return (IRR) of 40% with a payback period of approximately 3.1 years.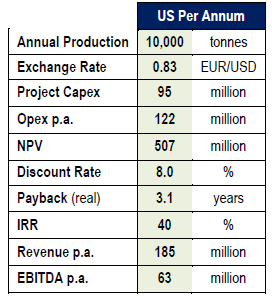 Summary of project financial model (Image source: Company update, 20 April 2022)
Related read: Altech Chemicals in box seat to cash in on soaring EV demand as fuel prices heat up
Altech's PFS incorporates the latest project assumptions. The capital cost estimates include the EPC contract value for the construction of the plant and the cost of capital during plant commissioning.
Data source: Company update, 20 April 2022
Last year in November, Altech announced that it had achieved a breakthrough in cracking the 'silicon code' and achieved 30% higher energy retention in a Li-ion battery. The in-house R&D team after a series of research and hard work was able to successfully combine silicon particles in graphite anode. This was achieved after treating silicon with its innovative and patented alumina-coating technology.
Related read: A closer look at Altech Chemicals' (ASX:ATC) HPA Johor plant
The battery industry for a long time knew that the inclusion of silicon in battery anodes could improve the energy capacity and performance of the battery. Tesla, the global leader in EV manufacturing, has declared that the introduction of silicon in battery anodes would increase energy density and would reduce costs of Li-ion batteries.
Silicon has nearly 10 times the energy retention capacity than that of graphite.
For its 10,000tpa battery anode material plant, Altech has signed two MOUs with European graphite and silicon feedstock suppliers. The project has already received green accreditation by Norwegian independent agency CICERO. Altech's German subsidiary, AIG, has started construction work on the pilot plant located adjacent to the main site location.
Related read: Here's why Altech Chemicals is making the headlines these days
Image source: Company update, 20 April 2022
AIG plans to supply the product from its pilot plant to potential buyers to fast-track the Silumina AnodesTM product qualification process. AIG has already bagged two non-disclosure agreements (NDAs) in place with two German automakers as well as with a European-based Li-ion battery manufacturing company.
Related read: Altech Chemicals (ASX:ATC) unveils pilot plant design for battery anode materials
ATC shares were trading at AU$0.088 midday on 21 April 2022. The Company has a market cap of AU$130.94 million.