Summary

Albion Resources has been granted a tenement in the world-class nickel, copper and gold province of Leinster.
The tenement is located close to the prospective deposits of Auroch Minerals as well as that of BHP Group.
The Company has initiated a review of the regolith setting and previous surface exploration.
Junior explorer Albion Resources Limited (ASX:ALB) has been looking to advance work across its landholdings as part of its maiden drilling program. In a positive development, Albion has been awarded a new exploration licence in Leinster, which is considered as a world-class nickel, copper and gold province.
Previously, the Company has been engaged in settling an agreement with the Gooniyandi Aboriginal Corporation (GAC) and concluding a survey with a view to kickstart drill testing at few of the high-grade Zinc-Lead prospects.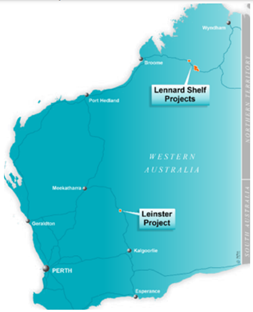 Project location map (Source: Company Prospectus)
PREVIOUS UPDATE: Site visit by Albion (ASX:ALB) at Lennard Shelf uncovers visible Zinc-Lead mineralisation
ALB secures a new tenement
ALB has been granted a prospective nickel-copper and gold exploration licence, 36/1005, located 30km southeast of Leinster. This latest strategic and significant tenement lies adjacent to the Nickel West Weebo Ni deposit of BHP Group Limited (ASX:BHP) and is also along strike from the newly announced Horn and related Ni-Cu prospects of Auroch Minerals Limited (ASX:AOU).
Source: ALB Announcement 21/06/2021
DID YOU READ: How does Albion Resources' (ASX:ALB) Pillara East Project stack up for the future?
ALB's Leinster Project spans 42 km2 in a globally renowned base-metal and gold province and consists of one exploration licence application (E36/1005).
Historically, the region has witnessed mostly shallow (<100m) drilling, where both nickel and gold mineralised intercepts remain poorly tested at depth through RC or diamond drilling.
Historical rock chip samples (Source: ALB Announcement 12/05/2021)
EXECUTIVE TEAM UPDATE: Meet the leadership team at the helm of Albion Resources (ASX:ALB)
Upcoming and current exploration work
The Company is contemplating to execute an electromagnetic survey (MLTEM), or gradient array induced polarisation/resistivity survey (GAIP) at the south of the Weebo deposit and north of the Horn trend. These are expected to help in identifying possible conductors down the prolific strike of ultramafic rocks.
Furthermore, the Company believes that there is room to enhance the understanding of the controls on gold mineralisation throughout the district.
High-grade zinc-lead targets (Source: Albion Presentation)
DETAILS ON IPO: Albion Resources (ASX:ALB) all set to list on ASX amid escalating zinc prices
As per Albion, gold mineralisation is related to late extensional structures formed in greenstones adjoining granite domes and remains restricted to intrafolial shear zones.
Now, the Company has initiated a review of the regolith setting and previous surface exploration comprising geological, geochemical, and geophysical datasets.
ALB owns a set of significantly prolific land assets that include high-grade base metal projects that suggest a major opportunity for the Company to make additional discoveries.
DID YOU READ: Albion Draws Investors' Attention as Zinc Prices Rebound off Multi-Year Lows
ALB stock was noted at AU$0.200 on 21 June 2021.