Highlights

Aguia Resources has achieved excellent productivity levels through the application of its branded phosphate products.
AGR believes the results to be very significant as the state is the largest producer of rice in Brazil.
Productivity results indicate AGR's two products' high potential and their potential to replace conventional and chemically processed phosphate fertilisers.
Aguia Resources Limited (ASX:AGR) has been continuing activities across its Três Estradas Phosphate Project (TEPP) despite the ongoing legal proceedings, and the work has not stopped.
Lately, AGR has provided further outstanding results from agronomic tests on rice crops using Direct Application Natural Fertiliser (DANF) products from the TEPP deposit.
RELATED ARTICLE: Aguia Resources (ASX:AGR) is ready to advance copper targets across its Rio Grande Copper Belt
Application of products for testing
The latest results establishing superior performance of AGR's two natural phosphate fertiliser products, Pampafos® and Lavrato® are from the Associação dos Usuários do Perimetro de Irrigação do Arroio Duro (AUD) agronomic station.
The tests were undertaken on a farmer's property that is different from the region of earlier rice tests and supervised by Integrar Gestão e Inovação Agropecuária.
The current test involved seven different agronomic treatments intended to evaluate the performance of the natural phosphate from the TEPP deposit against the standard phosphate fertiliser, TSP. The products were applied in two distinct dosages (shown in the image below) and a dosage of 120 kg/ha of K2O and 220 kg/ha of N were applied to all treatments.
Source: AGR Announcement 08/09/21
RELATED ARTICLE: Aguia Resources (ASX:AGR) bolsters stance to advance TEPP into production
Rice productivity results
The rice seeding took place in early November 2020, and the crop was harvested in late March 2021.
Significantly, the current results confirm the results of the rice tests undertaken previously at the Integrar agronomical station.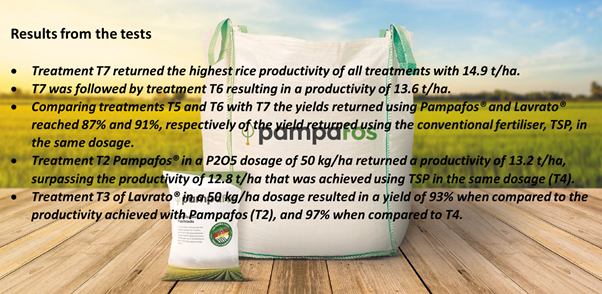 Image Source: AGR Website, Data Source: AGR Announcement 08/09/21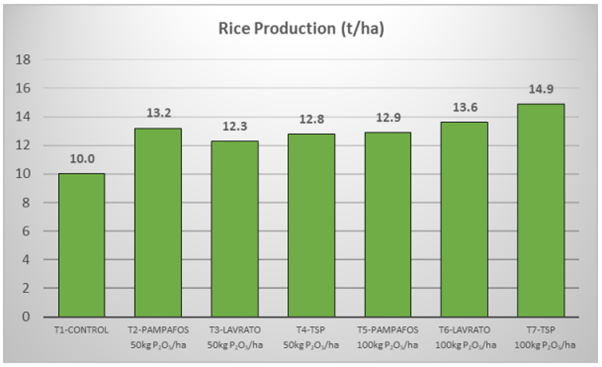 Rice productivity returned from each treatment (Source: AGR Announcement 08/09/21)
AGR believes current results to be highly positive for Pampafos® as well as Lavrato® and observed high similarity between treatments with the application of the two natural phosphate fertiliser products and the conventional fertiliser.
RELATED ARTICLE: Aguia Resources (ASX:AGR) closes June quarter with great strides across projects
"These agronomic results are extraordinary and again demonstrate that both Pampafos® and Lavrato® are highly efficient natural phosphate sources that will be in high demand in Brazil's largest rice-growing region. The efficiency of our fertilisers becomes particularly evident in the tests where there was a total replacement of phosphate from conventional sources, which are chemically treated.
Pampafos® and Lavrato® are natural products free from chemical processing. We will continue to perform a variety of agronomic tests across the State of Rio Grande do Sul, which will be key for the marketing of our products. Soybean is another crop that is extensively produced across the State of Rio Grande do Sul, and further results will be announced upon completion of tests on this crop.
We continue to push the TEPP forward, with a number of workstreams continuing. This reflects our confidence in the project's future and our ability to bring it into production. We look forward to providing further updates soon on this and the status of proceedings brought by the FPP, which we look forward to comprehensively addressing."
Dr Fernando Tallarico, AGR's Managing Director
RELATED ARTICLE: Aguia Resources (ASX:AGR) rises on ASX upon strengthening stance amid legal proceedings
What next?
AGR has been progressing a program of agronomic tests since 2019 using both Pampafos® and Lavrato®, which have been demonstrated to be highly effective on soybean and rice, RS's two major crops.
Given the potential market, AGR is looking to expand the program of agronomic trials throughout RS by installing field trials in vital locations across the state.
AGR looks forward to undertaking tests on various soil types and crops and differentiating the applied doses of Pampafos® and Lavrato®. This shall help in ascertaining the performance of the product to drive the product positioning in the market and to support the upcoming sales.
Location of AGR's ongoing Agronomic Tests (Source: AGR Announcement 08/09/21)
A contract extension has been signed with Integrar to progress the present tests at Capivari do Sul Agronomic Station for another 24 months that shall include further tests on the following:
Ryegrass (winter 2021)
Soybean (summer 2021/2022)
Wheat (winter 2022)
Rice (summer 2022/2023)
In addition to these, agronomic trials are currently progressing with the Federal University of Rio Grande do Sul (UFGRS) and the Federal University of Pelotas (UFPEL).
RELATED ARTICLE: Aguia Resources (ASX:AGR) Lodges an addendum to the Bankable Feasibility Study for the TEPP Project
Bottom Line
Amid anticipated delays concerning the TEPP, AGR has been continuing work and believes that its established and highly experienced team has the ability to continue progress through these challenging times to help develop and further explore its phosphate and copper assets.
The AGR stock was noted at AU$0.043, up by 10.256%, on 08 September 2021.