Summary

Citigold's geochemical sampling program has indicated the potential for extension of gold mineralisation at Charters Towers' Northern boundary.
One of the samples is considered to have demonstrated significant potential for a Volcanogenic Massive Sulphide (VMS) mineralisation.
Citigold has planned a further infill and follow-up sampling program after the wet season.
Australian gold explorer and miner Citigold Corporation Limited (ASX:CTO) has shared the synopsis of the regional exploration program outlining the key outcomes of the stream sediment sampling and exploration program at Charters Towers land tenure.
The company wrapped up a geochemical sampling program during the December 2020 quarter. The first-pass sampling program collected samples from 84 sites. At each site, samples were collected in three different sizes -
For Bulk Cyanide Leach (BCL), 2mm sized sand samples were collected in 3-5kg sample bag.
Rock chip or rock floats were sampled in a 1-3kg sample bag from the stream bed.
For analysing the occurrence of base metals in the sand, 2mm sized samples were collected in 3-5kg sample bags separately.
The rock chip samples and 2mm sand were assayed for gold using 50g fire assay. For other elements, Inductively Couple Plasma Atomic Emission Spectrometry (ICP-AES) testing was used to detect the presence of over 35 elements. Gold anomaly at Charters Towers is associated with elevated levels of lead and zinc, low levels of arsenic and lesser levels of elevated copper.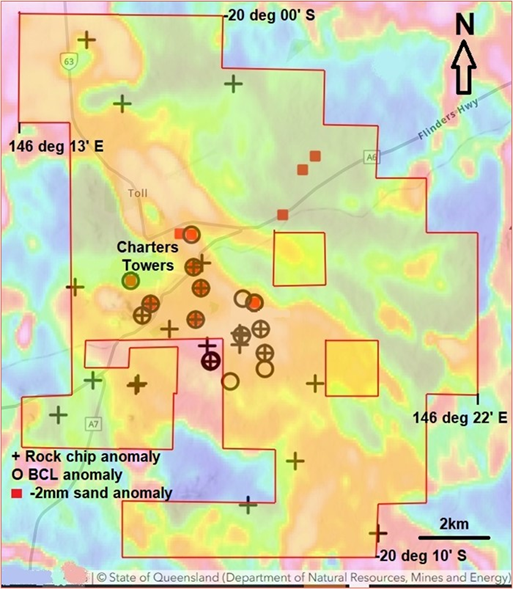 Citigold land tenure showing anomalous samples locations (Image Source: Company update, 23 March 2021)
Results from the Sampling Program
The log probability plots were used for statistical analysis of the samples. The samples were considered anomalous for BCL gold grades over 100ppb, above 0.1g/t gold in the 50g fire assay tests, ICP-AES copper, lead and zinc levels over 100 ppm and arsenic values over 20 ppm.
The rock float samples from 82 sites were sent to a lab for geochemical testing. Out of these 82 samples, 19 were below detection level. At least 29 samples were recorded with grades over 0.1g/t gold and considered anomalous. Over 16 samples yielded more than 0.5g/t gold grades, and 8 samples returned assay with 1 g/t gold or higher.
Result from the rock chip sampling program (Data source: Company update, 23 March 2021)
Potential for new undiscovered mineralised bodies: Three anomalous samples from the northern edge of the exploration permit returned gold values of 0.59, 0.51 and 0.83 g/t gold. The samples were collected from 5-8 km north of the centre of the Charters Towers.
The findings of the anomalous sample are significant as the historical workings at Charters Towers were not considered to extend to north of the city. The area was earlier not known for gold mineralisation, however the latest findings indicate a potential for gold footprint in the tenement area itself.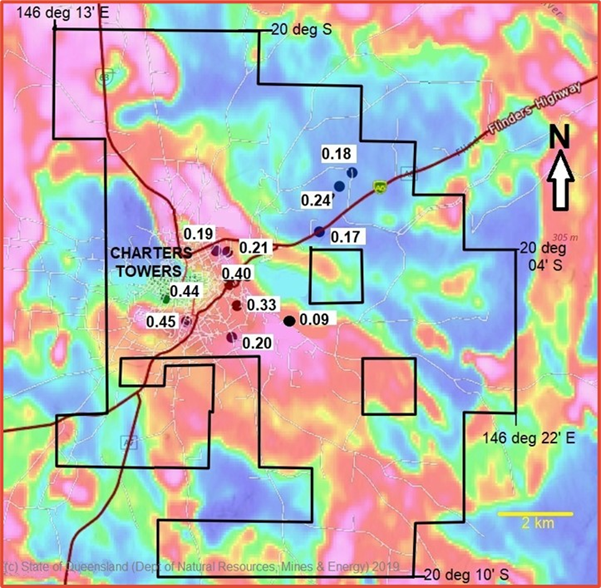 Map showing location of gold anomalies (Image Source: Company update, 15 March 2021)
Silver and base metals signature matching to VMS mineralisation style: Another significant finding was made on the analysis of rock chip sample no. 74. It showed the presence of base metals and silver. The sample recorded 2.03% zinc, 0.8% lead, 0.07% copper, 29 g/t silver and 10.5 g/t gold grades. The silver and base metals signature matches that of a Volcanogenic Massive Sulphide (VMS) deposit. Such deposits are not known to be present on Charters Towers as the area does not have any known mineralisation. The latest rock samples exhibit a potential for VMS mineralisation within the project area.
Citigold is planning on infill stream sampling to commence after the wet season. The follow-up sampling program in the northern edge of the Charters Towers, along with the new anomalies indicating different trends of mineralisation, will be undertaken in late March- mid-April.
Citigold traded at $0.013 a share on 24 March 2021 at 10:13 AM AEDT with a market capitalisation of $35.36 million.
Note: All currencies are in AUD.