Summary

The financial planning space has evolved a lot over the past few decades, and several companies have introduced software for effective financial planning.
Contemporary software like Fiducian's FORCe help businesses deliver better outcomes to their clients with ease, convenience, and value addition.
FORCe is a breakthrough software that helps in providing cost-effective and scalable advice while enhancing the client experience.
Do you struggle with planning your finances? Have you planned your finances to meet your future financial needs?
Of course, no one can be sure about the future, but a little preparedness does not hurt anyone.
Moreover, it is said that a stitch in time saves nine. If people plan their financial needs beforehand, then they have less to worry about.
On the other hand, if someone has not even had the idea of financial planning earlier, it is never too late to begin financial planning for their personal benefit.
For this purpose, individuals can resort to some help from professional financial advisors who can better assess their cash inflows and outflows while suggesting an adequate plan.
DID YOU READ: What is Fiducian Group (ASX:FID)? What financial services does it provide?
Need for financial planning software
One of the key challenges faced by many while planning their finances in earlier times was the inability to understand the complex financial products and services.
However, with the advent of technology, several financial planning businesses have introduced software that simplifies these financial planning products and allows users to develop a suitable plan.
Over the past few decades, technological innovation has altered the ways of financial planning. A greater number of financial advisors are adopting technologies to help their clients arrive at better financial decisions and attain greater levels of lifetime utility.
Among the many available alternative software, the ultimate differentiating factors are – the level of utility and convenience offered by a financial planning software. This is where Fiducian Group Ltd.'s financial planning software – "FORCe" stands out from its competitors.
Fiducian's offering backed by a history of software development
ASX-listed financial services company Fiducian Group Ltd (ASX:FID) has a history of building innovative software tools for financial planners. FID also has to its credit advanced leading-edge technology solutions to help financial advisers backed by a track record of around two decades in providing pocket-friendly automation of client administration through its IT system, "FasTrack".
FID's flagship software FORCe is a leading-edge integrated dealer and financial planning software platform. The software offers a core CRM solution for financial planning businesses backed by fully integrated modelling and reporting tools.
FORCe is empowered to be customised according to the needs of the dealer's business and further offers differentiated, scalable, and cost-effective advice to its clients.
FID believes that its flexible integrated planner technology coupled with an expert service team can assist in future-proofing the client's business and offer help amid challenging and growth phases.
Through its dealer software solutions, FID offers support for financial planners via the following core activities: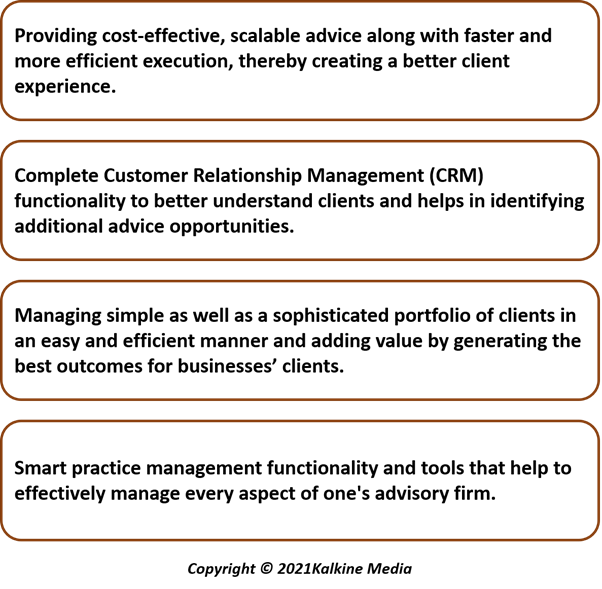 READ: Fiducian Group (ASX:FID) shows resilience and growth in H1 FY20 despite turbulent COVID-19 phase
In essence, good financial planning software has become an integral tool for a contemporary financial advisor. This is because financial planning software bridges the gap by performing the number-crunching required to calculate estimated outcomes. Further, these results are used by the client to assess the effects of any specific financial trade-off or decision.
On 13 May 2021, FID stock was trading at AU$6.660, with a market capitalisation of AU$210 million (AEST:2:58PM).