Highlights

Altech Chemicals is attracting the industry's attention with its groundbreaking battery anode coating technology.
Altech is working on a mission mode to become a global leader in supplying high-purity alumina.
The Company is constructing a HPA processing facility in Johor, Malaysia, with an installed production capacity of 4,500 tpa of 4N 99.99% high-purity alumina.
The Johor plant will enable ATC to process HPA at a relatively lower cost with a tax holiday of 5-10 years.
Altech has a 10-year off-take agreement with Mitsubishi Corporation.
ASX-listed Altech Chemicals Limited (ASX:ATC, FRA:A3Y) is turning heads with its groundbreaking and revolutionary battery material coating technology. The Company's R&D team has been successful in increasing the life span and efficiency of lithium batteries through its groundbreaking nano-coating technology.
Related read: How is Altech Chemicals Revolutionising the Lithium Battery Market?
The basic building block of the coating technology is high purity alumina (HPA). Chemically, the compound is aluminium oxide with the basic formula Al2O3. To make it appropriate for the coating material, it needs to be 99.99% pure or the 4N grade.
Image source: Company update, 15 May 2021
Altech owns a kaolin deposit in Meckering, WA. To process alumina into HPA, the Company is constructing a processing plant in Johor, Malaysia. The Company plans to mine kaolin from its 100% owned deposit in WA and ship the material to Malaysia for processing into the final product.
HPA already has an established market and is profoundly used in semiconductors, LEDs and scratch-proof glasses. Developing a technology for coating lithium batteries will open a new avenue for HPA and Altech within the burgeoning electric vehicle (EV) market.
Altech has established proven chemistry
Chemistry for HPA is not new to the world. It was first proposed by Swiss chemists back in the 1900s. The USA and Alcoa took their work further and developed the chemistry in the 1980s. Since there was no active demand for HPA then, the market penetration remained limited.
The semiconductor wafer manufacturing and LED industries have immense demand for HPA. Altech's research with lithium batteries will open an entirely new horizon of opportunities for HPA. Demand for EVs is slated to rise to 29 million vehicles by the year 2030. This will boost demand for lithium batteries.
The current lithium batteries have one basic problem. Over 8-10% of lithium becomes inactive on the first charge and degrades over battery life. HPA coating has shown the potential to solve the issue and increase the efficiency and life of a lithium battery.
Altech's Patented HPA Process (Image source: Company update, 14 May 2021)
To keep the operating cost low and close to end markets, Altech is building its HPA processing plant in Malaysia. Construction of Stage 1 and Stage 2 has been finalised. The work on the site electrical substation remains to be done as a part of early work. The processing facility is at a stage where the recommencement of construction can recommence quickly and easily once the project financing is arranged.
Related read: Altech Chemicals (ASX: ATC) – set to disrupt the Lithium-ion battery market with its HPA coating technology
Why Malaysia?
The plant lies in a relatively low-cost country with near to the end market.
Altech can enjoy lower operating costs of up to 60% with a corporate tax holiday for 5-10 years.
HCl manufacturing unit is in close proximity to the plant. HCl is used in processing operations.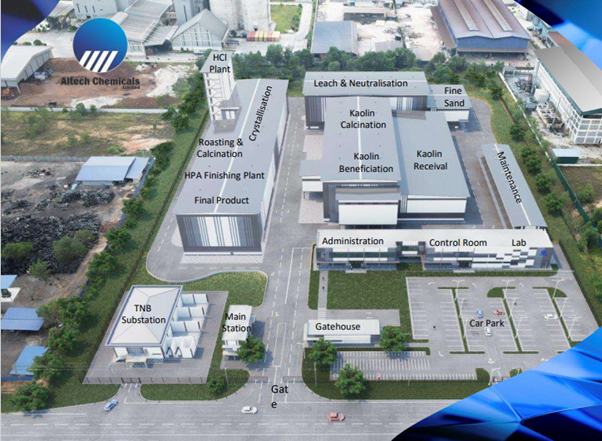 Proposed HPA plant (Image source: Company update, 14 May 2021)
Altech well positioned to leverage the HPA market
The Company has a 10-year exclusive off-take agreement with Mitsubishi Corporation. To cater to the demand of downstream customers, Mitsubishi will purchase HPA at the prevailing market price. Altech owns raw material (kaolin) with a 12.7Mt mineral resource that is close to surface and easily mineable.
The kaolin deposit in Western Australia has its approvals and permits in place, and ATC plans to extract 50,000 tpa of kaolin annually. The entire project is certified as a green project with good environmental governance.
The research team has filed for several patents, and the R&D work continues on the project.
Related read: Altech Chemicals (ASX:ATC) all set to disrupt the high purity alumina market