Summary

88 Energy Limited has secured a `permit to drill for the Merlin-1 well before the expected 12 February 2021.
Currently, field operations are fully underway with rig commissioning almost completed and mobilisation anticipated in coming days.
88E expects the spud of Merlin-1 well towards the end of the current months or the beginning of the next month.
88 Energy Limited (ASX:88E) has announced that it has secured approval regarding Permit to Drill for the Merlin-1 well from the Alaska Bureau of Land Management (BLM) on the 28 January 2021. The same was submitted to the Deputy Assistant Secretary for Land and Minerals Management for approval which was further received on 29 January 2021 before the expected date of 12 February 2021.
INTERESTING READ: New Acquisition Boosts 88 Energy's Share Price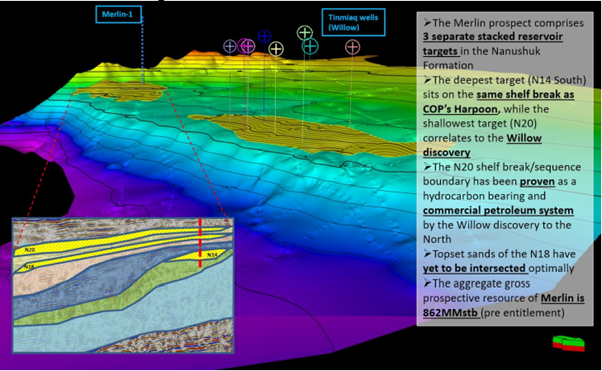 Merlin-1 – on-trend to large Willow oil field (Source: ASX Announcement 01 February 2021)
Project Peregrine of 88 Energy is placed on the North Slope of Alaska in the NPR-A region and owns a 100% working interest in the project. This interest is expected to decline by 50% as a result of the completion of funding under the latest farm-in.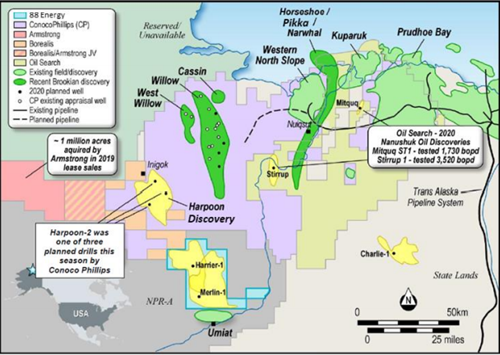 Project Peregrine and Recent Nanushuk Discoveries (Source: ASX Announcement 01 February 2021)
The spud scheduled for February/March 2021 is pursuing 645 million barrels of gross mean prospective resource.
DID YOU READ: 88 Energy (ASX:88E) Completes Bookbuild for a Placement Worth $10.07 million
88E had recommenced field operations in the previous week in anticipation of the approval. Moreover, the Company is close to finalising the recommissioning of the Rig 111 and Rig mobilisation is planned to begin later in the current week.
Further, 88E looks forward to completing a single lane snow road into the Merlin-1 location in around two weeks, and the Company now anticipates spud of Merlin-1 towards the end of February or beginning of March 2021.
INTERESTING READ: 88E Fast Tracks Farmout Work at Project Peregrine, Executes Rig Contract
During this process of securing approvals, 88E obtained significant support for its project from the Alaska Congressional Office and the BLM and the Deputy Assistant Secretary for Land and Minerals Management.
Dave Wall, Managing Director of 88E, commented:

RELATED: ASX:88E on a Roll at Project Icewine, net potential at Charlie 1 Well improved to 900 million barrels
88E has planned to commence a second well, Harrier-1, immediately after completing the operations at Merlin-1. However, this currently depends on the results obtained from Merlin-1 as well as approvals concerning schedule and permit. 88E is aiming for a gross mean prospective resource of 417 million barrels through Harrier-1, and the well is anticipated to cost ~US$7 million.
RELATED: 88 Energy Scores Big With Its Multiple World Class Assets In Alaskan North Slope
Post the announcement on 01 February 2021, 88E stock closed at $0.010, up 11.111% with a market capitalisation of $95.95 million.
INTERESTING READ: Why is 88 Energy's (ASX:88E) share price in green in last 2 trading session?