Summary

Universal Store Holdings is a speciality retailer catering to the youth apparel market in Australia. It is an omni-channel retailer with a store and online presence.
CleanSpace Holdings is a respiratory protection equipment designer, manufacturer, and seller.
Initial Public Offerings (IPOs) are back into the ASX bourses after a subdued number of new listings since the beginning of the year. The number of new companies on the ASX increased in October and November.
In this article, we discuss two such companies that made it to the Australian Securities Exchange (ASX) bourses in recent months.
Universal Store Holdings Limited (ASX:UNI)
Universal Store Holdings is a retail company with a speciality in youth casual apparel. It provides customers with a flexible omni-channel retailing experience. Universal Store offers a range of brands consistent with constantly evolving trends in the youth apparel market.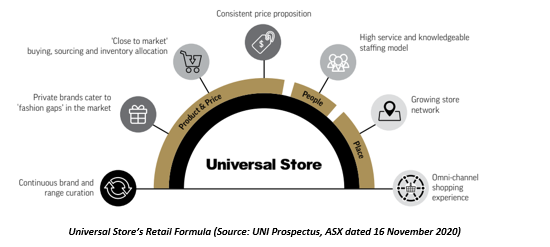 Industry
UNI operates in the clothing, footwear and accessories market in Australia. In FY20, the size of the market was estimated at $24 billion, according to the Australian Bureau of Statistics. The market includes companies with a physical and online presence.
Its target youth casual apparel market is a segment of the broader fashion market, which comprises around 7 million people aged 16-35. The Company's management reckons that the target market has sustained above-market growth rates over recent years, which has been driven by growing income levels and a higher share of wallet going into discretionary items.
Management also believes that the market is driven by a large number of students in universities, shifts in spending patterns, adoption of buy now pay later products, and casualisation of workplace and study attire.
IPO Rationale and Use of Proceeds
Universal Store Holdings planned to access capital markets for capital management flexibility and provide potential investors with an opportunity to invest in the company.
The company would utilise proceeds for the repayment of debt ($22.5 million), improve cash position ($10 million), payment of IPO transaction costs ($9.2 million), and payments to selling shareholders ($106 million).
Listing and Trading Update
Universal Store Holdings started trading on ASX bourses in mid-November and raised $147.8 million at $3.8 per share. On its trading update, the company confirmed that the proforma Q1 FY21 forecast of key measures provided in the prospectus was achieved.
UNI also confirmed that sales momentum continued in the last seven-week period (28 September – 15 November). During this period, the company also recorded comparable sales growth of 33% against the same period last year, excluding closed stores.
In late-October, the retailer also re-opened 12 stores in Melbourne. In the initial two weeks after re-opening, sales in Victoria recorded comparable sales growth of 23% compared to the previous corresponding period.
According to the prospectus, UNI had a proforma forecast of $45.8 million of revenue, $25.6 million of gross profit, $11.5 million of EBITDA and net profit of $7.3 million.
In FY20, on a statutory basis, it recorded revenue of $154.9 million, EBITDA of $46.5 million and net profit of $12.8 million. During the year, the company also implemented AASB 16.
On a proforma basis in FY20, Universal Store Holdings reported EBITDA of $27.3 million and net profit of $16.2 million.
On 25 November 2020 (AEDT 12:10 PM), UNI traded at $4.410, down by 0.899% from the previous close.
CleanSpace Holdings Limited (ASX:CSX)
Based in Sydney, CleanSpace dabbles in designing, manufacturing and selling workplace respiratory protection equipment for the industrial and healthcare markets. In 2009, the company was formed by biomedical engineers, who previously worked at ResMed Inc. (ASX:RMD).
Industry
CleanSpace specialises in Powered Air Purifying Respirators (PARS), which are equipped with blowers, filters and breathing tube assemblies. Respiratory products are classified into two categories: Air Purifying Respirators and Supplied Air Respirators.
CleanSpace PARS falls into the Air Purifying Respirators category, which is the addressable market of the company along with surgical masks in some cases. Respiratory products are broadly used in two markets: healthcare and industrial.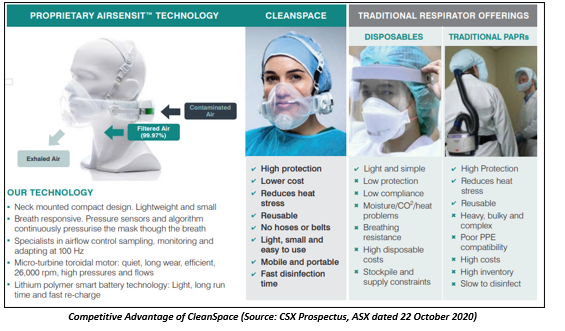 The company noted that its market is driven by rising instances of respiratory diseases, chronic respiratory disease burden, compliance and regulatory obligations, employer intentions to go beyond compliance, and employer liabilities.
IPO Rationale and Use of Proceeds
CleanSpace opted for an IPO to provide financial flexibility to drive growth. It intends to repay debt, provide an opportunity for potential investors to take part in the growth of the business, gain benefits of a publicly listed entity, and pay the cost of the offer.
The company would utilise the proceeds for the repayment of debt ($4.7 million), funding growth initiatives ($13.3 million), payment of IPO transaction costs ($2 million), and payments to selling shareholders ($111.4 million).
Listing and Trading Update
On 23 October 2020, CleanSpace commenced trading on ASX after a successful IPO, which raised $131.4 million at $4.41 per share. The transaction saw very high demand for stakes in the company and included institutional, retail and professional investors.
Earlier this month, the company provided a trading update and upgraded its 1H FY21 prospectus forecasts. It was understood that the performance continues to be strong across regions since the listing with consistent demand in the healthcare and industrial sectors.
Its product sales mix constitutes 77% healthcare and 23% industrial with sales evenly split across geographies in Europe, Asia-Pacific and North America.
The company noted that the business performance is tracking ahead of expectations. For the six months ending 31 December 2020, it is expecting revenue in the range of $34 million to $36 million. Gross profit and EBITDA margins were tracking above prospectus forecasts.
For 1H FY21, CleanSpace now expects EBITDA to be in the range of $14 million to $16 million. At the time of the trading update, sales of consumables were 45% of total sales consistent with the previous year and the forecast.
Citing that the world witnesses disease outbreaks on an average of every five years, CleanSpace stated that the Governments are revisiting their pandemic readiness plans in the wake of coronavirus onslaught.
COVID-19 pandemic is also driving investments into the research and pharmaceutical sectors. CleanSpace's respiratory protection equipment has proven its mettle to deliver high protection and user comfort.
Since the pandemic, the company has deployed its products across industries. It is also providing an opportunity for the business to grow the customer base, while also developing new business opportunities as policymakers and hospitals are reinventing pandemic readiness plans.
On 25 November 2020 (AEDT 12:11 PM), CSX traded at $6.050, up by 3.066% from the previous close.