Summary

Myer is working through its Customer First Plan to deliver better outcomes for stakeholders after a decade of underperformance.
The company closes H1 FY21 in January 2021. It will likely disclose half-year results in March 2021.
Myer (ASX:MYR) shares have underperformed the ASX 200 index throughout the last decade. But the last decade was undoubtedly challenging for apparel retailers as the share of e-commerce grew in the apparel market.
MYR Total Return VS ASX 200 (Source: Thomson Reuters)
Recent data from the Australian Bureau of Statistics (ABS) showed that the clothing retail momentum was strong towards the end of 2020. But whether this could translate into positives for the company would be apparent in the next few months.
In September last year, Myer shareholder Wilson Asset Management (WAM) urged the company to reduce fees charged by the Board members. In response, the company said a reduced base fee of Chairman and Non-executive directors was effective from 1 July 2020.
Related: Fashion Retail Apocalypse that Sunk Conventional Aussies
The latest reduction is the third one to be implemented by the company since FY18. WAM Chairman Geoff Wilson AO also raised some questions on suppliers.
Myer said the firm had adjusted its supply lines in response to the changing consumer demand. It was also affirmed that the company continues to pay its merchandise supplier base as per agreements or better.
On dividends, the company clarified that the Board intends to restart paying dividends with franking credits. Myer would undertake a dividend decision after considering the financial and trading performance.
The company has also extended its debt facilities until 31 August 2022 and said lender group remains supportive. In FY21, the available facility would reduce by $30 million as per requirements.
In October 2020, Myer Chairman Gary Hounsell said that he did not intend to seek re-election at the AGM since two largest shareholders of Myer had disagreed on his re-election.
Customer First Plan
Myer is also progressing with its Customer First Plan. At its AGM in October 2020, the company noted its progress with respect to the strategy.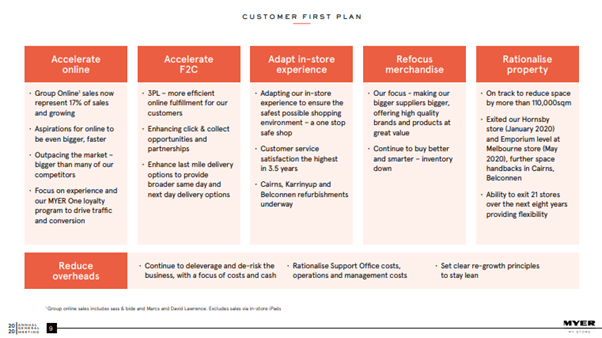 Source: MYR AGM, 29 October 2020
Its progress includes a lowered cost of doing business and space, improved in-store customer experience, reduced debt and enhanced cash levels, rising online sales, and new merchandise offer.
The retailer said strong promotional activity would deliver robust Black Friday. It was targeting to build on the momentum gained last year.
Myer continues to emphasise on the online sales. With the introduction of 3PL fulfilment, it seeks to achieve profitability along with growth.
At the time of writing, MYR shares were trading at $0.33, by 1.54% from the previous close.