Summary

AGL delivered nearly 3.95 million services in the electricity, gas and telecommunication sectors across Australia in FY20.
With 11,208MW of generation capacity, AGL accounts for 20% of the total domestic generation capacity.
The Company has lowered its earnings guidance to A$500-580 million for FY21.
The share price, which declined nearly 41% in the last 12 months, is currently trading at ~ A$12 on the ASX.
AGL Energy Limited (ASX:AGL) is an Australian electricity, gas and telecommunication service provider. The company caters to residential, small and large business, and wholesale customers across the country.
Last month, AGL released an updated earnings guidance for FY21 ending 30 June 2021. The Company lowered its guidance range from A$560-660 million to a new range of A$500-580 million.
The decline in earnings guidance was attributed to the expected impact of the fire accident at its Liddell Power Station on 18 December 2020. The incident occurred in the generator transformer of Liddell Unit 3 while changing a filter in the oil cooler unit. One employee was severely injured in the incident.
To Know More, Do Read: AGL Energy (ASX:AGL) Warns of Power Outage Post Liddell Transformer Incident
How Much Will the Accident Cost AGL?
AGL has evaluated the overall impact of the accident, which is expected to cost around A$25 million to the Company. The figure involves the replacement cost of the damaged transformer and the trading impact since the accident day through March 2021, when Unit 3 is likely to be operational again.
AGL will not get any claims from the insurance proceedings in this case.
Lower overall customer volumes and wholesale electricity prices due to COVID-19 were also highlighted as contributing factors for lower levels of earnings guidance.
Also Read: Electricity Price set to fall, says AEMC
FY20 Performance of the Company
AGL generated 43,828 GWh of power during FY20. The figure is slightly higher than 43,723 GWH in FY19. The power generation from coal was almost at the same level in the energy basket while wind energy generation increased by 17% during the period.
AGL supplied 40,349 GWh of electricity to retail as well as large businesses in FY20. A net increase of 3% from FY19 level of 39,152 was observed. The gas sales volume was down by 7% in FY20 and slid to 155.5 PJ from 167.1 PJ in FY19.
The underlying profit after tax for FY20 was A$816 million, 21.5% lower than FY19. Since the electricity sale increased and there was a marginal loss in gas sales volume, the 21.5% lesser profit was attributed to the less realisation of prices of gas and electricity in 2020 due to COVID-19.
FY21 Guidance
Underlying earnings to lie in the range of A$500 million to 580 million.
Wholesale gas gross margin is expected to take a dip by approximately A$150 million.
Wholesale electricity gross margin is also anticipated to be A$150 million lower.
Operating cost is likely to remain the same as FY20.
Higher credit loss is expected.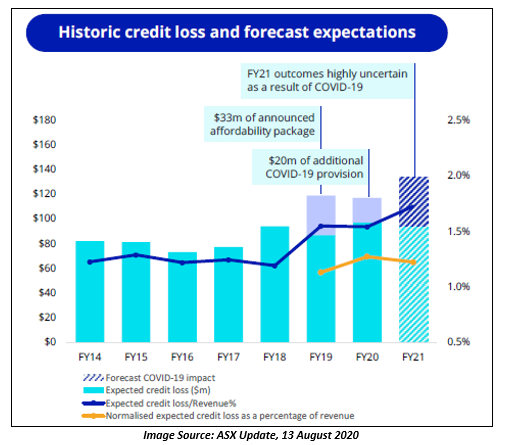 Must Read: Three ASX-Listed Energy Stocks to look at for 2021
Share Price Movement
AGL has also been impacted by the COVID-19 pandemic. The Company has to provide extra tenure or has to give rebates to customers due to the hardship faced by everyone during the lockdowns and restrictions.
The decreased wholesale electricity and gas prices during FY20 majorly contributed to declining income as well as downtrend of its share price. The stock traded at around A$20 through January 2020 and downtrend began from March 2020.
The stock traded at A$12.070 on 14 January 2021 (AEDT 11:28 AM). The Company has a market cap of A$7.52 billion.
Also Read: One Nation Leader Mark Latham Labels NSW's Energy Roadmap as a "New Tax"