Source: Panumas Yanuthai, Shutterstock
Summary

Growth stocks have been on a downswing of late as long term government bond yields have risen considerably in 2021.
Markets are pricing strong recovery in 2021 as vaccine implementation has sparked hopes for a V-shaped recovery.
Since the beginning of the year, the long term bond yields are rising as investors are pricing better economic conditions. Although rising rates have been evident in 2021, the selloff in growth stocks had intensified over the last month.
When risk free rates are rising, it is likely to create pressure on valuations of companies that are estimated to generate huge future cash flows. Put it another way, rising risk free rates lower the present value of future cash flows.
Copyright © 2021 Kalkine Media Pty Ltd
A move in risk free rates also have influences on other asset classes like gold, which becomes less attractive amid higher risk free rates. It also forces moves in yield/interest rate differentials on sovereign bonds of two countries, which impacts the FX rates between two countries.
All of these moves across asset classes spark volatility in markets. We have been witnessing volatile markets as prices of crucial asset classes have moved significantly in 2021, especially for key commodities and government bonds.
An outlier in the growth stock massacre
BWX Ltd (ASX:BWX) shares are up 87% over the last year compared to 42% rise in the ASX 200 index. More importantly, the return is also positive in 2021 for BWX shares, while 2021 returns have mostly been negative for high-flying growth stocks.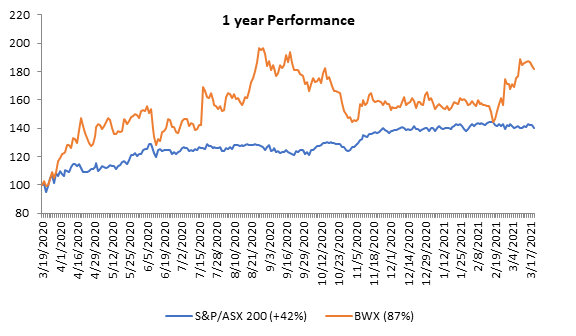 Source: Thomson Reuters, Refinitiv (Rebased to 100, as of 3/18/2021)
The firm plies its trade in the personal care segment, which is sort of an essential industry with non-cyclical revenues. Earlier last month, the company announced that it struck a strategic partnership with Chemist Warehouse (CW) group.
It forged a five-year equity-linked strategic partnership with CW to increase availability of BWX products at CW stores and online in Australia, New Zealand, and Ireland.
In December last, the company also penned a partnership with THG Holdings. Under the partnership, THG will distribute BWX products through direct to consumer channels, providing end-to-end e-commerce solution, access to digital platform, and supply chain.
Initially, they are targeting five market but intend to make it into 14 markets by 2022. The partnership will also drive BWX's commitment to achieve European revenue between $30-50 million by financial year 2023. The company also targets to enter more channels in addition THG partnership, including Hypermarkets, supermarkets, chemists, e-retailers.
In six months ended December 2020, BWX reported net profit after tax of $9.9 million, which rose 133.1% over the same period last year. But net revenue only rose 0.6% to $84.5 million in local currency terms and 3.4% on constant currency terms.
Copyright © 2021 Kalkine Media Pty Ltd
EBITDA for the period rose 53.5% to $17.5 million compared to $11.4 million in the same period last year. The company also declared a 1 cent per share fully franked for the shareholders. It also raised $52 million from shareholders.
Out of the $52 million, the firm has budgeted $33.7 million for a new facility in Victoria. The new facility is expected to material EBITDA improvement. BWX expects the facility would be EPS accretive from FY23 onwards.
The company estimates higher revenues and at least 10% increase in EBITDA in FY21. It has a three year strategic plan, which seeks to improve brand presence and make strategic investment. Besides, the plan also includes the new facility in Victoria.
On 19 March 2021, BWX shares closed 1.27% lower at $4.67.