Source: Pressmaster, Shutterstock
Summary

Catapult Group delivered on its goals in H1 FY21 despite the pandemic-induced challenges.
The company registered strong progress against all the key SaaS growth metrics.
Catapult Group is strongly positioned to capitalise on future growth opportunities.
Sports performance solutions provider, Catapult Group International Limited (ASX:CAT) has released its H1 FY21 results, highlighting growth and business resilience in the face of the pandemic.
While entering the half-year period ended 31 December 2021, the sports industry was hoping for the easing of COVID-19 restrictions. However, on the contrary, the situation worsened, especially in the US and the UK. Consequently, professional sport incurred substantial revenue losses. One of CAT's primary revenue sources, the NCAA (US collegiate sports) was significantly impacted.
During the period, Catapult Group delivered improvements on all key metrics.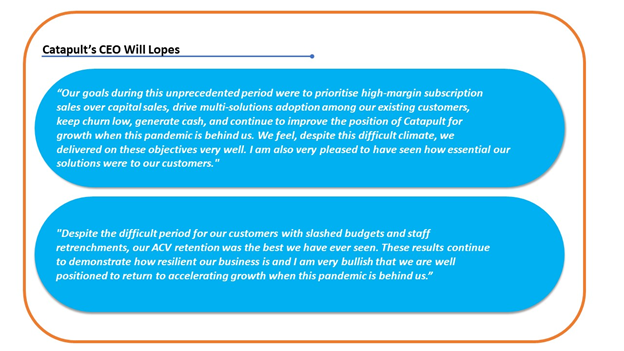 Source: CAT ASX Update, dated 24 Feb 2021
Catapult Braving the Corona Storm with Strong Figures
The company reported substantial progress against the main SaaS metrics during the first half of the current financial year.
Annualised Contract Value (ACV) increased by 8.3%. It is the critical metric to monitor the success of CAT's subscription business.
ACV Churn reduced to 4.5%, the lowest figure ever recorded despite the pandemic challenges. It highlights a successful focus on cross-sell, upsell and customer retention.
Revenue stood at USD 33.3 million, down by 4.1%.
EBITDA was positive at USD 2.6 million, a decrease of USD 1.3 million.
Underlying EBITDA declined by 1%.
CAT continued to generate a robust free cash flow, recorded at USD 8.8 million.
The company maintains a robust balance sheet. By 31 December 2020, CAT had USD 24.6 million of cash in the bank with no debt.
Must read: Catapult Group (ASX:CAT) Acquires Sports Content Platform, Science for Sport
Operational Endeavours
To improve its platform and provide world-class solutions, Catapult continues to focus on R&D investment. In H1 FY21, it invested USD 3.3 million in R&D, which accounts for 10% of revenue.
New solutions' deployment continued in the period. The company delivered Athlete Proximity Reporting and Remote Athlete Solution, which have experienced considerable success among the customers.
CAT provided cloud-based full-resolution video analysis for American Football customers. Also, a new indoor-outdoor athlete monitoring experience for training sessions was deployed.
Customers with two or more solutions increased by 19%, and the contribution margin grew to 50%. The average customer lifetime period increased to 6.1 years, up by 1.6%.
Catapult Remains Optimistic for Future
The company anticipates considerable long-term growth opportunities due to the expected global demand for athlete analytics and a good scope for sports technology innovation.
It opines that the vaccine rollout will change the situation for the better.
Catapult remains focussed on increasing its addressable market opportunity and deliver substantial ACV growth.
CAT is also contemplating rationalising some of its global brands as parts of its plan to scale.
Catapult has moved its financial year reporting to a March year-end and has changed to reporting in the USD.
Also read: Australian benchmark index Surpassed 7k mark; three stocks under focus – CAT, PRO, CGC
CAT traded at AUD 1.710 on 25 February 2021, up by 0.293% from its last closing price.