Summary

Genetic Signatures has acquired Boston Medical Center (BMC) for the supply of its SARS-CoV-2 detection kits.
The new agreement will offer BMC with an increased testing capability.
The Company also highlighted that the broader application of EasyScreenTM for other indications are under consideration.
Specialist molecular diagnostics player Genetic Signatures Limited (ASX:GSS) has acquired a new North American customer to supply its SARS-CoV-2 detection kits. Following the announcement, GSS share price jumped by 19.411% to end the day's trade at A$2.030.
Let us delve deep and discuss more-
Supply agreement with Boston Medical Center
The new supply agreement mentioned above, signed during the US's ongoing challenging period due to COVID-19, will offer BMC an expanded testing capability. In April 2020, EasyScreen™ was added in the Australian Register of Therapeutic Goods (ARTG) after TGA approval.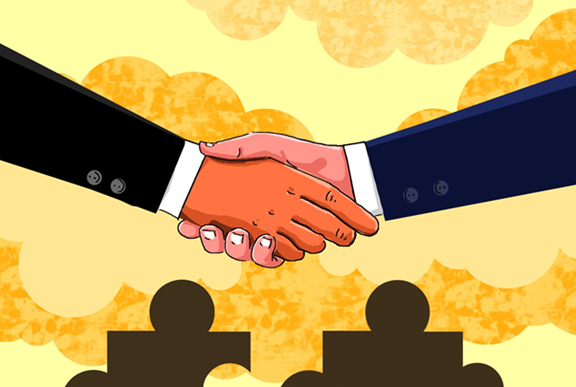 Image Source: © Kalkine Group 2020
The target volumes are almost 1,000 tests per day for the upcoming two years. However, there is no minimum purchase quantity. Notably, Genetic Signatures is also offering instruments for testing.
Use of EasyScreenTM in other indications is under consideration
The Company disclosed that duration and severity of the ongoing COVID-19 pandemic are not certain. This may also influence the purchase of EasyScreenTM SARS-CoV-2 Detection Kits. However, if the target volumes are accomplished, this will add significant revenue to GSS for the agreement's duration.
The Company also revealed that the wider application of EasyScreenTM for other indications is also under consideration by BMC.
Notably, the first order worth US$227K for detection device has been received. The Company will receive the invoice for the first order in December.
Genetic Signatures also added that while ensuring new consumers in EMEA and North America, it continues to offer more thorough screening with its EasyScreen™ Detection Kit range.
Genetic Signatures to enter in the largest diagnostics market
The US is the largest diagnostics market across the globe, and GSS is well placed to develop its presence under Section IV.c exemption of the FDA. Moreover, the Company mentioned that sales and field teams are keenly engaged with several sales leads.
Notably, the Company has already established its Warehouse facility in California to support customer supply across North America.
Genetic Signatures has continued to build and invest inventory in North America.
CEO Genetic Signatures Dr John Melki commented:

Commercialisation Strategy of Genetic Signatures- The Company has set milestones for the financial year 2021 and beyond. The five key pillars of Genetic Signatures are: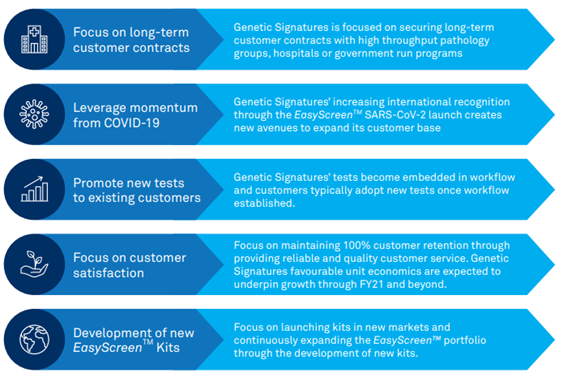 Source: GSS Annual Report (16 October 2020)