Summary

Aussie Broadband and South32 shares are trading in the green zone post following significant announcements regarding their respective periodic operational performance.
Aussie Broadband reported an impressive 88% growth in broadband connections at the end of December 2020. The Company expects 1H FY2021 EBITDA in the range A$6.9 - A$7.4 million.
South32 reported impressive operational performance with record production across three of its operations.
AS-listed players Aussie Broadband and South32 Limited have witnessed a growth in their respective share price after releasing promising operational performance updates. Let us take a look at the updates that boosted investor sentiment.
Aussie Broadband Limited (ASX:ABB)
Australian owned and operated telecommunications company, Aussie Broadband Limited has provided an update on broadband connections and shared its projections for half-year EBITDA for the period ended 31 December 2020.
The Company expects its half-yearly FY2021 EBITDA to lie in between A$6.9 million to A$7.4 million. EBITDA, after eliminating IPO costs, would range from A$8 million to A$8.5 million.
A Glance at the statistics of the broadband connection shared by Aussie Broadband Limited:
The above numbers are unaudited results and are subject to further review and finalisation. The Company would publish its half-yearly results on 17 February 2021.
Stock Information: Following the announcement, ABB shares surged on the ASX and were trading 9.311% higher at A$2.700 (at AEDT 3:41 PM). The Company has a market cap of A$470.13 million.
INTERESTING READ: Aussie Broadband (ASX:ABB) Makes a Successful Market Debut on ASX, Shares Up Over 90%
South32 Limited (ASX:S32)
Diversified mining and metals company South32 Limited has released its Q2 FY2021 results for the period ended 31 December 2020 and reported record YTD production at Worsley Alumina. The results obtained was beyond nameplate capacity as the refinery profited from on-going improvement initiatives.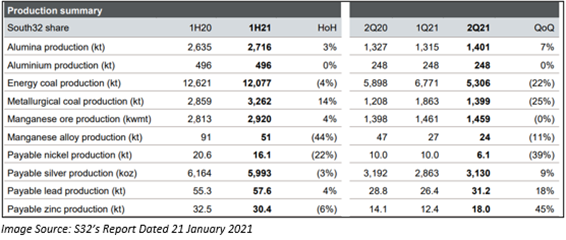 Development during Q2 FY2021:
The Company was able to set a YTD production record at Brazil Alumina. It was possible as the refinery regularly achieved improved levels of plant availability, regardless of planned maintenance.
S32 was able to deliver another record for YTD ore production at Australia Manganese. This happened because of the improvement in the performance of the high-grade circuit.
Production at Illawarra Metallurgical Coal increased by 11% in 1H FY2021.
FY2021 production guidance improved by 5% at Cannington, with underground performance backing the enhanced extraction of a superior mining sequence.
S32 signed a binding deal with Elemental Royalties Corp to sell its portfolio of non-core minerals royalties.
During Q2 FY2021, the Company advanced the sale of South Africa Energy Coal. It received consent from the Competition Tribunal of South Africa. It also moved discussions with Eskom to meet up the substantial outstanding terms.
S32 also finished the sale of GEMCO's shareholding in the TEMCO manganese alloy smelter.
Do Read: South32 Ltd (ASX:S32) releases September quarter report, Metallurgical Coal output booms
Stock Information: At AEDT 3:40 PM, S32 shares were trading at A$2.780, up 4.511% from the previous close. S32 has a market cap of 12.71 billion and was amongst the top 5 gainers on ASX 200 at the time of writing.