Summary

White Rock Minerals (ASX:WRM) has encountered a 5km2 robust gold anomaly in the Tintina gold province.
An additional cluster of six gold anomalies covering 12km2 has been identified in the areas surrounding Last Chance.
Last Chance is a gold anomaly that was identified last year.
The geochemical survey performed by White Rock Minerals Limited (ASX:WRM) has confirmed a large gold anomaly of around 5km2 in the Tintina gold province of Alaska.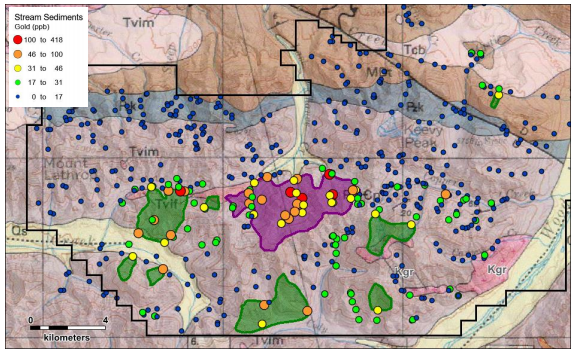 Anomaly Location Details (Source: White Rock ASX Update, dated 22 December 2020)
The anomaly was encountered during the 2020 field season, which was designed for sediment sampling on the recently extended permit area to the south and west of the Last Chance gold target. The Last Chance gold target covering 15km2 was discovered during the last year's stream sediment sampling program.
Key Findings
The newly found gold anomaly with eight samples at the immediate west of Last Chance Target incorporates an area greater than 5km2 with a gold anomaly of up to 124ppb.
Significant gold deposits including Donlin Creek, Pogo and Fort Knox
(Source: White Rock ASX Update, dated 22 December 2020)
Also Read: How Are Businesses Encashing the Gold Bonanza?
Last Chance is believed to be highly prospective for Cretaceous gold systems. Tintina Gold is a world-class province and hosts numerous remarkable gold deposits including Donlin Creek (45Moz gold), Fort Knox (13.5Moz gold) and Pogo (10Moz gold).
Recently, WRM received significant assessment results from its eight drilled holes at the Last Chance Target location. The company completed the maiden drilling program for target location during the mid of September.
Additional six stream-sediment gold anomalies have been found clustering to the south of the Last Chance target, covering around 12km2 in total.
These anomalies highlight a number of untested targets at the target.
Future Plans
Based on the richness of the intrusive gold system and to provide upper structural architect of mineralisation source, the Company is planning a 3D inversion modelling technique to provide better results.
Combination of the new territories of gold anomalism with the prior understanding is required to yield various targets during 2021.
White Rock is planning to complete another drilling program at the newly found anomalous location of Last Chance during 2021.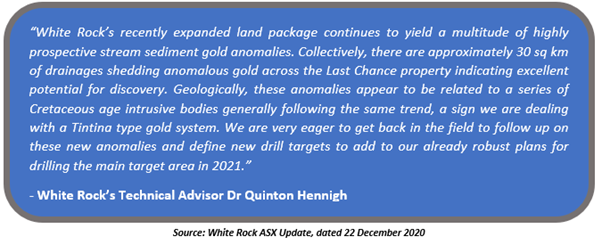 WRM stock traded at $0.515 on 22 December 2020, down by 2.831% from its previous close.